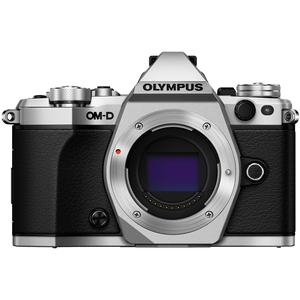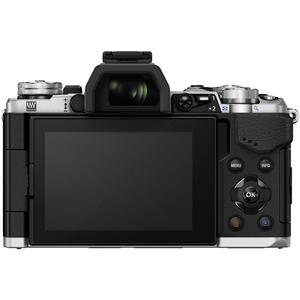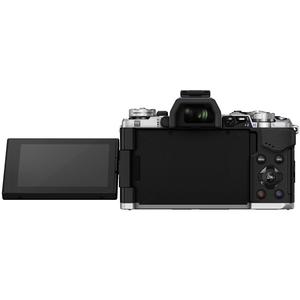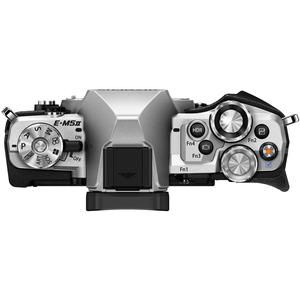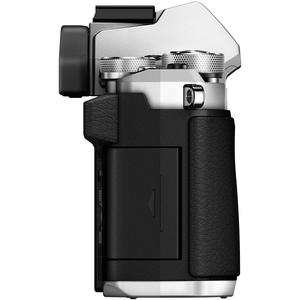 Olympus OM-D E-M5 Mark II Micro 4/3 Digital Camera Body (Silver)

Product Code:
V207040SU000
ITEM INCLUDES

Olympus OM-D E-M5 Mark II Micro 4/3 Digital Camera Body (Silver) with:

FL-LM3 Flash Unit
BLN-1 Li-ion Battery
Battery Charger
Body Cap
USB Cable
A/V Cable
Shoulder Strap
Olympus Viewer 3 CD-ROM
Instruction Manual

Olympus OM-D E-M5 Mark II Micro 4/3 Digital Camera Body (Silver)

Move into a new world.

The new Olympus OM-D E-M5 II Micro 4/3 Digital Camera Body features the most sophisticated image stabilization technology ever offered in an interchangeable lens camera. The ultra-sensitive 5-axis VCM (voice coil motor) system is so responsive and accurate, you can shoot sharp images in low light and capture silky smooth video, hand-held without a tripod. The E-M5 Mark II is also a bring-it-anywhere portable system camera that is nearly 40% lighter than conventional DSLRs and its durable all metal body is sealed for splashproof, dustproof and freezeproof protection.

Pro-level features give you the flexibility to experiment, and an all-new robust touch screen interface allows for adjustments to AF point, exposure, aperture, shutter speed and more without interrupting recording: High-speed sensor and image processor; Large interactive EVF; Touch and Swivel 3.0" LCD monitor with convenient variable angle positioning; Lightning-fast autofocus with coverage of almost the full frame and Manual Focus options that nail everything from serious fast sports action to dramatic portraits.

Key Features:

Ban the Blur:
With the E-M5 Mark II, Olympus has once again raised the bar on image stabilization technology, with an industry-leading five steps of compensation -- that's the most sophisticated image stabilization in the world! No matter how you move the camera -- horizontal or vertical shift, pitch, yaw or roll -- five-axis IS has you covered. And because the IS system is in the body of the camera, you'll get blur-free results regardless of which lens you use.

Fully Proofed and Portable:
From the diamond textured dual control dials, to the 6 direct function buttons, the E-M5 Mark II is a highly accomplished ergonomic photographic tool. All external controls have been arranged for making quick changes to key settings on the fly second nature. Sealed for protection against moisture and dust, the E-M5 Mark II's durable all metal construction body supports a full array of similarly "proofed" accessories, including the bundled FL-LM3 swivel bounce flash and an optional powered battery grip as well as eight M.Zuiko Digital weather-sealed lenses. The camera's shape and materials were specifically chosen to keep the body slim but easy to hold and shoot with all day.

Upgrade Your Images:
The high-speed 16 Megapixel Live MOS sensor/TruePic VII image processor combo that has won accolades from professional publications and websites is at the heart of the E-M5 Mark II's imaging performance. Also available: a 40 Megapixel high-resolution shooting option for landscapes and studio shots that require the maximum possible detail; 10fps burst shooting; a blazing fast maximum shutter speed of 1/8000 sec.; and a high-performance electronic first curtain and a purely electronic shutter for totally silent shooting.

Serious Movies Made Simple:
Forget about obtrusive rigs that make shooting movies a production. The E-M5 Mark II's compact size and 5-axis image stabilization make it the world's best interchangeable lens camera for hand-held video. Pro-level features include high bit rate recording, variable frame rate and focus peaking while filming, and the Movie & Still Compatible lens drive mechanism, or MSC, found in M.Zuiko lenses eliminates auto focus sound for fast, smooth and silent autofocus operation while filming.

Large EVF with Stunning Resolution
The E-M5 Mark II features a super large electronic viewfinder (EVF) display with 1.48x viewfinder magnification (35mm equivalent: 0.74x) and an ultra-high resolution of 2.36 million dots, rivaling full-frame DSLR cameras. It also includes a number of functions that make the most of the EVF, including Adaptive Brightness Technology for a natural-looking image whether in bright daylight or at nighttime, and Color Creator giving you the ability to manipulate colors the way you like.

Advanced FAST AF
Minimizing the time it takes for the camera to take the shot after shutter-release is crucial for capturing the precise moment. Olympus's new FAST AF system includes faster sensor operation, an improved AF algorithm and a high-speed MSC lens, providing 45% shorter shooting time lag compared with the E-M5. The result is the world's shortest shooting time lag.

81-point FAST AF
The 81-point AF system covers most of the image area with focus points and lets you focus on any small subject in the area. Touch AF Shutter shows its true worth in focusing. Simply touch a spot on the monitor that you want to focus on for accurate and intuitive subject capture.

Super Spot AF
You can magnify the Live View screen display up to 14x the original size, and use the AF frame in this enlarged image to focus. Super Spot AF lets you focus on a small area in the center of the enlarged image, creating an AF area 70x smaller than the original image, allowing pinpoint focus. When the magnified display is used, powerful image stabilization ensures a stable viewfinder image for more accurate focusing during macro and telephoto shooting.

Focus Peaking specifies colors and intensity
Focus peaking now available in red/yellow as well as black/white. You can use the Fn button to turn peaking on and off, and the INFO button to set parameters such as color and intensity during Live View shooting. This allows you to quickly adapt your use of peaking to the situation. You can also use focus peaking when shooting movies.

Eye Priority C-AF for continually focusing on eyes
The advanced Eye Detect AF automatically focuses on eyes for high-precision focusing. By improving eye detection processing speed, Eye Priority C-AF, which continually focuses on eyes, is achieved. When combined with e-Portrait mode, which makes skin look more beautiful, beautiful portrait photography is possible.

Built-in Wi-Fi and Olympus Image Share
This camera features built-in Wi-Fi, allowing you to easily connect the camera to your smartphone via Olympus Image Share. Initial connection is easy with a simple scan of the QR code that is displayed on the camera monitor. In addition to transferring images on the camera and controlling the camera, geotags obtained with a smartphone can be added to images, and Art Filters can be applied to recorded images. You can also view the Live View screen on a smartphone while recording movies. It is very useful for remote shooting in a variety of situations.

Creative Control stimulates your creativity
This function enables intuitive control of the four elements necessary for photography (composition, focus, tone, color) while looking through the viewfinder. Manipulate color as you like with Color Creator, adjust details in highlights and shadows with Highlight & Shadow Control, easily change aspect ratios, and fine-tune the focus.

Color Creator
You can intuitively control the Hue (30 steps) and Color Saturation (8 steps including the base value).


Highlight & Shadow Control
This function allows for the adjustment of highlights and shadows in an easy manner which was impossible with conventional exposure compensation.


Multi Aspect Control
This function allows you to select from 5 types of aspect ratios including 4:3 to frame your shot just the way you like.


Magnified Display Control
This function allows you to perform very precise focusing which is not possible with an optical viewfinder.

Two HDR modes and HDR Bracketing
With a single release of the shutter, the camera takes four shots with different exposures to create an HDR image. HDR1 creates natural textures, and HDR2 creates strong artistic effects reminiscent of paintings. You can make use of two different HDR modes.

| | |
| --- | --- |
| | |
| HDR1 | HDR2 |

14 Art Filters expand your possibilities
Art Filters expand your artistic expression. You can extract a specific color and change all other colors to black and white to emphasize a specific part of an image with Partial Color, reproduce color changes and fading that occurs in old film prints with Vintage, and enjoy a total of 14 different Art Filter options.

Photo Story provides new ways of photographic expression
Collection of multiple usual everyday photos create a story. Photo Story mode provides new ways of photographic expression. You can combine multiple photos while still maintaining full creative control and composition just by touching the rear panel and create artwork.

Keystone Compensation enables tilt-shift photography with any lens
Just as if shooting with a shift lens, trapezoidal compensation and perspective enhancement are possible while viewing the effects on the Live View screen. Since this feature can be used in the Olympus Viewer 3 computer application, after confirming the adjustment results, the RAW file can be processed and further detailed adjustment can be made.

| | |
| --- | --- |
| | |
| ORIGINAL IMAGE | KEYSTONE COMPENSATION |

Digital level gauge
A dual-direction level gauge, supporting vertical and horizontal leveling, can be displayed on the Live View monitor. This function is useful when there is no horizon, or when the screen is dark and difficult to see. Additionally, main shooting information such as the aperture and shutter speed can be displayed constantly with the level. The digital level gauge and histogram can now be displayed simultaneously.

Plus Much More:
You want pro features? The E-M5 Mark II's got 'em. Interactive, high-resolution and high magnification electronic viewfinder. Three-inch touch-screen LCD monitor, with variable angle positioning. Built-in Wi-Fi for instant connectivity. Live Composite, which automatically blends multiple exposures for incredibly detailed night scenes. Tons of additional amazing creative features. And compatibility with Olympus Capture camera control software, which creates a seamless interface between camera and computer for studio work.
27 accessories found for Olympus OM-D E-M5 Mark II Micro 4/3 Digital Camera Body (Silver)
Olympus OM-D E-M5 II Micro 4/3 Digital Camera Body
– TECHNICAL SPECIFICATIONS –
---
Camera Type:
Micro Four Thirds (2x Crop Factor)
Effective Pixels:
16.1MP
Total Pixels:
17.2MP
Sensor Type:
Live MOS Sensor
Sensor Size:
4/3
Image Sizes:
RAW: 4608 x 3456 (17MB)
JPEG: 4608 x 3456 (7.5MB)
JPEG: 4608 x 3456 (3.5MB)
JPEG: 3200 x 2400 (1.7MB)
JPEG: 1280 x 960 (0.4MB)
Image Formats:
JPEG, MPO, RAW
Movie:
AVI, MOV
Lens Mount:
Micro Four Thirds
Image Stabilization:
5-axis sensor-shift image stabilization
Autofocus Type:
High-speed imager AF
Focus Modes:
Single AF (S-AF) / Continuous AF (C-AF) / Manual Focus (MF) / S-AF + MF / AF tracking (C-AF + TR)
ISO Sensitivity:
Auto, 200-3200 (High Sensitivity Mode: 100-25600)
Shutter Type:
Focal-plane shutter
Shutter Speeds:
1/8000 - 60 seconds
Continuous/Burst Shooting:
Up to 10 fps at 16 MP
Self-Timer:
12 seconds, 2 seconds
Custom: 1-30 seconds at 0.5, 1.0, 2.0, 3.0 second intervals
Number of Shots: 1-10
Exposure Metering System:
Center-weighted average metering, Multi-zone metering, Spot metering
Exposure Modes:
Aperture Priority, Auto, Manual, Program, Shutter Priority
Exposure Compensation:
-3 EV to +3 EV (in 1/3 EV steps)
Exposure Lock:
Yes
Exposure Bracketing:
2, 3 or 5 frames in 0.3/0.7/1.0EV steps selectable, 7 frames in 0.3/0.7EV steps selectable
White Balance:
3 frames in 2, 4, 6 steps selectable in each A-B/G-M axis
Wi-Fi:
Yes
Flash:
FL-LM3 Flash
Flash Control:
TTL
Flash Sync Terminal:
Hot Shoe
Freezeproof:
Down to 14-degrees Fahrenheit
Splashproof:
Yes
Dustproof:
Yes
Viewfinder:
Eye-level electronic viewfinder
Monitor Type:
Vari-angle Touchscreen LCD
Monitor Size:
3.0"
Monitor Resolution:
1,037,000-dots
Live View:
Approx. 100% field of view
Storage:
SD / SDXC/ SDHC memory card
Power Source:
BLN-1 Rechargeable Lithium-ion Battery Pack
Interface:
HDMI D (Micro)
AV / USB Multi
USB 2.0
1/8" Microphone
Languages:
English, French, German, Spanish, Italian, Japanese, Korean, Traditional Chinese, Simplified Chinese, Russian, Czech, Dutch, Danish, Polish, Portuguese, Swedish, Norwegian, Finnish, Croatian, Slovenian, Hungarian, Greek, Slovakian, Turkish, Latvian, Estonian, Lithuanian, Ukrainian, Serbian, Bulgarian, Romanian, Indonesian, Malay, Thai
Dimensions (WxHxD):
4.9 x 3.3 x 1.8 in. (12.4 x 8.4 x 4.6cm)
Weight:
14.4 oz. (0.41kg) (body only)