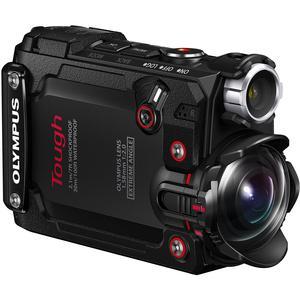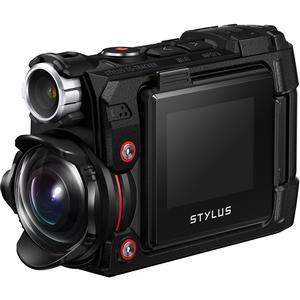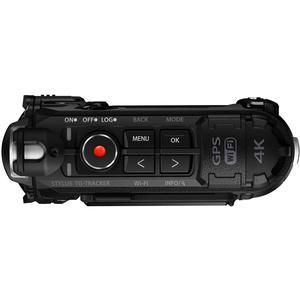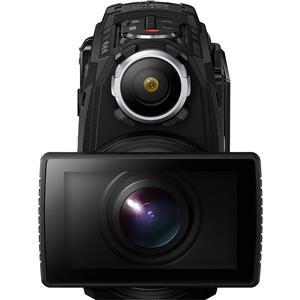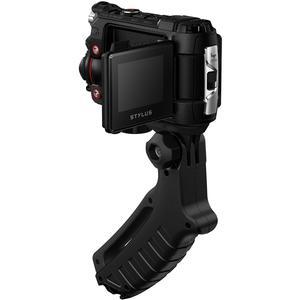 ITEM INCLUDES

Olympus Tough TG-Tracker UHD 4K Wi-Fi GPS Shock Waterproof Video Camera Camcorder (Black) with:

LI-92B Li-ion Battery
USB Cable
F-5AC Adapter
Mount Coupling Adapter
Joint Screw
Standard Lens Protector
Underwater Lens Protector
Steady Grip
Set-Up Manual
Set-Up CD
Quick Start Guide

Olympus Tough TG-Tracker UHD 4K Wi-Fi GPS Shock & Waterproof Action Camcorder (Black)

A TOUGH little action camera that lets you relive the moment.

Presenting an action cam that's tough enough to keep up with your adventures. The pocket-sized Olympus Tough TG-Tracker records Ultra HD 4K video using advanced Olympus optics. Take it places you wouldn't dare take most cameras. Mountaintops. Winter slopes. Whitewater rafting or into the waves. Drop it, freeze it, submerge it, and it will just keep shooting -- even 100 feet (30m) underwater, no protective housing required. Handy extras like the built-in 60 Lumen LED headlight and the tilt-out 1.5" monitor help you nail difficult shots. Use the built-in Action Track Sensors, GPS, and Wi-Fi to record and share every awesome moment.

There's advanced technology behind the imagery you'll capture with TG-Tracker. The BSI CMOS sensor works with Olympus' blazing fast TruePic VII Image Processor for 4K video and stills rich with detail and vibrant color. For video you'll brag about, the 5-Axis Image Stabilization compensates for all types of movement and the bright f/2.0 aperture shoots clearly in low-light and underwater. The 204-degree extreme-wide angle lens provides a dramatic, almost panoramic perspective. Or, select the narrow angle view for a more natural perspective or underwater shooting.

Key Features:

Rugged Design:
At first glance, the TG-Tracker looks rugged and compact, easy to carry and easy to shoot. But there's far more here than meets the eye. That's because TG-Tracker is part of the Olympus Tough Family -- worry-free cameras built to handle abuse so you can concentrate on getting great shots. TG-Tracker is waterproof to depths of 100 feet (30m), crushproof up to 220 lbf (100 kgf), shockproof from 7 feet (2.1m), freezeproof to 14°F (-10°C), and dustproof. Most other action cams need protective housings. That means more stuff to carry around, clumsy camera operation, and a difficult time capturing sound. With TG-Tracker, no housing equals better overall performance.

WATERPROOF
SHOCKPROOF
DUSTPROOF
FREEZEPROOF

Ultra HD 4k Video Quality:
Record your adventures with so much vivid detail you'll feel like you're watching real life. That's the amazing resolution you get with Ultra HD 4K 30p video. Besides 4K, TG-Tracker gives you shooting options in Full HD 1080, HD 720, and standard definition, each with several frame rate options. Use the High Speed HD Video mode for slow-motion playback and the 4K Time Lapse Video mode to record captivating short video of long periods of time. The Loop Recording mode shoots continuously in 29 minute increments. Even still photos are covered with TG-Tracker's Still Shot mode.

BSI CMOS Sensor:
The camera features a back-lit CMOS sensor that provides high ISO performance and keeps noise to a minimum.

TruePic VII Image Processor:
The TruePic VII image processor for 4K was developed based on the TruePic VII included on Olympus interchangeable lens cameras, with added compatibility for 4K movies. Because the TG-Tracker is equipped with the TruePic VII for 4K, you can easily capture beautiful 4K movies of outdoor scenes.
* 4K movies cannot be transferred to a smartphone. Please view them on a large TV that supports 4K movie playback.

5-Axis Image Stabilization:
The TG-Tracker boasts the impressive 5-axis IS (image stabilization) system to compensate for every kind of blurring. Perfect for super smooth movies no matter how bumpy the ride.

| | |
| --- | --- |
| | |
| BSI CMOS SENSOR / TruePic VII IMAGE PROCESSOR | 5-AXIS IMAGE STABILIZATION |

204° Extreme-wide Angle Lens:
The TG-Tracker features a diagonal 204° lens that allows you to shoot image that are beyond your own angle of vision. With this feature, you can capture surrounding scenery that you aren't even aware of and convey the excitement like you never did before.

204° ULTRA WIDE-ANGLE LENS

Built-in Connectivity:
You're watching the sunrise from 12,000 feet above sea level. The climb was awesome and the video is spectacular. Get it to your friends, family, and social sites fast using TG-Tracker's built-in Wi-Fi. Quickly sync your smart device to your camera with the easy QR Code setup. Use the OI.Share app to remotely change settings and wirelessly share your shots. Use the OI.Track app to store still shots, video, and log data all on your smart device, then view videos and data simultaneously to relive the excitement1. Your data is a record of your adventure. Have fun sharing your achievements.

| | | |
| --- | --- | --- |
| | | |
| BUILT-IN WI-FI CONNECTIVITY | LOG CHANGES IN ALTITUDE | LOG CHANGES IN DEPTH |

Sensor Technology:
Sensor technology helps to track everything you see and do for an immersive experience that goes beyond video. There are five Action Track Sensors built into TG-Tracker. You'll find a GPS so you'll always know where you are. The e.Compass indicates direction. An accelerometer measures g-force. Keep an eye on your altitude or water depth with the barometric pressure sensor. The fifth sensor records ambient temperature. View real-time data on TG-Tracker's tilt-out LCD monitor. Activate Data Log Mode to record data without video for extended periods of time with limited battery use.

BUILT-IN FIELD SENSORS; GPS, BAROMETER, TEMPERATURE SENSOR, DIRECTION SENSOR, ACCELERATION SENSOR

| | | |
| --- | --- | --- |
| | | |
| COMPASS | LEVEL DISPLAY | LOG DISPLAY |

Powerful LED Headlight:
High-intensity headlight on board for tough lighting situations. Up to 60 lumen lighten the dark at a distance of 3.5m for a max. of one minute. The quick-action operation lets you swiftly illuminate subjects to give your shots a sense of realism.

Time-Lapse Movie:
With the Time-Lapse Movie mode, you can catch sunrises, changing weather or unique action sequences as movies with a special time-lapse effect. Also great for showing online.

Loop Recording:
Loop recording lets you record movies all the way until your memory card is full or the battery is flat. Each file is a full 29 minutes, making file handling easy for any search and editing tasks after recording.

Underwater Detector:
TG-Tracker automatically senses when you are under water. At a water depth below 50cm, the camera switches to the optimal mode for shooting underwater -- so you can fully concentrate on your once-in-a-lifetime diving experience.

Tilt-out 1.5" LCD Monitor:
The 1.5" color LCD with 115,200 dots puts you in the picture when you shoot and play back. Flip out the LCD screen -- whatever the action.

Handgrip & Adapter:
The Steady Grip helps you catch your subject from every angle, even in extremely active situations. The Mount Coupling adapter also enables the attachment of third-party accessories for unlimited options.

Lens Protectors:
TG-Tracker comes with a Dome Lens Protector for most usage scenarios, plus a Flat Underwater Lens Protector to capture sharp underwater shots.

Long-lasting Battery:
The high-capacity, long-lasting lithium-ion battery gives impressive continuous movie recording capability.
29 accessories found for Olympus Tough TG-Tracker UHD 4K Wi-Fi GPS Shock Waterproof Video Camera Camcorder (Black)
Olympus Tough TG-Tracker
– TECHNICAL SPECIFICATIONS –
---
Type:
POV HD Digital Action Camera Camcorder
Imaging Sensor:
1/2.3" (7.77mm) BSI CMOS Sensor
Processor:
TruePic VII Image processor
Media Type:
Micro SD/SDHC (Class 4 or Higher)


Still Image:
8.0 megapixels
Video Format:
MOV / H.264
Video Resolution:
4k 30p
1080 60p/30p
720 240p/120p/60p/30p
480 240p/120p/60p/30p
Still Image Resolution:
3840 x 2160, 8.0MP (16:9)
Microphone/Speaker:
Built-in Microphone; Monaural Speaker
Lens Type:
Advanced Olympus Optics
Lens Stabilization:
Digital 5-Axis
Aperture:
F/2.0
Minimum Focus Distance:
Approx.1.58mm (35mm equiv 13.9mm)
Angle of View:
Wide: 204° (161° with IS on)
Above water: 156° (126° with IS on)
Narrow Underwater: 94° (84° with IS on)
LCD Display:
1.5" Tilt-Out 115K LCD Display
Shutter Speeds:
Auto: 1/2 sec - 1/24000 sec
Interface:
Micro USB 2.0 Hi-speed
HDMI-Micro (D) Out
Battery Type:
LI-92B Rechargeable Battery Pack
Dimensions:
1.4 x 2.2 x 3.7 inches (35 x 57 x 93mm)
Weight:
6.3 oz. (180g)
Waterproof:
100 ft. (30m) without housing
Shockproof:
7 ft. (2.1m) without housing and the flip-out LCD monitor closed
Crushproof:
220 lbs. (100kg) without housing and the flip-out LCD monitor closed
Freezeproof:
-10°C (14°F) without housing
Dustproof:
Yes