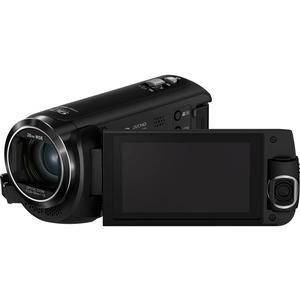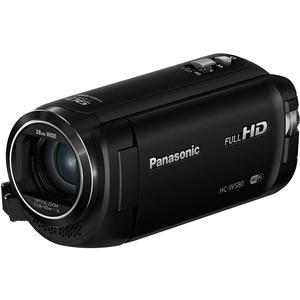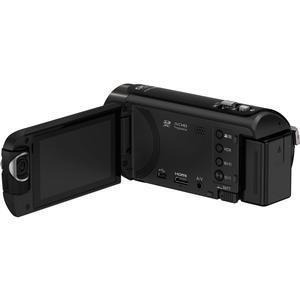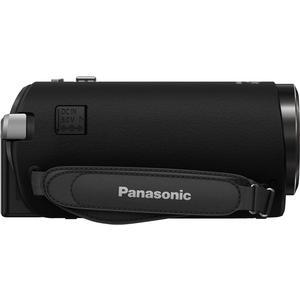 ITEM INCLUDES

Panasonic HC-W580 Twin Wi-Fi HD Video Camera Camcorder with:

VW-VBT190 Li-ion Battery
AC Adapter
HDMI Cable
AV Cable
USB Cable
HD Writer LE 3.0 (Download)

Panasonic HC-W580 Twin Recording Wi-Fi HD Camcorder

A twin camera for alternate shooting scenes.

The Panasonic HC-W580 Twin Recording Wi-Fi HD Camcorder brings the joy of video creation to life with innovative features like multi-camera scene picture-in-picture recording via a second built-in camera, or by adding a Wi-Fi link to a mobile device the camera to increase creative possibilities. A 50x optical zoom with 5-axis image stability and up to 90x intelligent zooming get you close to the action, plus an exclusive High Dynamic Range (HDR) mode brings imaging to life by reclaiming the highlights and shadows lost by most compact camcorders.

Use Creative Control with filter effects like 8mm Movie, Silent Movie, Miniature Effect and Time Lapse Recording to bring your creativity to life. The Level Shot function automatically detects and corrects for camera tilting. In addition, the iA Plus Mode automatically detects and corrects the tilting of captured images.

Key Features:

Twin Camera Function
This model includes a rotatable sub camera that lets you take shots from two angles at once. For example, you can capture the family and a selfie, or both tele and wide-angle shots. A Backup function records a picture in picture image and a main camera image without a sub window for backup. The sub camera image is recorded into any one of various sub windows, and its display position can be changed by touch operation.

Wireless Multi Camera
Enjoy a new kind of shooting style that lens you add even more emotion to your movies. Using Wi-Fi, you can link to as many as three smartphones and simultaneously record up to two of them as sub-windows. These sub-window images can be interchanged, and their display positions can be switched. This lets you shoot from a variety of angles and viewpoints, to capture a higher level of emotional impact.

USE TWIN CAMERA TO RECORD FROM TWO ANGLES AT THE SAME TIME

USE WIRELESS MULTI CAMERA WITH YOUR SMARTPHONE TO CAPTURE SCENES IN DIFFERENT LOCATIONS

28mm Wide-Angle
Fit more people into any shot to capture group images with ease, even in small rooms - thanks to the 28mm wide-angle function (equivalent to 35mm camera), this is possible. Even with only a short distance all come into the screen. Using the integrated microphone you can also record small sound clips.

90x Intelligent / 50x Optical Zoom
Equipped with Intelligent 90x Zoom/Optical 50x Zoom. This model lets you easily shoot distant subjects that are too far away to capture clearly with conventional zoom functions.

BSI Sensor
The camcorder's advanced BSI Sensor captures brilliant, high-quality images in both bright and dim lighting conditions. That means you can record beautiful scenes and objects under a variety of conditions and in any situation, including indoor scenes and nightscapes, with low noise distortion.

5-Axis HYBRID O.I.S.+
HYBRID O.I.S. + uses five-axis correction to thoroughly suppress blurring all the way from wide-angle to powerful zoom shots. This lets you capture crisp, clear images, without blurring, in almost every shooting situation.

3.0-inch Wide Touch LCD
The easy-to-view 7.5 cm / 3.0" wide LCD screen allows fingertip touch-operation. You get smooth intuitive operation and don't have to take your eyes off of the LCD screen.

Intuitive Touch Operation
With touch shutter you can touch the subject on the LCD screen to instantly focus on it and takes a still picture. Then flip through thumbnail pages and display one of the thumbnail scenes with fingertip operation.

HDR (High Dynamic Range) Movie
Enjoy crisper, clearer videos thanks to the HDR Movie function. It combines two images taken with different exposures to suppress blown highlights and blocked shadows. Even in difficult shooting situations, such as backlighting, you can easily capture natural videos with excellent gradation. A dedicated HDR button enables quick mode changes when necessary.

Built-in Wi-Fi Functionality
The built-in Wi-Fi function enables real-time broadcasting of important events via Ustream. This lets users deliver live images to people with Internet access around the world. There is also a function to send e-mail to notify the start of streaming to pre-registered e-mail addresses. Home Monitoring lets users check on pets or family at home from the outside. They can even speak to their pets or family while viewing them on the screen, and record images remotely from a smartphone.

One-Touch Connection with NFC
Without bothersome initial settings, NFC lets you connect a smartphone or tablet to the camcorder in one touch. Even without NFC, you can use QR code to make Wi-Fi settings quickly and easily.

Remote Shooting / Remote View
The "Panasonic Image App" lets you use a smartphone or tablet as a live-view remote controller and operate the camcorder from a distance. Videos and photos inside the camera can be viewed on a smartphone or tablet, and uploaded to an SNS site.

Real Time Broadcasting
Built-in Wi-Fi function enables Real Time Broadcasting of important events via Ustream. This lets you deliver live images to people with Internet access around the world. There is also a function to send e-mail to notify the start of broadcasting to preregistered e-mail addresses.

Baby Monitor
Using Wi-Fi, you can check on the baby with a smartphone or tablet in another room. The Push Notification function alerts the smartphone or tablet if a voice sensor detects the baby waking up and making a sound, and you can even speak to the baby over the monitor.

Home Monitoring
When you are away from home, you can monitor and record there with high-quality live video, and speak to your family or pets using your smartphone or tablet.

| | | | |
| --- | --- | --- | --- |
| | | | |
| REMOTE SHOOTING | REAL TIME BROADCASTING | BABY MONOTOR | HOME MONITORING |

Creative Control
Filter effects -- Miniature Effect, 8mm Movie, Silent Movie and Time Lapse Recording -- make it possible to shoot impressive video recordings that are matched to the shooting situation.

Level Shot Function
The Level Shot function automatically detects and corrects the tilting of captured images. Images are more level even when shooting in an unstable or awkward position, such as low angle or high angle.

iA (Intelligent Auto) / iA Plus
This powerful function senses the shooting conditions and automatically makes the settings and activates functions that will deliver optimal results. In addition, the iA Plus Mode enables you to adjust exposure compensation and white balance by just push the button on the LCD.
19 accessories found for Panasonic HC-W580 Twin Wi-Fi HD Video Camera Camcorder
Panasonic HC-W580 Twin Wi-Fi HD Camcorder
– TECHNICAL SPECIFICATIONS –
---
Image Sensor:
1/5.8-type BSI MOS Sensor
Video Format:
AVCHD / MP4
Video Resolution:
AVCHD
1920 x 1080i / 60 fps (24 Mbps)
1920 x 1080i / 60 fps (17 Mbps)
1920 x 1080i / 60 fps (13 Mbps)
1920 x 1080i / 60 fps (5 Mbps)
MP4
1920 x 1080p / 60 fps (50 Mbps)
1920 x 1080p / 60 fps (28 Mbps)
1280 x 720p / 30 fps (9 Mbps)
Still Format:
JPEG
Still Resolution:
10.0 Megapixel, 4224 x 2376
2.1 Megapixel, 1920 x 1080
Image Stabilization:
HYBRID O.I.S.+ with Active Mode, O.I.S. Lock, Level Shot Function
Lens Type:
Main Camera Lens: F/1.8-4.2 Panasonic Lens
Secondary Camera Lens: F/2.8 Panasonic Lens
Optical Zoom:
50x / 90x Intelligent
Digital Zoom:
up to 3000x
Focal Length:
2.06 - 103mm
Filter Diameter:
Not available
Focus System:
Auto / Manual
White Balance:
Auto / White Set / Sunny / Cloudy / Indoor1 / Indoor2
Monitor Type:
Touch Panel LCD
Monitor Size:
3.0"
Light / Flash:
Not available
Accessory Shoe:
Not available
Microphone:
Yes
Storage:
SD / SDHC / SDXC
Wi-Fi:
Yes
NFC:
Yes
Power Source:
VW-VBT190 / VW-VBT380 / VW-VBY100 Rechargeable Lithium-ion Battery
Interface:
1x HDMI C (Mini)
1x A/V
1x USB 2.0
Dimensions (WxHxD):
2.3 x 2.4 x 5.0 in. (60 x 62 x 129mm)
Weight:
8.8 oz. (252g) (without battery and SD card)