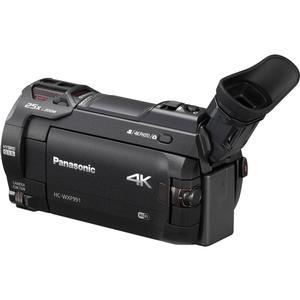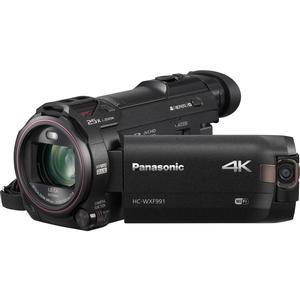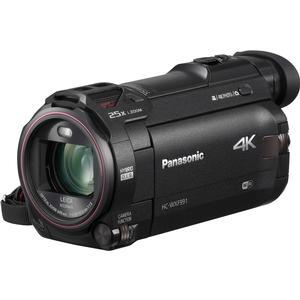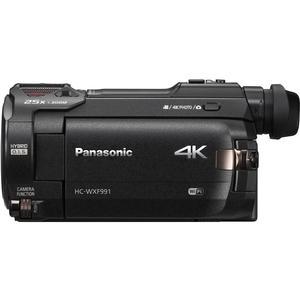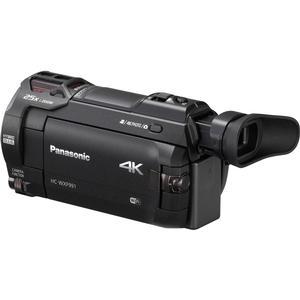 ITEM INCLUDES

Panasonic HC-WXF991 Wi-Fi 4K Ultra HD Video Camera Camcorder with:

VW-VBT190E Li-ion Battery
AC Adapter
Micro-HDMI Cable
USB Cable
Lens Hood
HD Writer AE 5.3 (Download)

Panasonic HC-WXF991 Wi-Fi 4K Ultra HD Video Camera Camcorder

Incredible recording experience, beautiful imagery.

The Panasonic HC-WXF991 Wi-Fi 4K Ultra HD Video Camera Camcorder is the pinnacle of hand-held 4K video capture, featuring several in-camera cinema creative and editing solutions that can enable anyone to capture and produce like a pro.

For those without 4K display options, the WXF991 offers in-camera downsampling to 1080p Full HD displays. Enjoy multi-camera scene picture-in-picture recording via a second built-in camera, or add a Wi-Fi link to a mobile device camera to increase creative possibilities.

Key Features:

4K Video & Photo:
Enjoy 4X the resolution of Full-HD 1080p by recording in 4K. Even pause and extract exact moments from 4K video frames for still images with 4K PHOTO mode.

4K Post Editing:

Smooth zooming: Easily zoom-in on subjects without changing camera angle.
Easy tracking: Automatically keep the subject inside the cropped area.
Exact panning: Pan any scene by selecting the start and end points.
Convenient stabilizer: Auto adjust compensates for image shaking.

Level Footage at All Times:
The Level Shot function automatically detects and corrects for camera tilting. *Not available with 4K mode.

Clear, Blurless Results:
HYBRID O.I.S.+ and 5-axis correction thoroughly suppress blurring caused by unwanted handheld shaking.

HDR (High Dynamic Range) Movie:
By combining two images taken with different exposures, blown highlights and blocked shadows are eliminated. A dedicated HDR button enables quick mode changes.

High-Quality Core Technologies:
The remarkable LEICA Dicomar lens produces the subtle nuances and shading LEICA lenses are renowned for. An advanced BSI Sensor supported by a 4K Crystal Engine suppresses distortion to consistently give an accurate rendering of the scene.

Wireless Multi Camera:
Built in Wi-Fi links up to three smartphones simultaneously to record picture-in-picture from multiple angles.
27 accessories found for Panasonic HC-WXF991 Wi-Fi 4K Ultra HD Video Camera Camcorder
Panasonic HC-WXF991 Camcorder
– TECHNICAL SPECIFICATIONS –
---
Image Sensor:
18.91 Megapixel 1/2.3" MOS Sensor
Video Format:
MP4, AVCHD, iFrame
Video Resolution:
MP4
3840 x 2160p / 30 fps (72 Mbps)
3840 x 2160p / 24 fps (72 Mbps)
1920 x 1080p / 60 fps (50 Mbps)
1920 x 1080p / 60 fps (28 Mbps)
1920 x 1080p / 24 fps (50 Mbps)
1280 x 720p / 30 fps (9 Mbps)
AVCHD
1920 x 1080p / 60 fps (28 Mbps)
1920 x 1080i / 60 fps (24 Mbps)
1920 x 1080i / 60 fps (17 Mbps)
1920 x 1080i / 60 fps (13 Mbps)
1920 x 1080i / 60 fps (5 Mbps)
iFrame
960 x 540p / 30 fps (28 Mbps)
Still Format:
JPEG
Still Resolution:
JPEG: 25.9 Megapixel, 6784 x 3816 (16:9)
JPEG: 14 Megapixel, 4992 x 2808 (16:9)
JPEG: 2.1 Megapixel, 1920 x 1080 (16:9)
JPEG: 20 Megapixel, 5472 x 3684 (3:2)
JPEG: 10.6 Megapixel, 3984 x 2656 (3:2)
JPEG: 2.0 Megapixel, 1728 x 1152 (3:2)
JPEG: 20.4 Megapixel, 5216 x 3912 (4:3)
JPEG: 10.9 Megapixel, 3808 x 2856 (4:3)
JPEG: .3 Megapixel, 640 x 480 (4:3)
Image Stabilization:
5-Axis HYBRID O.I.S.+ and Level Shot
Lens Type:
Leica Dicomar Optical Zoom Lens
Optical Zoom:
20x
Intelligent Zoom:
25x (4K)
40x (HD)
Digital Zoom:
60x
Digital Zoom:
1500x
Focal Length (Main):
4.08 - 81.6 mm
Focal Length (Sub):
3.54 mm
Filter Diameter (Main):
49mm
Focus System:
Auto / Manual
White Balance:
Auto / White Set / Sunny / Cloudy / Indoor1 / Indoor2
Monitor Type:
Touchscreen Wide LCD
Monitor Size:
3.0"
Light / Flash:
Built-in LED Video Light
Accessory Shoe:
Cold Shoe
Microphone:
Built-in
Stereo mini jack
Wi-Fi:
Built-in
Storage:
SD/SDHC/SDXC memory card
Power Source:
Rechargeable Battery Pack Batteries, 3.6 VDC, 1940 mAh
Interface:
HDMI D (Micro)
A/V
USB 2.0
Dimensions (WxHxD):
2.7 x 3.1 x 6.4 in. (68 x 78 x 163mm)
Weight:
14.2 oz. (403g)