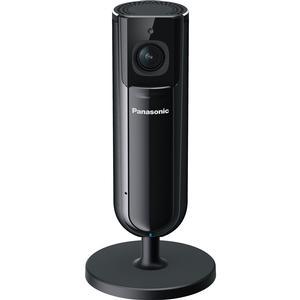 ITEM INCLUDES

Panasonic KX-HNC800 Home Monitoring HD Video Camera with:

AC Power Adapter
Instruction Manual

Panasonic KX-HNC800 Home Monitoring HD Video Camera

All-in-One Monitoring

Interior monitoring is a vital part of home security. And peace of mind. But sometimes all you need is a smart, all-in-one monitoring camera to look in on a child or pet while you're at work or in another room. For that, the stylish, powerful Panasonic KX-HNC800B Wireless Full HD Indoor Home Monitoring Camera has everything you want for real-time monitoring from iOS and Android devices. It features a fast-focusing lens for sharper imaging, large image sensor for 1080p Full HD (1920x1080) recording in low-light. With a 142-degree diagonal wide-angle view you can cover long, rectangular rooms and other large spaces.

For comprehensive video recording, the pre-recording function begins two seconds before the camera's motion sensor activates the recording process. Enjoy wireless, real-time, day and night monitoring from your smartphone or mobile device. The KX-HNC800 is perfect for viewing the baby's or family room to check on a pet or child in real time while at work, or in another room of the house.
13 accessories found for Panasonic KX-HNC800 Home Monitoring HD Video Camera (2 Pack)

VIVITAR
Mfr#:
HF-Lpen

MANUFACTURER
Mfr#:
MMC001

PRECISION DESIGN
Mfr#:
PD-5CK

PRECISION DESIGN
Mfr#:
PD-SD8

PRECISION DESIGN
Mfr#:
DJC-011M

PRECISION DESIGN
Mfr#:
SPCU01

ROR
Mfr#:
VV-ROR2

TRANSCEND
Mfr#:
TS16GUSDU1

TRANSCEND
Mfr#:
TS32GUSDU1

TRANSCEND
Mfr#:
TS64GUSDU1

TRANSCEND
Mfr#:
TS-RDF5K

VIVITAR
Mfr#:
VIV-LCD-822

XIT
Mfr#:
XTMCASE
Panasonic KX-HNC800 Home Monitoring Wi-Fi HD Video Camera
– TECHNICAL SPECIFICATIONS –
---
Image Sensor:
2.0 megapixel CMOS
Video Compression:
H.264
Video Resolution:
Full HD: 1920 x 1080p
HD: 1280 x 720p
SHD: 720 x 480p
HVGAW: 640 x 360p
Max Frame Rate:
Up to 30 fps
Focal Length:
Fixed (0.2m (8 inches) - infinity)
Angle of View:
142 degrees
Camera Angle:
Horizontal: 121 degrees
Vertical: 67 degrees
Wide Dynamic Range:
Yes
High Dynamic Range:
Yes
IR Cut:
Yes
Night Vision (Range):
Yes; approx. 17 ft. (5m)
Sensors:
Visual sensor
Temperature sensor
Sound sensor
Speaker:
Yes
Microphone:
Yes
Privacy shutter:
Yes
Status Indication:
LED (Blue / Green / Red / White)
Setup Button:
Wireless Network Setup Button
Pre- Recording:
Yes; 2 seconds
Recording Time:
4 GB card: 4 hours
8 GB card: 9 hours
16 GB card: 18 hours
32 GB card: 36 hours
64 GB card: 72 hours
128 GB card: 145 hours
Memory:
microSD / microSDHC / microSDXC
Wi-Fi:
Yes
Wireless Network:
IEEE 802.11 a/b/g/n
2.412 GHz - 2.462 GHz
5.180 GHz - 5.320 GHz
5.500 GHz - 5.700 GHz
5.745 GHz - 5.825 GHz
HD Cameras per Mobile Device:
Up to 32 devices
Mobile Devices per HD Camera:
Up to 8 devices
Simultaneous Access:
Up to 3 devices
Wall Mountable:
Yes
Power Source:
Wall Oultlet: 120 V AC, 60 Hz
Power Cord Length:
Approx. 9.8 ft. (3m)
Dimensions (WxHxD):
2.6 x 5.5 x 2.6 in. (68 x 142 x 68mm)
Weight:
7.4 oz. (210g)
Reviews are for the first item in the kit:
Panasonic KX-HNC800 Home Monitoring HD Video Camera