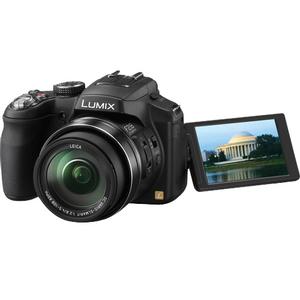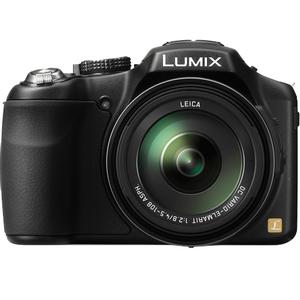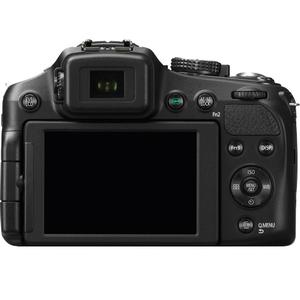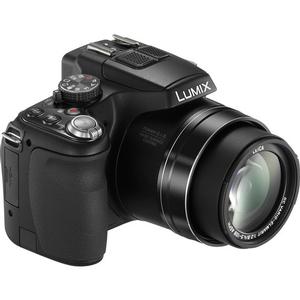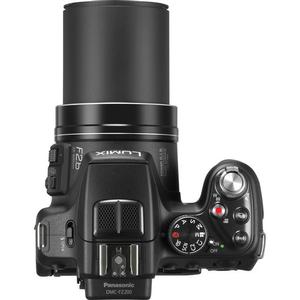 ITEM INCLUDES

Panasonic Lumix DMC-FZ200 Digital Camera (Black) with:

DMW-BLC12 Li-Ion Battery
Battery Charger
Lens Cap
Lens Hood
Shoulder Strap
USB Cable
Software CD-ROM

Panasonic Lumix DMC-FZ200 Digital Camera

Get closer to the split-second action.

The Panasonic LUMIX FZ200 offers incredible advantages of a full range f/2.8 aperture across the entire 24x zoom range (35mm camera equivalent: 25-600mm). This is a feature usually reserved for high-end professional lenses, and allows the FZ200 to capture moving subjects clearly with a fast shutter speed, even from a distance. Travel with more zoom than most professional interchangeable lens cameras deliver with renowned LEICA optics. At the heart of this lens is the high-quality LEICA DC VARIO-ELMARIT optical technology delivering 25mm ultra wide-angle performance. The FZ200 enhances shooting situations from photographing people indoors to shooting architecture or a sweeping landscape outside. Never miss a moment with high-speed burst shooting at 12 fps, and enjoy shooting full 1080/60p HD video.

Key Features:

12.1-megapixel MOS Sensor
The 12.1-megapixel High Sensitivity MOS sensor boasts an excellent S/N ratio resulting in super clear images with less noise even in high sensitivity recording. Together with the high performance image processing LSI Venus Engine, it elevates the response, sensitivity and image quality to an even higher level.

Fast F2.8 Aperture Across Entire Zoom Range
The DMC-FZ200 features a high-quality LEICA DC VARIO-ELMARIT 25mm ultra wide-angle lens with a 24x optical zoom (35mm camera equivalent: 25-600mm) that achieves full range F2.8.

Nano Surface Coating
Panasonic's black box technology Nano Surface Coating boasts an extremely low reflectance ratio and allows the DMC-FZ200 to deliver exceptional optical performance with stunning clarity by minimizing flaring and ghosts.

25mm Ultra Wide-Angle Lens
The 25mm ultra wide-angle lens has about twice the shooting area as a standard 35mm lens. This enhances most shooting situations, like photographing a group of people at an indoor party or shooting a large structure or sweeping landscape while traveling.

24x Power O.I.S. Leica Optics / 48x Intelligent Zoom
If the 24x optical zoom is not long enough for your photographic journey, the Intelligent Zoom uses digital zoom technology with minimum deterioration of image quality thanks to the Intelligent Resolution technology. The 24x optical zoom virtually extends to a 48x zoom equivalent.

POWER O.I.S. (Optical Image Stabilizer)
The POWER O.I.S. (Optical Image Stabilizer) suppresses vibration and hand-shake that happens when you press the shutter button or when shooting at night with a slow shutter speed. The POWER O.I.S. also works for powerful zoom shots, which are especially susceptible to hand-shake. The Active Mode is effective for video recording.

3.0-inch Free-Angle LCD
A 3.0-inch 3:2 460K-dot free-angle LCD rotates 180° to the side and tilts 270° up and down. This LCD enables dynamic, artistic framing with high-angle shots and low-angle shots. It's convenient when shooting with a tripod too.

1.3MP Electronic Viewfinder
The newly developed 0.2-inch EVF (Electronic Viewfinder) features 1,312K-dot equivalent high resolution and a 100% field of view. Shoot fast-moving subjects under strong sunlight with an increased frame rate from 30fps to a maximum of 60 fps, and a minimized screen freeze.

Focus Button
The Focus Button conveniently activates the variable AF area. During MF operation, it changes to a handy One-Shot AF function to provide initial focusing. During Playback, it gives you one-touch zoom playback of subjects in focus.

Full 1080/60p HD & MP4 Video Recording
The DMC-FZ200 records high-resolution full-HD 1,920 x 1,080 videos in AVCHD Progressive (MPEG-4 / H.264) format. Featuring 60p (NTSC) full HD recording capability, subjects with fast motion or fine details are reproduced clearly.

1080/60p / 1080/50p (progressive) conveys about twice the information of 1080i (interlace) recording. It creates intricate detail and silky smooth motion even when subjects move quickly. Afterimages are minimized creating more natural looking images. If you want to edit your videos on a computer or upload them to a website, the DMC-FZ200 can record full HD 1,920 x 1,080 30p (NTSC) videos in MP4 format.

HD High-Speed Video
The DMC-FZ200 records high-speed videos at 120 fps (NTSC / HD) or 240 fps (NTSC / VGA) in MP4 format. This allows you to capture scenes that can't be seen with the naked eye, and play them back in dramatically slow motion.

24x Optical Zoom during video recording
The 24x optical zoom brings you closer to the action, from people and animals, to dynamic sports scenes. The side lever makes it smoother to zoom, and focus can also be changed with this lever making it convenient for video recording.

Stereo Microphone w/ Auto Wind Cut
Panasonic has incorporated a stereo zoom microphone resulting in videos with the high-quality stereo sound of Dolby Digital. This delivers realistic sound to your videos. Mechanical noise caused by the camera's zooming operation is suppressed to improve the clearness. The Auto Wind Cut function blocks out most noise from background wind making the voices you are recording stand out.

Motion Picture Button
Video recording can be easily started with the press of the Motion Picture Button making it convenient for switching between photo and video shooting instantly.

Panorama Shot
The Panorama Shot Mode makes it is possible to shoot a 360-degree horizontal/vertical panoramic image with consecutive shots taken by overlaying the previous picture.

White Balance Bracket
The white balance bracket function shoots 3 consecutive photos with slight changes to the white balance setting of each photo in both the horizontal (amber to blue) and vertical (green to magenta) axes.

Intelligent Night Shot
The Intelligent Handheld Night Shot in the iA Mode delivers bright, glamorous night scenery with illumination by layering multiple pictures shot consecutively for one outstanding night photo. Create beautiful night scenes without using a tripod.

iA (Intelligent Auto) Plus
In the iA (Intelligent Auto) Mode, the camera does all the work, leaving you free to compose your shot and capture the moment. Simply aim, press, and shoot. The detection and correction functions go to work to give you beautiful photos and videos. In addition, the iA Plus Mode enables you to defocus an area, adjust exposure compensation, and control white balance by simply moving a slider.

14 Creative In-Camera Effects
Panasonic is ready to take the ordinary and make it extraordinary by fueling your creativity with the Creative Control feature (in the recording mode) and the Creative Retouch feature (in the playback mode). These features take simple or complicated scenes and make them easy to capture in a great photo. Simply set the camera to match your scene and it uses sophisticated presets to optimize the camera settings resulting in photos you'll be proud of.

Light Detection
The Intelligent D-range Control offers natural looking images by optimizing the exposure for each part of an image, preventing blocked shadows and blown highlights, and helping ensure that gradation and details are reproduced beautifully including the blue color in the sky.

Intelligent HDR (High Dynamic Range)
You will be delighted by the creative possibilities that Intelligent HDR (High Dynamic Range) delivers. Shoot several still pictures consecutively at different exposure levels that are then overlaid to produce a single composite picture without whiteout (over-exposure) or blackout (under-exposure). The results are stunning.

Photo Styles
You can choose from 6 color types ranging from monochrome to vivid resulting in photos and videos just the way you imagined them. In addition, the contrast, sharpness, saturation, and noise reduction for each mode can be customized in 5 steps and even stored in memory.

Approximately 0.95 sec Quick Start-Up Time
The DMC-FZ200 boasts a quick start-up time of approximately 0.95 sec. Together with Light Speed AF, the DMC-FZ200 helps you to never miss a moment.

Light Speed AF
Light Speed AF helps catch even the most fleeting photo opportunities. You can quickly focus on moving subjects such as sports, animals or kids.

12 fps with 12.1-megapixel Full Resolution
The 12.1-megapixel MOS sensor lets the DMC-FZ200 shoot 12 fps in full resolution with a mechanical shutter. You can even take a series of shots, choose the ones you like the best, and delete the rest.

Intelligent Burst Mode
When photographing a fast moving subject, but you're not sure how to set the camera, Intelligent Burst Shooting will automatically set the frame rate of burst shooting according to the subject's movement making it easy for you to achieve gorgeous photos.

AF Tracking
Once you focus on your subject, the AF Tracking automatically follows it until you press the shutter. When you're taking images of an active subject, like children or pets, this function eliminates the need to press the shutter button halfway down repeatedly to readjust the focus.

Intelligent Noise Reduction System
The excellent S/N (Signal to Noise) ratio of the MOS sensor combined with the Intelligent Noise Reduction system in the Venus Engine delivers photos and videos from low to high sensitivity with outstanding clearness.

Battery Life
The energy-saving Venus Engine and efficient, rechargeable lithium-ion battery lets you take approximately 540 shots on a single battery charge.
30 accessories found for Panasonic Lumix DMC-FZ200 Digital Camera (Black)
Panasonic Lumix DMC-FZ200 Digital Camera
– TECHNICAL SPECIFICATIONS –
---
Effective Pixels:
12.1 megapixels
Total Pixels:
12.8 megapixels
Sensor Type:
MOS
Sensor Size:
1/2.3 in.
Image Sizes:
4:3 - 4000x3000 (12M)
4:3 - 3264x2448 (8M EZ)
4:3 - 2560x1920 (5M EZ)
4:3 - 2048x1536 (3M EZ)
4:3 - 640x480 (0.3M EZ)
3:2 - 4000x2672 (10.5M)
16:9 - 4000x3000 (12M)
Movie:
1920x1080 pixels, 60p (PSH: 28Mbps / AVCHD)
1920x1080 pixels, 60i (FSH: 17Mbps / AVCHD)
1280x720 pixels, 60p (SH: 17Mbps / AVCHD)
VGA: 640 x 480 pixels, 30fps (4Mbps / MP4)
Lens Type:
LEICA DC VARIO-ELMAR
Filter Size:
52mm
Optical Zoom:
24x
Digital Zoom:
48x (Intelligent Zoom)
Image Stabilization:
POWER Optical Image Stabilization
Focus Range:
Normal: Wide 30 cm - infinity / Tele 200 cm - infinity
Macro / Intelligent AUTO / Motion Picture: Wide 1 cm - infinity / Tele
100 cm - infinity
ISO Sensitivity:
ISO: 100/200/400/800/1600/3200
High Sensitivity Mode (ISO 1600 - 6400)
Aperture Range:
f/2.8 / Multistage Iris Diaphragm (f/2.8 - 8 (W, T))
Monitor Type:
Free-Angle TFT Screen LCD
Monitor Size:
3.0 in. diagonal
Monitor Resolution:
460,000-dots
Flash:
Built-in - Auto, Auto / Red Eye Reduction, Slow Sync. / Red Eye Reduction,
Forced On, Forced Off
Storage:
70MB internal memory
SD / SDHC / SDXC memory card
Power Source:
DMW-BLC12 Rechargeable Li-Ion Battery
Interface:
mini HDMI
Hi-speed USB
Audio/Video out
Dimensions (WxHxD):
4.93 x 3.41 x 4.34 in. (125.2 x 86.6 x 110.2mm)
Weight:
18.8 oz. (535.2g) (with battery and memory card)