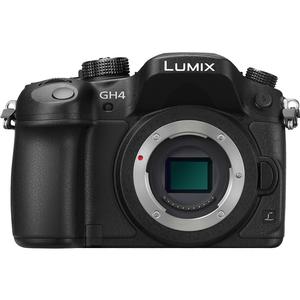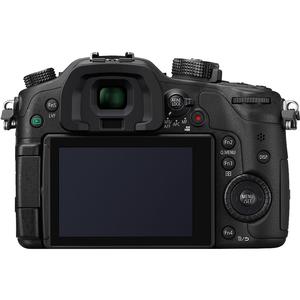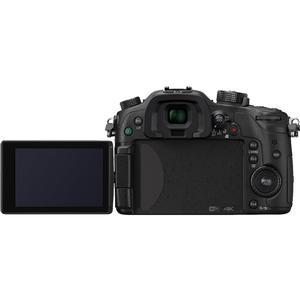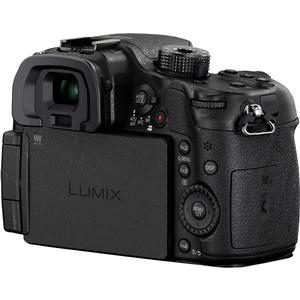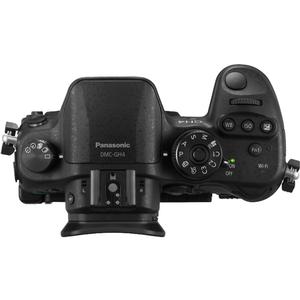 Panasonic Lumix DMC-GH4 4K Micro Four Thirds Digital Camera Body

Product Code:
DMC-GH4KBODY
ITEM INCLUDES

Panasonic Lumix DMC-GH4 4K Micro Four Thirds Digital Camera Body with:

DMW-BLF19 Lithium-Ion Battery
Battery Charger
Body Cap
Hot Shoe Cover
USB Connection Cable
Shoulder Strap
Software CD-ROM
Instruction Manual

Panasonic Lumix DMC-GH4 4K Micro Four Thirds Digital Camera Body

Incredible Photos... Breathtaking 4K Cinematic Video.

The Panasonic Lumix DMC-GH4 Mirrorless Micro Four Thirds Digital Camera is a true hybrid camera designed for both professional photo and video use. It features a 16.05-megapixel Digital Live MOS sensor and a 4-CPU Venus Engine, capable of capturing high-resolution JPEG and RAW stills, as well as UHD 4K 3840x2160 30p/24p and cinematic DCI 4K 4096x2160 video at 24p. Like its predecessor, the GH4 features a weather-sealed magnesium alloy body, while offering increased resolution on both the OLED monitor and electronic viewfinder. It also features built-in Wi-Fi with NFC technology, in-camera creative controls, and a high-speed 49-point autofocus in both photo and video mode.

Key Features:

Picture Quality

16.05 Megapixel Digital Live MOS Sensor
The 16.05-megapixel Digital Live MOS Sensor achieves high quality, high sensitivity image recording with its quick response. An approximately 50% higher speed signal readout suppresses the effect of a rolling shutter when using electronic shutter or recording video. The Live MOS Sensor delivers an expanded gradation range by a maximum1/3 step at low ISOs. Superior noise reduction allows for exposures up to 60 minutes long.

Venus Engine Advanced Image Processor
The Venus Engine image processor dramatically boosts performance with a quad-core CPU, enabling high-speed signal processing required for rich video recording such as 4K. Integrating superior noise reduction systems, DMC-GH4 successfully shoots at a maximum ISO 25600. Sensitivity, gradation performance, resolution, and color reproduction are dramatically improved to achieve even higher picture quality.

Focus Peaking
Focus Peaking shows the peak of focus in MF and AF+MF mode. Users can see the peak of focus while monitoring the subject in live view. Focus Peaking is also available in remote photo / video shooting with a smartphone or tablet via Wi-Fi.

Highlight / Shadow Control
Highlight and shadow can be separately adjusted with the front or rear dial. Three patterns of settings can be customized in addition to 3 preset patterns.

In-Camera RAW Data Development
The Panasonic LUMIX DMC-GH4 delivers RAW images in-camera. The color space setting (sRGB / AdobeRGB), white balance, exposure compensation, contrast, highlight / shadow, saturation, noise reduction, and sharpness or hue can be flexibly adjusted while LUMIX' s Photo Style, Intelligent D-Range Control, and Intelligent Resolution can also be applied.

Photo Style
You can choose color or texture type for photos and videos from Standard / Vivid / Natural / Monochrome / Scenery / Portrait. Contrast, sharpness, noise reduction, saturation, and hue parameter for each mode can be adjusted and even set into the camera's memory.

Electronic Shutter & Silent Mode
The Panasonic LUMIX DMC-GH4 boasts an electronic shutter. The high-speed signal readout from the Live MOS Sensor minimizes rolling shutter effect. The Silent mode switches the shutter from mechanical to electronic and turns off sounds, while suppressing the AF assist lamp and flash with just a single setting for special shooting occasions.

Video Shooting Performance

4K Video Recording with Simultaneous 8.8 MP Photo Capture
One of the most prominent features of Panasonic LUMIX GH4 is unlimited 4K video recording in both Cinema 4K: 4096x2160 / 24 fps, and QFHD 4K: 3840x2160 / up to 30 fps in MOV/MP4. Print ready high resolution 8.8 megapixel still frames can be recorded during video capture, making future proofed Hybrid Photography a reality for any photographer.

Versatile Video Recording Formats
The Panasonic LUMIX DMC-GH4 is capable of ultra high bitrate video recording at 200 Mbps (ALL-Intra) or 100 Mbps (IPB), with no recording time limit. Freely choose the format from MOV, MP4, AVCHD Progressive, and AVCHD at a variety of frame rates. In MP4 / MOV, high quality sound in LPCM (Linear Pulse Code Modulation) is recordable.

Real-Time Output with HDMI
The Panasonic LUMIX DMC-GH4 is capable of real-time image output (4:2:2 / 8 bit or 4:2:2 / 10 bit) to the external monitor via an optional micro HDMI cable. This is perfect for professional video making that requires serious monitoring. Choose to output only the recording content, or the content with the setting menus individually, depending on the display.

VFR (Variable Frame Rate)
The VFR (Variable Frame Rate) enables Full-HD video recording with slow/fast motion such as 96 fps / 4x

Time Lapse Shot / Stop Motion Animation
Time Lapse Shot and Stop Motion Animation produce a stop motion (stop frame) video with sequential pictures. Both are created in-camera without any post-production process.

Professional Video Functions:

Time Code
SMPTE-compliant Time Code in Rec Run or Free Run makes it easy to synchronize multiple videos or sound sources in the post-production process.
Color Bars & 1KHz Test Tone
Color Bars (SMPTE / EBU / ARIB Standard) are used as a benchmark for fixing color or brightness. 1KHz Test Tone is used as a benchmark for fixing sound or volume.
Center Marker
Center Marker works as a guide mark for video image composition. Simply display it at the center of the viewing angle.
Synchro Scan
Use Synchro Scan to suppress flicker over the TV / PC monitor, or when shooting under fluorescent lights.
Cinelike Gamma
"CINELIKE D" and "CINELIKE V" create a cinema-like tone to expand your creativity.
Master Pedestal
Use Master Pedestal to adjust the brightness balance ±15 steps based on the color black.
Zebra Pattern
Determine overexposed areas with the Zebra Pattern before or during shooting. This pattern can even be output to the external monitor too.

Mobility Response

Contrast AF with DFD Technology
The advanced Contrast AF system with DFD (Depth from Defocus) technology shortens the time to focus. The Panasonic LUMIX DMC-GH4 determines the distance to the subject by evaluating 2 images with different depth of field, while consulting the data of optical characteristics by using the lens, all within a moment. As a result, ultra high-speed AF of approximately 0.07 sec is achieved.

High-Speed Burst Shooting
The Panasonic LUMIX DMC-GH4 boasts high-speed burst shooting at 12 fps (AFS) with up to approximately 40 (including RAW) / approximately 100 (excluding RAW) recordable images, and 7.5 fps (AFC) to capture fast moving subjects in clear focus. Together with the quick start-up and short release time lag, the DMC-GH4 never lets you miss a shooting opportunity.

49-Area AF/ Custom Multi AF
In addition to the conventional Face Recognition AF, the DMC-GH4 incorporates Face / Eye Detection AF which automatically sets focus right on the face or on the eye within the face.

Face / Eye Detection AF
Leave the camera to record stationary observation of subjects such as flowers coming into bloom or scudding cloud. The series of consequent images can be combined in a camera to produce a time lapse video.

Seamless Magnification of 1-Area Focus Point
The 1-Area AF section can be seamlessly magnified not only in manual focus but also in auto focus mode.

Dual OLED Displays - LVF & Monitor
The Panasonic LUMIX DMC-GH4 boasts high-precision, high-speed dual OLED (Organic Light-Emitting Diode) displays for 2,359K-dot LVF (Live View Finder) of approximately 1.34x / 0.67x, and 3.0-inch 1,036K-dot free-angle rear monitor. These superior displays achieve high-speed response with minimum time lag while enhancing resolution. The OLED for the LVF boasts 10,000:1 high contrast for superior color reproduction.

Design & Control

Magnesium Alloy Body & Rugged Design
Tough enough to withstand even heavy field use, the Panasonic LUMIX DMC-GH4 is composed of a magnesium alloy full die cast front / rear frame. It also features splash / dustproof construction with sealing on every joint, dial, and button.

High Performance Professional Shutter
The shutter unit boasts professional graded added durability delivering approximately 200,000 release times. You'll be empowered with a maximum shutter speed of 1/8000 second, not only for capturing spur-of-the-moment fast moving subjects, but also using a high-speed lens with an open aperture even in outdoors to achieve the desired defocus effect. Both the built-in and external flash can be synchronized with a maximum 1/250 second shutter speed.

Optimum Layout of Controls
For quick, intuitive control, 3 dials are equipped on the top and back of the camera, and the main dial is equipped with a lock structure. A dedicated button allows direct reach to exposure compensation, white balance adjustment, or ISO setting. A maximum of 5 settings can be assigned to the Fn button. These external components are designed for ease of use without taking your eyes off the viewfinder.

Terminals for Expanded Connectivity
The Panasonic LUMIX DMC-GH4 comes with a variety of connection terminals including the 3.5mm microphone and 3.5mm headphone jacks. Take advantage of real-time image output on the external monitor via an optional HDMI micro cable while simultaneously recording video. AV outputs, flash sync terminal, and 2.5mm jack for remote controller are also available. The GH4 complies with the SDXC / SDHC Memory Card UHS Speed Class 3 (U3).

Wi-Fi with NFC Technology
The Panasonic LUMIX DMC-GH4 integrates Wi-Fi connectivity with NFC (Near Field Communication) technology. With the Panasonic Image App, remote photo and video shooting is available with a compatible smartphone or tablet, and can easily add embed geotag data in an image after shooting. Even if a smartphone / tablet is incompatible with NFC, you can still be easily connect to the camera by scanning the QR code displayed on the GH4's monitor from your mobile device.
28 accessories found for Panasonic Lumix DMC-GH4 4K Micro Four Thirds Digital Camera Body
Panasonic Lumix DMC-GH4 Micro 4/3 Digital Camera
– TECHNICAL SPECIFICATIONS –
---
Camera Type:
Digital Interchangeable Lens Mirrorless camera
Effective Pixels:
16.05 million
Total Pixels:
17.20 million
Sensor Type:
Live MOS Sensor
Sensor Size:
17.3 x 13.0mm (in 4:3 aspect ratio)
Image Sizes:
[4:3] 4608x3456(L) / 3264x2448(M) / 2336x1752(S) / 1824x1368 (with 3D lens in Micro Four Thirds system standard)
[3:2] 4608x3072(L) / 3264x2176(M) / 2336x1560(S) / 1824x1216 (with 3D lens in Micro Four Thirds system standard)
[16:9] 4608x2592(L) / 3840x2160(M) / 1920x1080(S) / 1824x1024 (with 3D lens in Micro Four Thirds system standard)
[1:1] 3456x3456(L) / 2448x2448(M) / 1744x1744(S) / 1712x1712 (with 3D lens in Micro Four Thirds system standard)
Image Formats:
RAW, RAW+Fine, RAW+Standard, Fine, Standard / MPO+Fine / MPO+Standard (with 3D lens in Micro Four Thirds system standard)
Movie:
MOV (Audio format LPCM), MP4 (Audio format LPCM / AAC 2ch), AVCHD (Audio format: Dolby Digital 2ch)
Lens Mount:
Micro Four Thirds mount
Image Stabilization:
Available in select lenses
Autofocus Type:
Contrast AF system
Focus Modes:
AFS (Single) / AFF (Flexible) / AFC (Continuous) / MF
ISO Sensitivity:
Auto / Intelligent ISO / 100 (Extended) / 200 / 400 / 800 / 1600 / 3200 / 6400 / 12800 / 25600 (Changeable to 1/3 EV step) / (Up to ISO6400 in motion picture recording) (ISO Auto in M mode)
Shutter Type:
Focal-plane shutter
Shutter Speeds:
Still image: Bulb (Max. 60 minutes), 1/8,000 - 60 / Motion picture: 59.94Hz: 1/16,000 - 1/30, 50.00Hz: 1/16,000 - 1/25, 24.00Hz: 1/16,000 - 1/24 (24.00Hz: 1/16,000 - 1/24 (When using Synchro Scan)
Continuous/Burst Shooting:
Mechanical shutter
H: 12.0 frames/sec (with AFS), 7.5 frames/sec (with AFC) (TBD)
M: 7.5 frames/sec (with Live View)
L: 2.0 frames/sec (with Live View)
Electronic Shutter
SH: 40.0 frames/sec
H: 20.0 frames/sec
M: 7.5 frames/sec (with Live View)
L: 2.0 frames/sec (with Live View)
Self-Timer:
10 sec, 3 images / 2 sec / 10 sec
Exposure Metering System:
1728-zone multi-pattern sensing system
Exposure Modes:
Multiple / Center Weighted / Spot
Exposure Compensation:
1/3 EV step ±5EV (±3EV for motion picture)
Exposure Lock:
Set the Fn button in custom menu to AE lock
Exposure Bracketing:
3, 5, 7 frames in 1/3, 2/3 or 1 EV Step, Max. ±3 EV, single/burst
White Balance:
Auto / Daylight / Cloudy / Shade / incandescent / Flash / White Set 1, 2, 3, 4 / Color temperature setting
Flash:
TTL Built-in-Flash, GN12 equivalent (ISO100 m) / GN17 equivalent (ISO200 m), Built-in Pop-up (Reference / Lighting angle: 24mm (35mm camera equivalent)
Flash Mode:
Auto, Auto/Red-eye Reduction*, Forced On, Forced On/Red-eye Reduction, Slow Sync., Slow Sync./Red-eye Reduction, Forced Off For iA, iA+ only.
Viewfinder:
OLED Live View Finder (2,359K dots)
Monitor Type:
OLED monitor with static touch control
Monitor Size:
Free-angle 3.0-inch (7.5cm) / 3:2 aspect / Wide viewing angle
Monitor Resolution:
1036K dots
Live View:
Yes
Wi-Fi:
IEEE 802.11b/g/n, 2412MHz - 2462MHz (11ch), Wi-Fi / WPA / WPA2, Infrastructure mode
NFC:
ISO/IEC 18092, NFC-F (Passive Mode)
Playback:
Normal playback, 30-thumbnail display, 12-thumbnail display, Calendar display, Zoomed playback (Max. 16x), Slideshow (All / Picture Only / Video Only / 3D / Category Selection / Favorite, duration & effect is selectable), Playback Mode (Normal / Picture / Video / 3D Play / Category / Favorite), Location Logging, RAW Processing, Clear Retouch, Title Edit, Text Stamp, Video Divide, Time Lapse Video, Stop Motion Video, Resize, Cropping, Rotate, Rotation Display, Favorite, DPOF Print Set, Protect, Face Recognition Edit, Picture Sort, Delete Confirmation
Storage:
SD Memory Card, SDHC Memory Card, SDXC Memory Card
(Compatible with UHS-I standard SDHC / SDXC Memory Cards)
Power Source:
DMW-BLH7 Li-ion Battery Pack (7.2V, 1,025mAh) (Included)
Interface:
USB 2.0 High Speed
micro HDMI TypeD
Languages:
English, German, French, Italian, Spanish, Polish, Czech, Hungarian, Russian, Chinese (Traditional), Chinese (Simplified), Dutch, Thai, Korean, Turkish, Portuguese, Arabic, Persian, Japanese, Swedish, Danish, Finnish, Greek, Vietnamese
Dimensions (WxHxD):
5.23 x 3.68 x 3.30 in. (132.9 x 93.4 x 83.9mm) (excluding protrusions)
Weight:
16.93 oz. (480g) (body only)
30.5 oz. (865g) (including lens, battery and memory card)