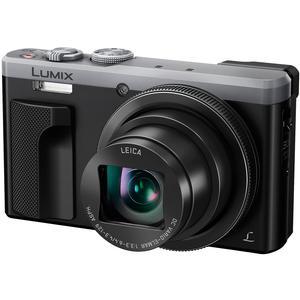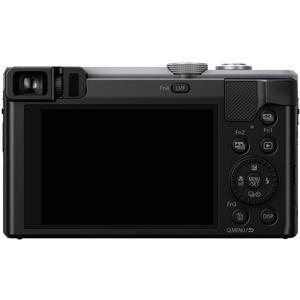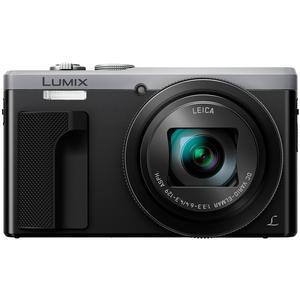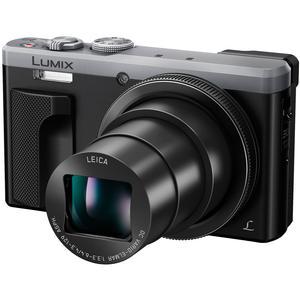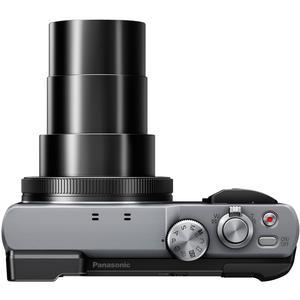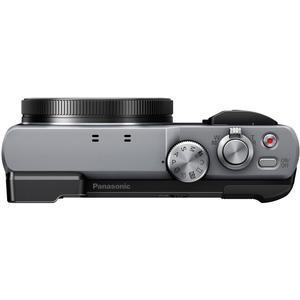 Panasonic Lumix DMC-ZS60 4K Wi-Fi Digital Camera (Silver)

ITEM INCLUDES

Panasonic Lumix DMC-ZS60 4K Wi-Fi Digital Camera (Silver) with:

DMW-BLG10PP Li-ion Battery
AC Adapter
USB Cable
Hand Strap

Panasonic Lumix DMC-ZS60 4K Wi-Fi Digital Camera (Silver)

Perfect for travel and everyday photography.

Panasonic Lumix point-and-shoot digital cameras are known among camera enthusiasts for reliability and innovative features. The Panasonic Lumix DMC-ZS60 4K Wi-Fi Digital Camera brings the legendary optical performance of a 30x (24-720mm) LEICA DC Lens to a highly portable point-and-shoot travel camera.

Traditionalists will love the hands-on manual feel of a lens-mounted control ring and thumb wheel, plus the familiarity of an eye-level electronic viewfinder. The modern enthusiast will love the Wi-Fi mobile device controllability and next-generation flexibility that 4K video and 4K PHOTO modes bring to the creative experience.

Key Features:

Big Zoom, Powerful Features, Little Camera:
With a 30x optical zoom, 4K Video and 4K Photo technology all in a pocket-sized camera, this camera gives you every detail from far away landscapes and allows you to capture spur-of-the-moment shots in vivid clarity.

Powerful Engine for Low Light Conditions:
Take stunning photos in dimly lit environments with an 18.1-megapixel High Sensitivity MOS Sensor and Venus Engine (the same quality engine that you find in a Lumix high-end system camera). Capture and edit more details by shooting in RAW format, allowing you to retain the original color and light information with minimal processing.

Get Closer to the Moment:
The 24mm-720mm (30x) zoom features legendary LEICA DC VARIO-ELMAR lens optics to keep you close to the action from any distance.

Capture Unmissable Moments with 4K Photo:
4K video technology enables Ultra HD photography with the innovative 4K PHOTO feature. Simply capture ultra high-resolution 4K video at super-fast 30 frames per second, then press Play, Pause and Save to extract the exact instant you want from individual 4K video frames to create a 4K still image.

4K Video, Life in Vivid Detail:
With 4 times the resolution of 1080p, 4K video delivers clearer, sharper, more beautifully detailed imaging.
(when recording 4K, use a UHS Speed Class 3 rated SD card)

Light Composition:
Light Composition processing selects brighter pixels to provide more dramatic imaging in situations like fireworks and nighttime scenery.

4K Live Cropping:
4K Live Cropping enables recording frames to move while the camera maintains a fixed position, providing greater stability while panning or zooming.

Shoot Now, Focus Later:
4K technology enables Post Focus function to refocus images after they are captured. Simply capture the scene, review the image on the camera's LCD and touch any portion of the photo to refocus.

High Speed Auto-focusing with DFD Technology:
Panasonic's Depth From Defocus (DFD) Auto Focus (AF) technology instantly calculates the distance between the items inside the frame and drives the focus of the lens in one fast, continuous movement. This system results in faster AF speeds up to 0.1 seconds and a burst shooting speed with AFC of 5 fps. It also increases the stability of continuous focusing when shooting video.

Live View Finder to See it All:
Sometimes the harsh sunlight makes even the brightest camera screens difficult to see. The Live View Finder automatically turns on when you lift the camera to your eye so you can see every detail.

DSLR-like Lens Ring Control:
In addition to manual aperture control, shutter speed, zoom and focus, the lens-mounted control ring can be easily customized to your favorite settings.

Focusing in Low Light Conditions - Star Light AF:
Low Light Auto Focus makes it possible to set focus on the subject more precisely such as in moonlight even without AF assist lamp. Furthermore, the Lumix DMC-ZS60 integrates Starlight AF to let you shoot stars in the night sky with autofocus by accurate calculation of the contrast value in a smaller AF zone.

Blur-less Video Shooting:
They HYBRID O.I.S. (Optical Image Stabilizer) + with 5-axis correction allows you to get blur-less one-handed video shooting. This feature detects and compensates for all of the camera's axis of rotational movement -- whether horizontal or vertical. Detect the images horizontally live even when the camera is tilted with the Level Shot Function.
21 accessories found for Panasonic Lumix DMC-ZS60 4K Wi-Fi Digital Camera (Silver)
Panasonic Lumix DMC-ZS60 4K Wi-Fi Digital Camera
– TECHNICAL SPECIFICATIONS –
---
Effective Pixels:
18.1MP
Total Pixels:
18.9MP
Sensor Type:
MOS
Sensor Size:
1/2.3"
Image Sizes:
[4:3] 4896 x 3672 (18M) (L) / 3456 x 2592 (9M) (M) / 2400 x 1800 (4.5M) (S)
[3:2] 4896 x 3264 (16M) (L) / 3456 x 2304 (8M) (M) / 2400 x 1600 (4M) (S)
[16:9] 4896 x 2752 (13.5M) (L) / 3840 x 2160 (8M) (M) / 1920 x 1080 (2M) (S)
[1:1] 3664 x 3664 (13.5M) (L) / 2592 x 2592 (7M) (M) / 1824 x 1824 (3.5M) (S)
Movie:
4K Video: 3840 x 2160 pixels, 25p (4K: 100Mbps / MP4) (Sensor Output is 25fps) (AAC)
HD Video: 1920 x 1080 pixels, 50p (FHD: 28Mbps / AVCHD) (Sensor Output is 50fps) (Dolby) / 1920 x 1080 pixels, 50i (FHD: 24Mbps / AVCHD) (Sensor Output is 25fps) (Dolby) / 1920 x 1080 pixels, 50i (FHD: 17Mbps / AVCHD) (Sensor Output is 50fps) (Dolby) / 1920 x 1080 pixels, 50p (FHD: 28Mbps / MP4) (Sensor Output is 50fps) (AAC) / 1920 x 1080 pixels, 25p (FHD: 20Mbps / MP4) (Sensor Output is 25fps) (AAC) / 1280 x 720 pixels, 25p (HD: 10Mbps / MP4) (Sensor Output is 25fps) (AAC)
Lens Type:
LEICA DC VARIO-ELMAR
Optical Zoom:
30x
Digital Zoom:
4x
Intelligent Zoom:
60x
Image Stabilization:
5-Axis HYBRID O.I.S.
Focus Range:
Normal: 19.7 in. (50cm)
Macro: 1.2 in. (3cm)
ISO Sensitivity:
Auto, 80-3200 (expands to 6400)
Aperture Range:
f/3.3 - f/6.4
Monitor Type:
TFT LCD
Monitor Size:
3.0"
Monitor Resolution:
1,040,000
Flash:
Built-in
Wi-Fi:
Built-in
Storage:
SD/SDHC/SDXC memory card
Power Source:
DMW-BLG10 Li-ion Battery Pack (7.2V, 1025mAh, 7.4 Wh)
Interface:
micro HDMI type D
USB 2.0 Micro-B
Dimensions (WxHxD):
4.4 x 2.5 x 1.5 in. (112 x 64 x 38mm)
Weight:
0.6 lb. (282g) (with battery and SD memory card)