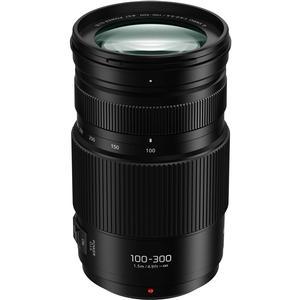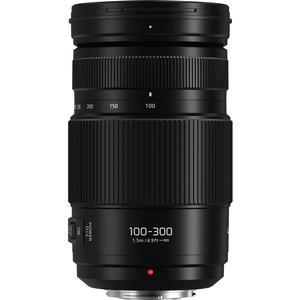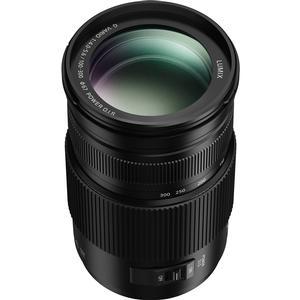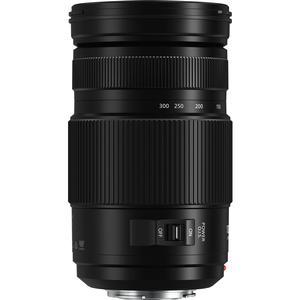 ITEM INCLUDES

Panasonic Lumix G Vario 100-300mm f/4.0-5.6 II Power OIS Zoom Lens with:

Lens Hood
Bag
Front & Rear Lens Caps

Panasonic Lumix G Vario
100-300mm f/4.0-5.6 II
Power OIS Zoom Lens

Intense action.

Drawing subjects in from a distance, this Panasonic Lumix G Vario 100-300mm f/4.0-5.6 II Power OIS Zoom Lens is ideal for capturing action sports, or even animals you couldn't normally get close to. Unlike conventional lenses, LUMIX G lenses like this one are small, lightweight and fit perfectly in the palm of your hand. Now you can take professional-looking shots of an athlete or even capture individual drops of water falling through the air.

Shoot in any type of weather with this splashproof and dustproof lens. Take sharp pictures of sports or animals thanks to the POWER Optical Image Stabilization system. The Extra-Low Dispersion (ED) lens helps you capture incredibly sharp images that have beautiful colors from corner to corner.

Key Features:

SAMPLE IMAGE

POWER O.I.S. - Ultra Sharp Photos:
Capture scenes carefree or at the spur of the moment. The optical image stabilization (O.I.S.) technology built directly into the lens ensures your photos will look great, with sharp blur-free contours across the entire picture. Taking highly popular MEGA O.I.S. further, this advanced technology immediately compensates even large camera shake and vibrations that may occur in photography. So you can capture true-to-life scenes without the need for a tripod. In the end, you'll enjoy wonderfully crisp images.

| | |
| --- | --- |
| | |
| WITHOUT O.I.S. | WITH O.I.S. |

Video Support - Perfect Video Recording:
With video support any user has everything they need for recording with their LUMIX camera. Not only does it perform smooth aperture changes, so there are no sudden jumps in exposure, it also boasts a silent design for enhanced capture of the scene's audio. What's more, the stunning AF performance of this lens records excellent 4K video, where precise focusing is essential.

Splash / Dustproof:
Brave the elements in nearly any kind of weather or shooting location. This lens features a splash/dustproof construction* that is tough enough to withstand even heavy field use. It protects the lens system inside from sand, rain and more, making it perfect for shooting under harsh conditions. Now there is nothing holding you back from capturing the creative nature or landscape shots you want. * The lens supports this feature in conjunction with splash/dustproof LUMIX cameras.

Lens Elements:
One Extra-Low Dispersion (ED) lens corrects chromatic aberration rendering sharp, high-contrast images with clear colors from corner to corner.
26 accessories found for Panasonic Lumix G Vario 100-300mm f/4.0-5.6 II Power OIS Zoom Lens
Panasonic Lumix G Vario 100-300mm f/4.0-5.6 II Power OIS Zoom Lens
– TECHNICAL SPECIFICATIONS –
---
| | |
| --- | --- |
| Lens Mount: | Micro four thirds |
| Focal Length: | 100-300mm |
| Maximum Aperture: | f/4 - 5.6 |
| Minimum Aperture: | f/22 |
| Maximum Magnification: | 0.21x |
| Minimum Focus Distance: | 4.9 ft. (1.5m) |
| Lens Construction: | 17 elements / 12 groups |
| Diaphragm Blades: | 7 |
| Focus Type: | Auto / Manual |
| Image Stabilization: | POWER Optical Image Stabilization |
| Filter Size: | 67mm |
| Dimensions (Diam. x Length): | 2.9 x 5 in. (73.6 x 126mm) |
| Weight: | 1.1 lbs. (520g) |
Compatible with the following Panasonic digital cameras, including:
Lumix DMC-G5
Lumix DMC-G6
Lumix DMC-G85
Lumix DMC-GF5
Lumix DMC-GF6
Lumix DMC-GF7
Lumix DMC-GF8
Lumix DMC-GH3
Lumix DMC-GH4
Lumix DMC-GH5
Lumix DMC-GM1
Lumix DMC-GM5
Lumix DMC-GX7
Lumix DMC-GX8
Lumix DMC-GX85
Lumix DMC-GX850