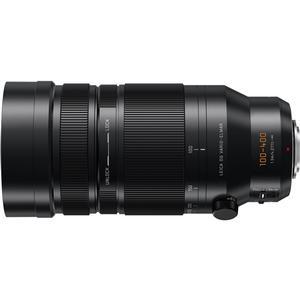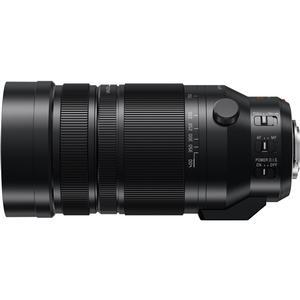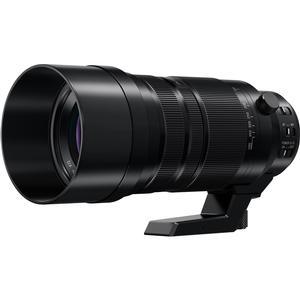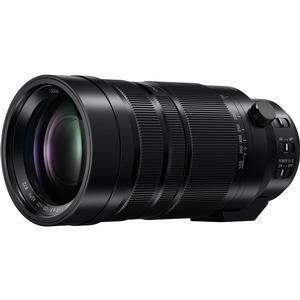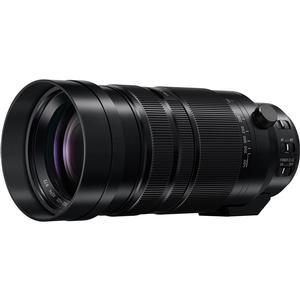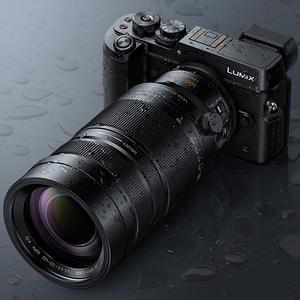 ITEM INCLUDES

Panasonic Lumix G Vario 100-400mm f/4.0-6.3 Power OIS Zoom Lens with:

Lens Storage Bag
External Tripod Mount

Panasonic Lumix G Vario
100-400mm f/4.0-6.3 Power OIS
Zoom Lens

Capture the full beauty of nature.

Panasonic LUMIX Mirrorless Micro Four Thirds lenses deliver a no-compromise approach to optical performance for modern interchangeable camera enthusiasts. As an optical partner of legendary LEICA Lenses, the Panasonic Lumix G Vario 100-400mm f/4.0-6.3 Power OIS Zoom Lens features the highest standards of detail and sharpness. Built for the outdoors, this lens features a splash and dustproof design when mounted on a compatible LUMIX G Mirrorless camera.

With integrated LUMIX Power Optical Image Stabilization (O.I.S) and Dual I.S. (Image Stabilization) camera compatibility you'll shoot with unprecedented hand-held stability. Make the switch from bulky DSLRs to the smaller, lighter, more compact Mirrorless Micro Four Thirds system cameras and lenses from Panasonic LUMIX. Includes integrated rotary tripod mount and built-in sliding lens hood.

Key Features:

Capture the Full Beauty of Nature:
The 100-400mm (35mm camera equivalent 200-800mm) LEICA DG lens was specially designed for the world's nature photographers. The lens pulls distant activities so close they appear to be happening right in front of your eyes, in all of their natural beauty.

Mirrorless Design & Portability:
Panasonic LUMIX was 1st in mirrorless and leads the way in mirrorless lens innovation. The Micro Four Thirds format offers a significant reduction in size and weight vs traditional DSLR camera lenses.

Splash and Dustproof:
This lens features Splash & Dustproof construction that is tough enough to withstand heavy field use. It protects the lens system inside from sand, rain and more, making it perfect for shooting under harsh conditions. Brave the elements in nearly any kind of weather or shooting location.

Ultimate Optics:
The LEICA DG lens gets the ultimate optical quality and performance, naturally meeting the strict quality standards set by LEICA Camera AG. Enjoy brilliant clarity all the way to the edges of your photos thanks to the sophisticated design of these lenses. Distortions are prevented to enable precise and sharp picture rendering. The ideal tool for pro-level images in the palm of your hand.

Ultra Sharp Photos:
Optical Image Stabilization (O.I.S.) technology is built directly into the lens ensuring your photos will look great with sharp blur-free contours across the entire picture. Panasonic's highly popular POWER O.I.S. immediately compensates even for large camera shake and vibrations that may occur. This allows you to capture true-to-life scenes without the need for a tripod.

Perfect Video Recording:
Video Support gives you everything you need for recording with your LUMIX cameras. It performs smooth aperture changes so there are no sudden jumps in exposure. It also boasts a Silent Design function for enhanced capture of the scene's audio. The stunning AF Performance also records excellent 4K video where precise focusing is essential.

20 Elements in 13 Groups:
Extra-Low Dispersion (ED) and Ultra Extra-Low Dispersion (UED) lenses correct chromatic aberration allowing you to render sharp, high contrast images with clear colors from corner to corner. Aspherical (ASPH) Extra-Low Dispersion (ED) lenses also help reduce size and weight giving you high resolution, high contrast images from corner to corner.
32 accessories found for Panasonic Lumix G Vario 100-400mm f/4.0-6.3 Power OIS Zoom Lens
Panasonic Lumix G Vario 100-400mm f/4.0-6.3 Power OIS Zoom Lens
– TECHNICAL SPECIFICATIONS –
---
| | |
| --- | --- |
| Lens Mount: | Micro Four Thirds |
| Focal Length: | 100-400mm (35mm camera equivalent 200-800mm) |
| Maximum Aperture: | f/4 - 6.3 |
| Minimum Aperture: | f/22 |
| Maximum Magnification: | 0.25x |
| Minimum Focus Distance: | 4.3 ft. (1.3m) |
| Lens Construction: | 20 elements, 13 groups |
| Diaphragm Blades: | 9 |
| Focus Type: | Auto / Manual |
| Image Stabilization: | POWER O.I.S. |
| Filter Size: | 72mm |
| Dimensions (Diam. x Length): | 3.3 x 6.8 in. (83 x 171.5mm) |
| Weight: | 2.2 lbs. (985g) |
Compatible with the following Panasonic digital cameras, including:
Lumix DMC-G5
Lumix DMC-G6
Lumix DMC-G85
Lumix DMC-GF5
Lumix DMC-GF6
Lumix DMC-GF7
Lumix DMC-GF8
Lumix DMC-GH3
Lumix DMC-GH4
Lumix DMC-GH5
Lumix DMC-GM1
Lumix DMC-GM5
Lumix DMC-GX7
Lumix DMC-GX8
Lumix DMC-GX85
Lumix DMC-GX850