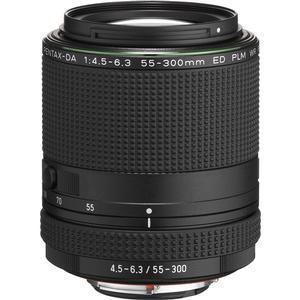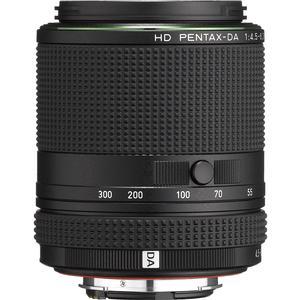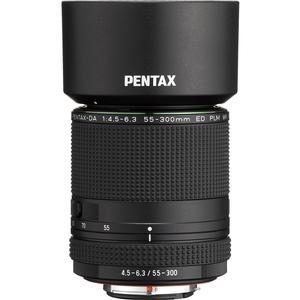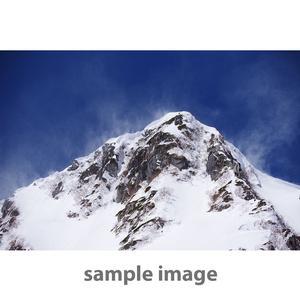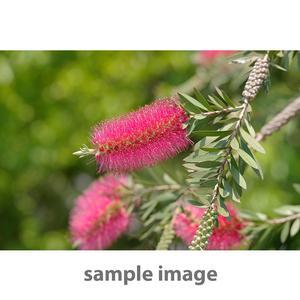 ITEM INCLUDES

Pentax HD DA 55-300mm f/4.5-6.3 ED PLM WR RE Zoom Lens with:

PH-RBK58 Lens Hood
Front & Rear Lens Caps

Pentax HD DA 55-300mm f/4.5-6.3 ED PLM WR RE Zoom Lens

Enhanced autofocus and outstanding optical performance.

The weather-resistant Pentax HD DA 55-300mm f/4.5-6.3 ED PLM WR RE telephoto zoom lens provides enhanced autofocus (AF) performance and outstanding optical performance in an ultra compact and lightweight package. It provides effective focal lengths between 84.5-460mm when mounted on a Pentax APS-C format digital SLR.

Its design enables quiet, high-speed AF operation in still-image shooting, as well as smooth and quiet AF tracking operation during video recording, with minimal noise created by focus and aperture shifts. Multi-layer HD (high-definition) coated optics deliver bright, high-contrast images free of flare and ghost image, and a minimum focusing distance of 37.4 inches (0.95 meters) expands the range of photographic applications.

With a fully retractable design, it measures only 3.5 inches (89mm) long and weighs less than one pound (442 grams), making it easy to carry around, even for casual shooting. Fully-weather-sealed, this lens is a durable and dependable companion for outdoor shooting -- even in rain, snow or other wet conditions -- when used with one of the many weather-resistant Pentax DSLR's available.

Key Features:

High-speed AF:
Improved high-speed AF operation using a pulse motor (PLM) for smooth, quiet, and immediate response.

Quiet AF operation:
Quiet AF operation and electromagnetic diaphragm control, perfect for movie recording.

Approx. 5.5x zoom coverage from medium- to super-telephoto ranges:
Provides approximately 5.5-times zoom coverage from medium- to super-telephoto ranges with a minimum focusing distance of 3.1 feet (0.95m) and focal lengths from 84.5mm to 460mm (35mm equiv.).

Quick Shift Focus System:
After focusing using the autofocus, the focus ring can be turned to allow immediate focus adjustment using the manual focus. This feature enables smooth operability by eliminating the need for an AF/MF switching operation. This is useful during closeup photography, for instance, when you want to shoot while making fine adjustments to the focus.

Compact and lightweight:
Compact form factor -- only 3.5 inches (89mm) long and weighing just 15.5 ounces (442g), the lens is extremely compact and lightweight.

Weather-resistant construction:
Dependable weather-resistant construction with 11 sealing parts to effectively prevent the intrusion of water into the lens.

HD coating:
Fabricated using Pentax's exclusive special fabrication process, where high-density film is applied with high precision at the nanometer level. This enables the reliable formation of the designed film thickness for a dramatic reduction of the reflection rate (up to 50% compared to conventional coatings) over the entire visible light range. It is also effective in reducing ghosting and flare.

Super Protect (SP) Coating:
SP coating is a Pentax-original special coating that provides superior performance in repelling water and oils. It is used on the front surface of the first high-performance lens for effective protection of the lens surface. This coating not only prevents adhesion of dust, water drops, oils, and other substances, but it also makes it easy to wipe off objects that adhere to the lens.
27 accessories found for Pentax HD DA 55-300mm f/4.5-6.3 ED PLM WR RE Zoom Lens
Pentax HD DA 55-300mm f/4.5-6.3 ED PLM WR RE Zoom Lens
– TECHNICAL SPECIFICATIONS –
---
| | |
| --- | --- |
| Lens Mount: | Pentax K |
| Focal Length: | 55-300mm |
| Maximum Aperture: | f/4.5-6.3 |
| Minimum Aperture: | f/22-32 |
| Maximum Magnification: | 0.30x |
| Minimum Focus Distance: | 3.1 ft. (0.93m) |
| Lens Construction: | 14 elements / 11 groups |
| Diaphragm Blades: | 9 |
| Focus Type: | Auto / Manual |
| Image Stabilization: | N/A |
| Filter Size: | 58mm |
| Dimensions (Diam. x Length): | 3.0 x 3.5 in. (76.5 x 89mm) |
| Weight: | 15.6 oz. (442g) |
Compatible with the following Pentax digital cameras, including:
K-01
K-1
K-3
K-3 II
K-5
K-5 II
K-5 IIs
K-7
K-30
K-50
K-70
K-500
K-r
K-S1
K-S2
K-x
K2000
K200D
K20D