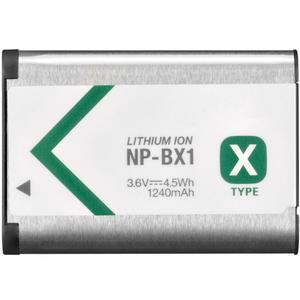 ITEM INCLUDES

Power2000 ACD-408 Rechargeable Battery for Sony NP-BX1 with:

Power2000 ACD-407 Rechargeable Battery for Sony NP-BX1

A spare battery is an essential accessory. No power, no pictures!

Increase your shooting capacity with this powerful NP-BX1 Lithium-ion rechargeable battery for Sony digital cameras. More powerful than your standard battery, this spare high-capacity NP-BX1 will not put constraints on how you want to shoot. Plus, this rechargeable battery is Memory Free. It can be charged at any time without harm, even if it already has a partial charge, and can be typically charged over 1000 times.
10 accessories found for Power2000 ACD-408 Rechargeable Battery for Sony NP-BX1

GIOTTOS
Mfr#:
AA1910

PRECISION DESIGN
Mfr#:
PD-50PVTR

PRECISION DESIGN
Mfr#:
PD-PBC5000

PRECISION DESIGN
Mfr#:
PD-007

PRECISION DESIGN
Mfr#:
PD-LED-35

PRECISION DESIGN
Mfr#:
SPCU01

PREMIUM TECH
Mfr#:
PTD-80

PREMIUM TECH
Mfr#:
PT-80

VIVITAR
Mfr#:
VIV-SF4000-BX

XIT
Mfr#:
XT12FLXTR
Compatible with the following Sony digital camera or Action Cam:
Cyber-shot DSC-H400
Cyber-shot DSC-HX300
Cyber-shot DSC-HX350
Cyber-shot DSC-HX400
Cyber-shot DSC-HX50V
Cyber-shot DSC-HX80
Cyber-shot DSC-RX1
Cyber-shot DSC-RX1R
Cyber-shot DSC-RX1R II
Cyber-shot DSC-RX100
Cyber-shot DSC-RX100 II
Cyber-shot DSC-RX100 III
Cyber-shot DSC-RX100 IV
Cyber-shot DSC-RX100 V
Cyber-shot DSC-WX300
Cyber-shot DSC-WX350
HDR-AS10
HDR-AS15
HDR-AS20
HDR-AS30V
HDR-AS50
HDR-AS100V
HDR-AS200V
HDR-AS300
FDR-X1000V
FDR-X3000