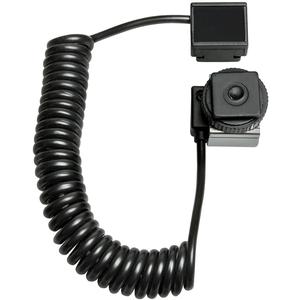 ITEM INCLUDES

Precision Design Heavy Duty Off-Camera Flash Ext Cord - Canon EOS E-TTL II with:

Precision Design Off-Camera Flash Ext Cord (Canon E-TTL II)

Position your flash away from the camera for precise fill lighting.

The Precision Design E-TTL Off-Camera Flash Extension Cord is an extremely useful accessory for Canon EOS digital & 35mm film SLR cameras, allowing an external flash to be used away from the camera and still perform all the automatic functions possible with flash photography.

Using an off-camera flash provides the photographer with the flexibility to direct light from a variety of angles, allowing simple but effective fill lighting for balancing outdoor shots or hiding shadows under harsh indoor lights. An off-camera flash is also an effective primary light source when less direct lighting is desired.
0 accessories found for Precision Design Heavy Duty Off-Camera Flash Ext Cord - Canon EOS E-TTL II
Compatible with ALL Canon EX and EZ series Speedlite's and ALL other Manufacturers with Canon compatible flash units, including:
320EX
420EX
430EX II
430EX III-RT
480EG
540EZ
550EX
580EX II
600EX-RT
90EX
Compatible with the following Canon digital cameras, including:
EOS 60D
EOS 70D
EOS 80D
EOS 1D X
EOS 1D X Mark II
EOS 5D Mark II
EOS 5D Mark III
EOS 5D Mark IV
EOS 5Ds
EOS 5Ds R
EOS 6D
EOS 7D
EOS 7D Mark II
EOS Rebel SL1
EOS Rebel T3
EOS Rebel T3i
EOS Rebel T4i
EOS Rebel T5
EOS Rebel T5i
EOS Rebel T6
EOS Rebel T6i
EOS Rebel T6s
EOS M
EOS M2
EOS M3
Powershot G15
Powershot G16
Powershot G1
Powershot G1 X
Powershot G1 X Mark II
Powershot G3 X
Powershot G5 X
Powershot SX40 HS
Powershot SX50 HS