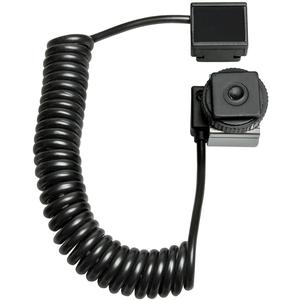 ITEM INCLUDES

Precision Design Heavy Duty Off-Camera Flash Ext Cord - Nikon i-TTL with:

Precision Design Off-Camera Flash Ext Cord (Nikon i-TTL)

Position your flash away from the camera for precise fill lighting.

The Precision Design i-TTL Off-Camera Flash Extension Cord is an extremely useful accessory for Nikon digital & 35mm film SLR cameras, allowing an external flash to be used away from the camera and still perform all the automatic functions possible with flash photography.

Using an off-camera flash provides the photographer with the flexibility to direct light from a variety of angles, allowing simple but effective fill lighting for balancing outdoor shots or hiding shadows under harsh indoor lights. An off-camera flash is also an effective primary light source when less direct lighting is desired.
0 accessories found for Precision Design Heavy Duty Off-Camera Flash Ext Cord - Nikon i-TTL
Compatible with ALL Nikon Speedlite's and ALL other Manufacturers with Nikon compatible flash units, including:
SB-300
SB-400
SB-500
SB-5000
SB-600
SB-700
SB-800
SB-900
SB-910
SB-5000
Compatible with the following Nikon digital cameras, including:
D3200
D3300
D3400
D5200
D5300
D5500
D7000
D7100
D7200
D7500
D300
D300s
D500
D600
D610
D700
D750
D800
D800E
D810
D810A
D850
D3
D3s
D3x
D4
D4s
D5
Df
COOLPIX A
COOLPIX P7100
COOLPIX P7700
COOLPIX P7800