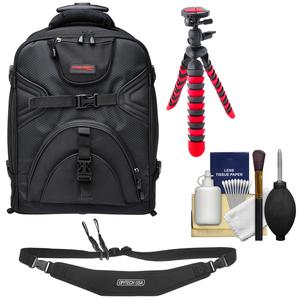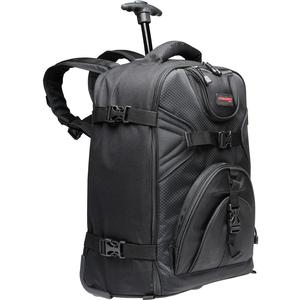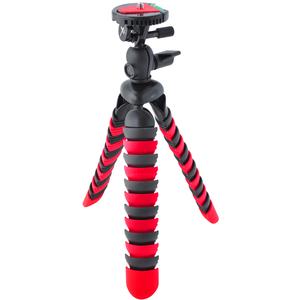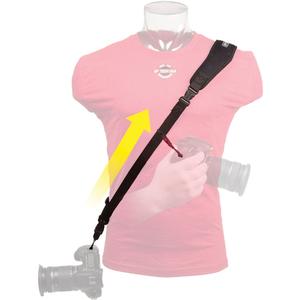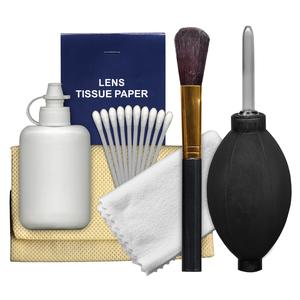 Roll over images for larger versions
See Description tab below for detailed info
Precision Design PD-BPT DSLR Camera Backpack with Wheels with Flex Tripod + Strap + Cleaning Kit

KIT INCLUDES 4 PRODUCTS:
| | |
| --- | --- |
| 1. | Precision Design PD-BPT DSLR Camera Backpack with Wheels |
| 2. | Xit 12" Flexible DSLR Camera Tripod (Red/Black) |
| 3. | Op/Tech USA Neoprene Utility Camera Strap-Sling |
| 4. | Precision Design 6-Piece Camera & Lens Cleaning Kit |
ITEM INCLUDES

Precision Design PD-BPT DSLR Camera Backpack with Wheels with:

Padded Shoulder Straps
Adjustable Dividers
Neoprene Laptop Case
Removable Rain Cover

Precision Design Digital SLR Camera Backpack with Wheels

A customizable & comfortable multi-use backpack
for carrying your camera, lenses, laptop and more!

The Precision Design PD-BPT DSLR Camera Backpack is a comfortable, multi-use storage solution for your DSLR camera, laptop and/or tablet. Breathable, padded air mesh lines the shoulder straps and the back of the case, allowing for an ergonomic, comfortable and dry fit. With a completely customizable interior, the PD-BPT allows you to efficiently store and protect all of your equipment and accessories. The adjustable velcro dividers within the backpack allow you to organize all your gear for maximum accessibility and protection.

The main compartment can hold most SLR bodies with or without an attached lens, plus several additional lenses or flash units. This bag features a number of internal and external accessory pockets which provide additional storage for batteries, cords, memory cards or other small accessories.

Additional features include: padded backpack straps which can easily be accessed from the rear pouch, side straps with large snap buckles for holding jackets or other clothing, adjustable waist strap, a foot pocket to carry a tripod, a pull-up bar, and rolling wheels.

Also includes a neoprene laptop case that fits up to 16.5" widescreen laptops, and the removable rain cover helps keep your bag dry in inclement weather.

ITEM INCLUDES

Xit 12" Flexible DSLR Camera Tripod (Red/Black) with:

1 Year Xit USA Warranty

Xit 12" Flexible Digital SLR Camera Tripod (Red/Black)

Get any angle and firm footing with this hands-free tripod.

When your digital camera needs support for unique photo shoots, an ordinary tripod might not be able to handle the job. The Xit 12" Flexible DSLR Tripod is one of the lightest and most versatile camera tripods available today, weighing just 11 ounces, and it is small enough to fit in almost any camera case, handbag or backpack. It features three strong, flexible legs with soft rubber padding and rubber feet that can be bent and twisted to adapt nearly any surface. Whether wrapped around a tree branch, hanging from a pole or perched on a jagged rock, this compact tripod will steady your camera for amazing shots in nearly any environment.

In addition, this flexible tripod features a locking ball head that can be rotated and tilted in any direction for easy positioning. It also comes with a quick-release plate for removing and attaching your camera in an instant.

ITEM INCLUDES

Op/Tech USA Neoprene Utility Camera Strap-Sling with:

Lifetime Op/tech USA Warranty

Op/Tech USA Neoprene Utility Camera Strap-Sling (Black)

Comfortable and securely holds your camera gear, while offering rapid access for those opportunistic photographs.

The Op/Tech Utility Strap-Sling offers rapid access to your camera or binoculars while maintaining the security of a strap worn across the shoulder. The neoprene, internal support foam and non-skid surface are bonded together to form a comfortable, durable strap that can make carrying extra gear a joy.

Using Op/Tech's exclusive Uni-Loop connectors, your gear hangs securely at your side and will glide up and down the sling without interfering with a camera's tripod connection. Two Uni-Loop connectors allow for use with a pro battery pack and offer even more options for carrying gear.

ITEM INCLUDES

Precision Design 6-Piece Camera & Lens Cleaning Kit with:

Hurricane Air Blower
Lens Cleaning Tissues
Microfiber Cleaning Cloth
Lens Cleaning Liquid
Soft Brush
Cotton Swabs

1 Year Precision Design USA Warranty

Precision Design 6-Piece Lens & Digital SLR Cleaning Kit

Essential items for the proper maintenance of your equipment.

It's obvious that the cleaner the lens and camera sensor, the sharper your pictures will be. Dirt, dust, and fingerprints will degrade the image quality of even the finest optics. However, it's equally important to avoid using incorrect cleaning materials which can permanently damage your photo equipment.

This 6-piece cleaning kit contains everything you'll ever need to properly clean your lenses and digital SLR camera, including an air blower, soft brush, cleaning solution, lens tissues, cotton swabs, and a microfiber cloth. Also includes a soft carrying pouch.
10 accessories found for Precision Design PD-BPT DSLR Camera Backpack with Wheels

DAVIS & SANFORD
Mfr#:
PROVISTA 6510

DOMKE
Mfr#:
PFWRFP-MD

PRECISION DESIGN
Mfr#:

PRECISION DESIGN
Mfr#:
DSLR400V

PRECISION DESIGN
Mfr#:
PD-58PVTR

PRECISION DESIGN
Mfr#:
PD-LSP1

SLIK
Mfr#:
613-338
Price:
$89.94

SUNPAK
Mfr#:
620-600-UPGBB

VIDPRO
Mfr#:
XM-8

VIVITAR
Mfr#:
VIV-SLING1
Compatible with the following digital cameras:
Canon
Rebel T3
Rebel T3i
Rebel T4i
Rebel T5
Rebel T5i
Rebel T6
Rebel T6i
Rebel T6s
EOS 60D
EOS 70D
EOS 80D
EOS 1D X
EOS 1D X Mark II
EOS 5D Mark II
EOS 5D Mark III
EOS 5D Mark IV
EOS 5Ds
EOS 5Ds R
EOS 6D
EOS 7D
EOS 7D Mark II
Nikon
1 AW1
1 J2
1 J3
1 J4
1 J5
1 S2
1 V3
D3200
D3300
D3400
D5300
D5500
D7100
D7200
D7500
D500
D600
D610
D700
D750
D800
D800E
D810
D810A
D850
D4
D4s
D5
Df
Olympus
OM-D E-M1
OM-D E-M1 II
OM-D E-M5
OM-D E-M5 II
OM-D E-M10
OM-D E-M10 II
PEN E-P5
PEN E-PL5
PEN E-PL6
PEN E-PL7
PEN E-PL8
PEN E-PM2
PEN-F
Panasonic
Lumix DMC-G5
Lumix DMC-G6
Lumix DMC-G85
Lumix DMC-GF5
Lumix DMC-GF6
Lumix DMC-GF7
Lumix DMC-GF8
Lumix DMC-GH3
Lumix DMC-GH4
Lumix DMC-GH5
Lumix DMC-GM1
Lumix DMC-GM5
Lumix DMC-GX7
Lumix DMC-GX8
Lumix DMC-GX85
Lumix DMC-GX850
Pentax
645D
645Z
K-01
K-1
K-3
K-3 II
K-5
K-5 II
K-5 IIs
K-30
K-50
K-70
K-500
K-r
K-S1
K-S2
Q
Q-S1
Q7
Q10
Samsung
NX mini
NX1
NX30
NX300
NX500
NX1100
NX2000
NX3000
Sony
Alpha A7
Alpha A7 II
Alpha A7R
Alpha A7R II
Alpha A7R III
Alpha A7S
Alpha A7S II
Alpha A9
Alpha A3000
Alpha A5000
Alpha A5100
Alpha A6000
Alpha A6300
Alpha A6500
Alpha NEX-F3
Alpha NEX-3N
Alpha NEX-5R
Alpha NEX-5T
Alpha NEX-6
Alpha NEX-7
Alpha SLT-A37
Alpha SLT-A57
Alpha SLT-A58
Alpha SLT-A65
Alpha SLT-A68
Alpha SLT-A77
Alpha SLT-A77 II
Alpha SLT-A99
Alpha SLT-A99 II
Reviews are for the first item in the kit:
Precision Design PD-BPT DSLR Camera Backpack with Wheels