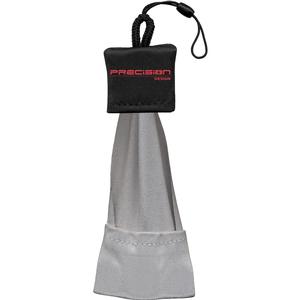 ITEM INCLUDES

Precision Design Spudz Mini Microfiber Cleaning Cloth (with Elastic Cord & Case) with:

Precision Design Mini Microfiber Lens Cloth with Neoprene Pouch

Keep your equipment clean no matter where you go.

Then the Mini Microfiber Lens Cloth from Precision Design is for you! Measuring 1.75" x 5.75" with a built-in finger pouch, this cloth is ideal for field work, general outdoor photography, bird watching, hunting or even shooting pictures from the comforts of home, this soft cloth will remove smudges and other surface grime from your delicate optics.

The real innovation, however, is the attached water-resistant neoprene pouch that keeps the cloth dry and protected from dust, dirt and other contaminants that could otherwise lead to scratches. And for added convenience, the pouch features a simple clip that makes transportation a snap. Just attach the pouch to your keychain, belt loop or camera bag, and you're ready to go!
0 accessories found for Precision Design Spudz Mini Microfiber Cleaning Cloth (with Elastic Cord & Case)