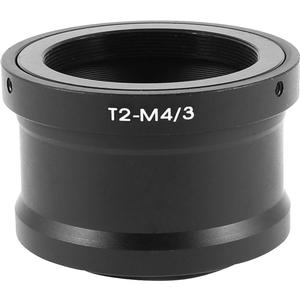 ITEM INCLUDES

Precision Design T Mount for Olympus PEN / OM-D & Panasonic Micro 4/3 with:

T-Mount Adapter for Micro 4/3 Mount Digital Cameras

T-mount lenses, which feature a 42mm threaded end, are often used for specialty photography or super telephoto applications, and can be a great addition to your lens collection. By simply attaching the proper adapter, T-mount lenses can be used with countless brands and models of cameras, including modern digital interchangeable lens cameras. Most telescopes and microscopes also utilize a T-mount when attached to a camera.

This T-mount adapter is made of a strong, lightweight alloy, and is designed for use with Micro 4/3 mount digital interchangeable lens cameras (including Olympus PEN & OM-D series, and Panasonic Lumix G series).
0 accessories found for Precision Design T Mount for Olympus PEN / OM-D & Panasonic Micro 4/3