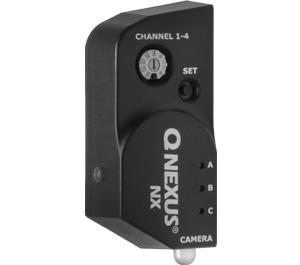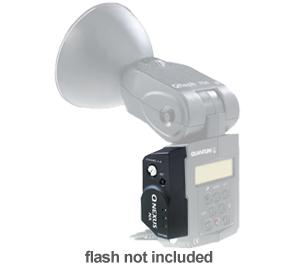 ITEM INCLUDES

Quantum Qnexus Model NX Wireless TTL Flash Interface (for Canon and Nikon) with:

Quantum Qnexus Model NX Wireless TTL Flash Interface
(for Canon and Nikon)

Studio quality lighting.

Expand the power and reliability of multi-flash TTL setups with the Quantum Qnexus Model NX Wireless TTL Flash Interface. Use with your Canon or Nikon flash. QNexus links the Quantum Qflash T5d-R or X5d-R to the wireless TTL systems of Canon and Nikon. QNexus "reads" the Canon or Nikon wireless infrared (IR) signals to command Qflash in manual, automatic, TTL, and TTL-Ratio.

Use any number of dedicated Qflash 5d-R's or X5d-R's as remotes, controlled totally from your camera's master flash menu. QNexus supports all Canon and Nikon wireless flash functions, except high speed sync, from as far away as 100-200 feet! Maximum distance for direct line of sight may vary due to type of master flash or control unit used. The higher sensitivity of QNexus provides more than a 50% increase in range over camera manufacturer's flash.

Key Features:

Studio Quality Lighting
Each Qflash equipped with QNexus gives you an additional 150 watt-seconds (with Qflash T5d-R), and up to 400 watt-seconds (with X5d-R) of beautiful, studio-quality lighting to dramatically expand your creative options. Camera manufacturer's flash is typically only 50 watt-seconds.

Use with a Variety of Studio Equipment
Make a great portable portrait setup by using a Qflash in a softbox, or with an umbrella as your key light, and use your Canon or Nikon flash for fill. For those tricky large group photos, use multiple Qflashes for more lighting power, all controlled by a Canon or Nikon on-camera master flash. You can even mix remote Canon/Nikon flashes with remote Qflashes.

Qflash Power
Escape from the limited power of your camera manufacturer's shoe-mount flashes! Get Qflash power, light quality and seamless integration with your Canon or Nikon wireless flash systems. Shoot all day, as rapidly as you want. Qflash heavy-duty components will not overheat or worse!

Four Channels
Channel dial works with Canon or Nikon master flash channel selection. Set any one of four channels (1-4) using the rotary switch on the QNexus to the same channel on the master flash.

Multiple Groups
Remote group ID indicators allows Qflash units to be setup in multiple groups for Ratio-TTL exposure, or combined in the same groups for extraordinary flash power. Uses same group indicators as Canon or Nikon flash.

Easy to Use
Requires no batteries or cables.

Manual, Automatic, TTL, and TTL Ratio
Mount the manufacturer's flash on the camera's hot shoe, and trigger remote Qflashes. QNexus captures the wireless information and programs Qflash in Manual, Automatic, TTL, and TTL Ratio.
0 accessories found for Quantum Qnexus Model NX Wireless TTL Flash Interface (for Canon and Nikon)
Quantum Qnexus Model NX Wireless TTL Flash Interface (for Canon and Nikon)
– TECHNICAL SPECIFICATIONS –
---
| | |
| --- | --- |
| Type: | Receiver |
| Number of Zones: | 4 |
| Number of Independent Channels: | 4 |
| Dimension (LxWxH): | 3.3 x 1.5 x 1 in. (8.3 x 3.8 x 2.5cm) |
| Weight: | 4.3 oz. (122g) |