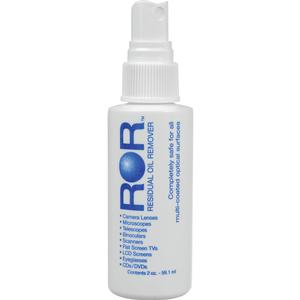 ITEM INCLUDES

ROR Optical Lens Cleaner Spray Bottle (2 oz.) with:

ROR Optical Lens Cleaner Spray Bottle (2 oz.)

The finest optical cleaner. Period.

ROR "Residual Oil Remover" Optical Lens Cleaner Spray Bottle (2 oz.) is specifically formulated to emulsify and remove microscopic oil residues, the byproduct of environmental pollution. When you clean your optics with ROR, you will see a measurable difference in brightness and clarity. And because ROR removes microscopic oil residues, dust has nothing to adhere to and surfaces stay cleaner longer!

ROR is safe and versatile for all delicate surfaces like camera lenses, telescopes, eyepieces, microscopes, binoculars, gun scopes, multicoated optics, DVDs & CDs, video monitors, laptop screens, computer monitors, eyeglasses, filters, laser optics, flat screen TVs, cell phone screens and digital camera displays. It has been tested and used on everything from multicoated lenses to beryllium-surfaced electrical contacts, and has proven time and time again to be the finest and safest lens cleaning treatment on the market today.

Key Features:

Safe and effective for all delicate surfaces
Removes embedded residue that impairs optical clarity
100% ammonia-free
The choice of pros for over 25 years
Perfect for camera lenses, binoculars, glasses, HDTVs and more!
0 accessories found for ROR Optical Lens Cleaner Spray Bottle (2 oz.)