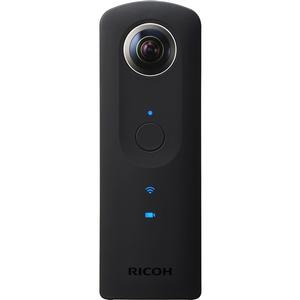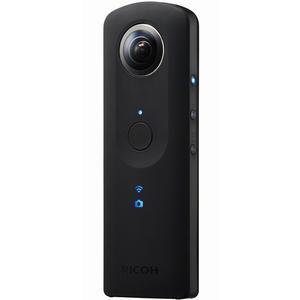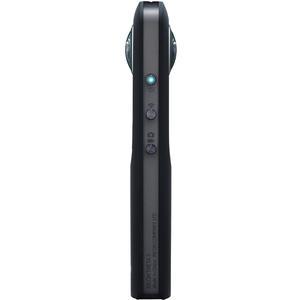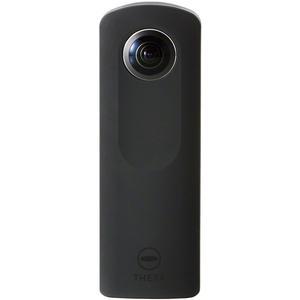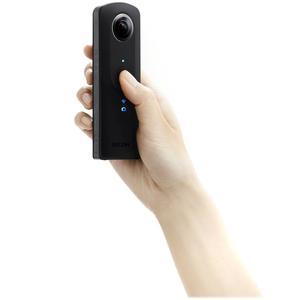 ITEM INCLUDES

Ricoh Theta S 360-Degree Spherical Digital Camera (Black) with:

Ricoh Theta S 360-Degree Spherical Digital Camera (Black)

Captures all of the surprises and beauty from 360 degrees.

Beauty as far as the eye can see, and a breathtaking sense of presence making you feel you are "right there, right now" with the Ricoh Theta S 360-Degree Spherical Digital Camera. From still images to long movies, record your memories in a vivid, high resolution 360-degree world. The RICOH THETA S gives you even higher quality and performance.

Take high-quality pictures thanks to the newly-developed f/2.0 lens. Record 1080p HD video at 30 frames per second and 25 minutes of continuous video. You can even use the live view function on your smartphone, and enjoy live streaming via USB or HDMI. Manual control allows recording of long exposures of up to 1 minute. It is equipped with an LED mode display, and you can use the mode button to easily switch between photo and video.

Key Features:

HD Live Streaming:
Share all the surprises of the world of video in real time. 360° images can now be streamed live!

Live View:
Check the exposure and white balance while shooting using the dedicated smartphone app.

Long Exposure:
Shutter speed can be manually set from 1/6400 sec. to 60 seconds.

8GB Memory:
Take up to 9000 photos (1600 photos at full resolution) or up to 175 minutes of video (65 minutes at full resolution).

Premium and Elegant Refined Body Design:
This slim camera features injection molded construction, and has an elegantly-designed body with a sleek shape and minimal controls.
14 accessories found for Ricoh Theta S 360-Degree Spherical Digital Camera (Black)

OP/TECH
Mfr#:
3401002

PRECISION DESIGN
Mfr#:
PD-5CK

PRECISION DESIGN
Mfr#:
PD-50PVTR

PRECISION DESIGN
Mfr#:
PD-LED-35

PRECISION DESIGN
Mfr#:
PD-HDMI-MICRO

PRECISION DESIGN
Mfr#:
PD-C10

PRECISION DESIGN
Mfr#:
PD-C25

PRECISION DESIGN
Mfr#:
PD-T14

PRECISION DESIGN
Mfr#:
PD-SDCR

PRECISION DESIGN
Mfr#:
PD-LSP1

SUNPAK
Mfr#:
VLB-GRIP-3

SUNPAK
Mfr#:
SP-WSW-BK

VEHO
Mfr#:
VCC100XL

VIVITAR
Mfr#:
VIV-SF4000-BX
Ricoh Theta S 360-Degree Spherical Digital Camera
– TECHNICAL SPECIFICATIONS –
---
Effective Pixels:
12MP
Total Pixels:
14.4MP
Image Sizes:
5376 x 2688 (14.4 MP)
Sensor Size:
1/ 2.3 in. ( x 2 )
Movie:
MP4, MPEG-4 AVC/H.264
Focus Range:
Auto: 3.9 in. (10cm) - Infinity
White Balance:
Auto, indoors, outdoors, shade, cloudy, incandescent lamp 1, incandescent lamp 2, daylight color fluorescent lamp, natural white fluorescent lamp, white fluorescent lamp, light bulb color fluorescent lamp
Shutter:
Programmed AE electronic shutter mechanism
ISO Sensitivity:
100-1600
Metering System:
Auto
Exposure Compensation:
Manual compensation (-2.0 - +2.0EV, 1/3EV step)
Exposure Modes:
Auto, Shutter Priority, ISO Priority, Full Manual Priority
Aperture Range:
f/2.0
Lens Construction:
7 elements in 6 groups
Storage:
Built-in memory: 8GB
Power Source:
Rechargeable Lithium-Ion Battery Pack
Interface:
HDMI D (Micro)
Micro-USB
USB 2.0
Dimensions (WxHxD):
1.7 x 5.1 x 0.9 in. (44 x 130 x 22.9mm)
Weight:
4.4 oz. (125g)