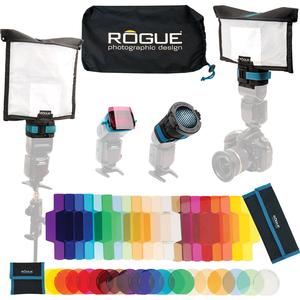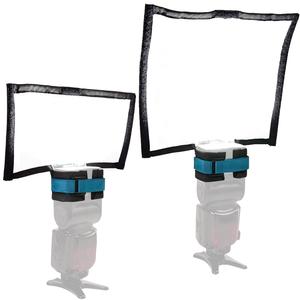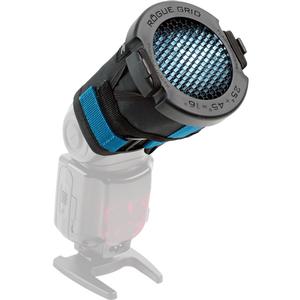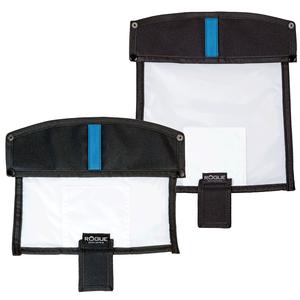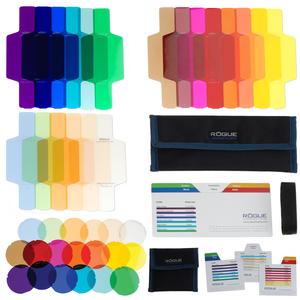 ITEM INCLUDES

Rogue FlashBender 2 Portable Lighting Kit with:

Rogue FlashBender 2 Reflector (Large)
Rogue FlashBender 2 Reflector (Small)
Steel Green Gel
Oklahoma Yellow Gel
Dark Salmon Gel
25-Degree Grid
45-Degree Grid
Grid Holder
Grid Storage Pouch
Rogue Diffusion Panel (Large)
Rogue Diffusion Panel (Small)
(20) Assorted Lee Color and Correction Filters
Padded Filter Storage Pouch w/ Dividers
(3) 1/2 CTB (Blue) Gels
(3) Full CTO (Orange) Gels
(3) 1/2 CTO (Lighter Orange) Gels
(3) 1/4 CTO (Lightest Orange) Gels
(3) Plus Green Gels
(3) Full White Diffusion Gels
(3)Attachment Bands
CC Filter Storage Pouch
Reference Guide Insert/Card
Travel Bag

Rogue FlashBender 2 Portable Lighting Kit

Perfect for avid flash photographers.

For avid flash photographers, the Rogue FlashBender 2 Portable Lighting Kit includes a collection of versatile light modifiers to equip 4+ speedlights. Soften light with soft boxes on-camera or off-camera. Shape bounce flash and background light. Make a snoot for beautiful hair light. Focus light with the Rogue Grid for dramatic effect. Add theatrical accent color with Rogue Flash Gels. Also, color correct flash for improved color balance.

The FlashBender 2 Reflectors use an improved belt and buckle design to provide a faster and more secure attachment to your flash. The integrated attachment strap is adjustable to fit all popular brands of accessory flashes. Rogue developed custom fabrics for the FlashBender 2 Reflectors to reduce weight and soften highlight reflections. The softer fabrics also allow for increased flexibility and improved light shaping abilities.

Key Features:

Rogue FlashBender 2 Bendable Large & Small Flash Reflectors:
The Rogue FlashBender 2 Bendable Flash Reflector can be used with on-camera or off-camera flash photography. Attach a FlashBender 2 to your flash and change its shape using positionable rods to quickly and easily manipulate light and shadow in your image. It was designed for versatility, and can be used as a bounce flash reflector, gobo and snoot to soften, shape and control your main, background, hair, rim or accent lights. This kit contains both a Large Reflector (10.5 x 11 in. / 254 x 288mm) and a Small Reflector (10.5 x 7 in. / 254 x 178mm).

Rogue 3-in-1 Flash Grid Stacking System:
The Rogue 3-in-1 Flash Grid Stacking System produces a spot of light with gradual fall-off. It can be used as a main light, hair light, and background or accent light to create mood or drama. The Rogue Flash Grid's patent pending design features stacking honeycomb grids that produce 25 and 45 degree grid spots. Stack the grids to produce a 16-degree spot. The universal design fits all standard shoe mount flashes, and it attaches securely with the included Grid Strap. Add artistic effects with the included Dark Salmon, Oklahoma Yellow and Steel Green gels. Durable storage pouch included.

Rogue FlashBender Large & Small Flash Diffusion Panels:
The Rogue FlashBender Flash Diffusion Panel is a quick and easy way to modify lighting using a Rogue FlashBender reflector (not included) with your portable flash. This diffusion panel softens and spreads the light when attached to a FlashBender reflector using the hook and loop attachments sewn along the edges of the diffuser. The diffuser packs flat and takes up almost no room in your camera bag -- the ideal light modifier. This kit contains both a Large Diffusion Panel (9 x 8 in.) and a Small Diffusion Panel (9 x 4.5 in.)

Rogue Gels Lighting Kit: 20 Circular Filters for the Rogue Flash Grid:
The Rogue Gels Lighting Filter Kit for Rogue Grid (Set of 20) makes it easy to bring a more dramatic color sense to all of your photographs using the Rogue Grid. Chose from a variety of Lee filters for reds, yellows, blues, and greens to punch up an image with color, or create mood. Or, use the correction gels to balance your flash to ambient light. Each gel has the LEE name, the gel's measured f/stop loss value, and (when appropriate) the corresponding Kelvin color temperature correction and camera white balance icon, all printed directly onto the gel. Stated f/stop loss values are measured using a Sekonic light meter in a controlled test. These values compare the metered exposure of the bare flash with the metered exposure using the Rogue Gels placed over the flash head.

Rogue Flash Gels Color Correction Filter Kit: 18 Filters, 3 Attachment Bands & Pouch:
The Rogue Flash Color Correction Gels are used to improve overall color balance in an image by adjusting the color temperature of the flash to better match other present ambient light sources. Once the ambient light source is accurately and correctly identified and the appropriate color correction gel is selected, simply attach the gel to the flash with an included attachment band. With the camera set to either the same white balance as the attached correction gel or a custom white balance setting, pictures taken with the flash will show improved color consistency and balance. Rogue Color Correction Universal Flash Gels come in a kit that includes 3 Rogue Gel-Bands, 18 color correction gels (3 each of 6 different gels), and a durable padded storage pouch with quick reference insert to help you keep your gels safe and organized. Rogue Gels are made from the world's highest quality materials from LEE Filters UK, the world's leading manufacturer Rogue Universal Gels of lighting filter products. With a coverage area of 3" x 2.5" (76mm x 63mm) Rogue Color Correction Universal Gels are large enough to cover even the largest flash heads, and they can be creased or trimmed for smaller flash heads as desired. These flash gels' innovative tabbed design allows them to be quickly attached to a wide range of shoe mount flash brands.
0 accessories found for Rogue FlashBender 2 Portable Lighting Kit