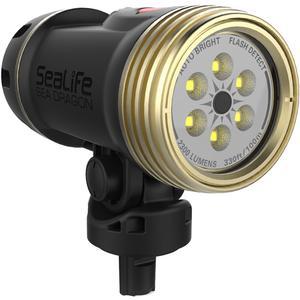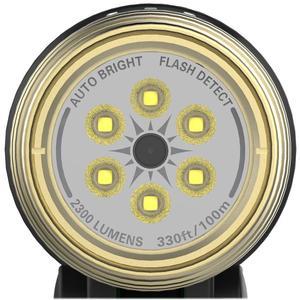 ITEM INCLUDES

SeaLife SL6740 Sea Dragon 2300 UW Photo / Video LED Dive Light (Head Only) with:

SeaDragon Case
SeaDragon Li-Ion Battery
AC Power Adapter
International Power Converters
Spare O-rings
O-ring Lubricant
O-ring Removal Tool
Instruction manual

SeaLife SL6740 Sea Dragon 2300 UW Photo/Video LED Dive Light

Achieve evenly lit and colorful underwater pictures.

The Sea Dragon 2300 Auto Photo/Video/Dive LED Light boasts 2300 Lumens of brightness. Featuring a wide, 100-degree beam angle that's perfect for cameras with a wide field of view, the light operates with only a single button and quickly adjusts between 4-power levels. Powered by a rechargeable lithium-ion battery, the Sea Dragon 2300 will run for a full hour at 100% power and constant brightness. The Sea Dragon 2300 also features Auto Flash Detection that turns off the light for 2 seconds when an external flash is detected.

Key Features:

2300 Lumens for photo, video, and dive
The Sea Dragon 2300 Auto boasts 2300 true lumens of brightness. Powered by a rechargeable 7.4 lithium ion battery, the light burns for a full hour at 100% power at constant brightness with its new CREE XP-L LEDs. The light features Auto Flash Detection Mode that turns off the light for 2 seconds when an external flash is detected. Auto Flash Detect helps eliminate undesirable shadows, color shifts or backscatter.

Automatically regulated brightness for optimal performance
Select the Auto-brightness feature as one of the four brightness options and the 2300 light's photocell light sensor will automatically regulate brightness based on proximity to the object in 10-step brightness levels. This feature can be easily over-ridden if a constant brightness level is preferred by simply selecting the 100%, 50% or 25% Brightness through the main control button.

A powerful light in a compact package
Featuring a wide, 100-degree beam angle (75-degrees underwater) that's perfect for cameras with a wide field of view, the light operates with only a single button, quickly adjusts between 4 power options, and is depth rated to 200 feet/60 meters.

Easily expand with Flex-Connect accessories
Quickly and easily expand Sea Dragon lighting with Flex-Connect - add grips, Flex Arms, trays and other accessories with just a "click!" Flex-Connect allows you to transform your camera set from compact to full-featured in just seconds, providing a quick way to adjust to any dive environment.

Additional Features:

Powerful 2300 lumen LED light, featuring 6x CREE XP-L LEDs
One button to power light on/off and select brightness
Four brightness levels: 100%, 50%, 25%, and Auto
60 minute burn time at full power and constant brightness
Depth rated to 200 feet (60 meters)
Quick-release button to detach light and aim in hard to reach areas
Auto Flash Detection turns the LED off for 2 sec. when external flash is detected
100° wide beam angle evenly illuminates the subject with no hot spots
Corrosion-proof metal light head for heat dispersion and durability
Universal mounting for underwater cameras that use a ¼-20 tripod mount
Removable Li-Ion battery with charger and international plug adapters included
Waterproof battery compartment
3 accessories found for SeaLife SL6740 Sea Dragon 2300 UW Photo / Video LED Dive Light (Head Only)

SEALIFE
Mfr#:
SLKIT03

SEALIFE
Mfr#:
SL9901

SEALIFE
Mfr#:
SL911
SeaLife Sea Dragon 2300 UW Photo/Video Light
– TECHNICAL SPECIFICATIONS –
---
Body Material:
Anodized aluminum light head with fiber-reinforced polycarbonate body
Light Source/Bulb Type:
6 x 3W LED Light (CREE XP-L LEDs)
Brightness:
2300 lumens (maintains 2300 lumens throughout burn time at full power)
Effective Range:
4 ft. / 1.2m (depends on camera model and visibility)
Brightness Levels:
Full power (100%), half power (50%), quarter power (25%), and Auto (adjusts from 10-100%)
Color Temperature:
5000-6000K
Color Rendering Index:
90
Beam Angle:
100 degree (75 degree underwater)
Battery:
Lithium Ion 7.4V, 3400 mAh, 25Wh (included)
Battery Charge Time:
170 minutes
Run Time:
60 minutes at full power / 120 minutes at half power / 240 minutes at quarter power
Depth:
Tested to 330 feet / 100 meters
Dimensions:
4.8 x 2.2 x 3.8 in. (12.2 x 5.6 x 9.7cm) (head only)
Weight:
1.4 lbs. (652 g) (head only)
Bulb Life:
35,000 hours
O-ring:
Dual NBR o-rings (lube included)
Buoyancy:
Negative
Disclaimer:
Avoid using this Sea Dragon light above water for prolonged periods of time
The light is designed for underwater use and water is needed to displace heat. The metal light head at full power will reach temperature of about 140F (60C) degrees within a few minutes, which may cause burning if touched. A thermal sensor will automatically dim the light if internal temperatures reaches 150F (65C) degrees. Immediately turn off light if any parts of the light become hot to the touch.