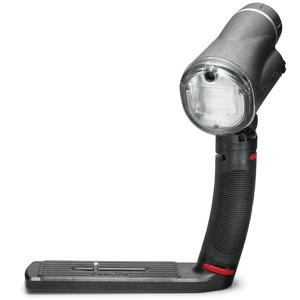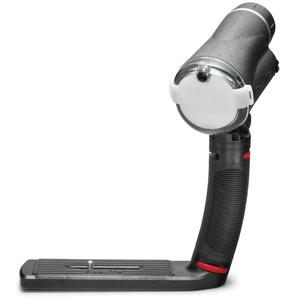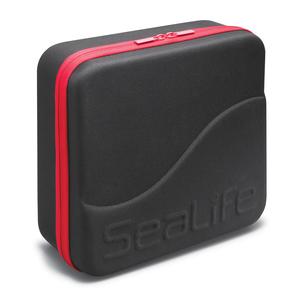 ITEM INCLUDES

SeaLife SL963 Sea Dragon Underwater Flash with Head, Grip, Single Tray & Diffuser with:

Flex Connect Single Tray (SL9903) with Standard ¼"-20 Mounting Screw (SL99033)
Flex Connect Grip (SL9905)
Optical Cable (SL96208)
Spare O-Rings (SL98303)
O-Ring Lubricant (SL9807)
O-Ring Removal Tool (SL9808)
Sea Dragon Large Hard Case (SL942)
Instructions

SeaLife SL963 Sea Dragon Underwater Flash with Head, Grip, Single Tray & Diffuser

Achieve sharp, vibrant, and colorful underwater pictures.

The Sea Dragon Flash has variable power adjustment and large controls that make it easy to fine tune brightness. Auto Mode automatically adjusts brightness for optimal exposure. The flash has an effective range of up to 8 feet / 2.5 meters, and a quick release button to quickly detach head for aiming in hard to reach areas. The included snap-on diffuser
allows for proper color balance and even lighting.

| | |
| --- | --- |
| | |
| Without Flash | With Sea Dragon Flash |

Key Features:

Shown with Snap-on Diffuser

Auto Mode
Automatically adjusts flash brightness for optimal image exposure.

Variable Power Adjustment
This allows user to manually fine-tune flash brightness for desired effect and image exposure.

Night Time Diving
Glow-in-the-dark control dials allow for easy viewing and operation in dark water.

Expandable and Durable Accessories
Easy to expand with Flex-Connect trays, grips and Flex-Connect arms.

Go to New Depths
This flash is depth rated to 200 feet (60m) - Guaranteed. Effective underwater distance up to 8 feet (2.5m).

Versatile Functionality
A quick-release button detaches the flash and so it can be aimed at crevices and hard to reach areas.

Universal
Its universal design works with all SeaLife and other underwater cameras and the mount is compatible with any underwater camera with a standard tripod mount.

Auto Learn Mode
This convenient feature allows the Sea Dragon Flash to easily sync with any digital camera's pre-flash.

Power
Approximately 150 flashes with 4 AA batteries (not included). Battery compartment is waterproof.
5 accessories found for SeaLife SL963 Sea Dragon Underwater Flash with Head, Grip, Single Tray & Diffuser

SEALIFE
Mfr#:
SLKIT03

SEALIFE
Mfr#:
SLKIT02

SEALIFE
Mfr#:
SL9901

SEALIFE
Mfr#:
SL9902

SEALIFE
Mfr#:
SL9904
SeaLife Sea Dragon Flash
– TECHNICAL SPECIFICATIONS –
---
Guide Number:
20 (meters on land) at full power setting / 1.5m (meters on land) at low power
Power Adjustment Range:
8% to 100% (Auto or Manual mode)
Controls:
Power (On/Off), Test (program), Brightness (Manual/Auto)
Coverage Angle:
80° horizontal x 60° vertical (100° with diffuser)
Color Temperature:
5700 degrees Kelvin
Power Source:
4 AA batteries (NiMH recommended)
Battery Life:
150 flashes
Recycle Time:
1 sec when power setting is less than 1/2 power
5 seconds at full power
Buoyancy:
Negative
Housing Material:
Fiber-reinforced polycarbonate
Hardware:
Marine grade stainless steel
O-Ring(s):
Dual NBR (nitrile rubber) o-rings (lube included)
Weight:
18 oz. (509g) head with batteries
Dimensions:
5.0 x 4.5 x 2.5" (12.7 x 11.4 x 6.4 cm) (head)