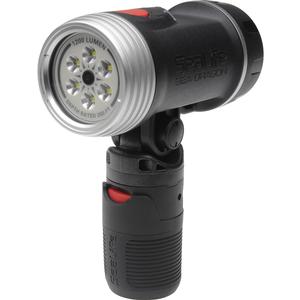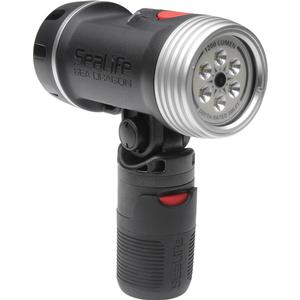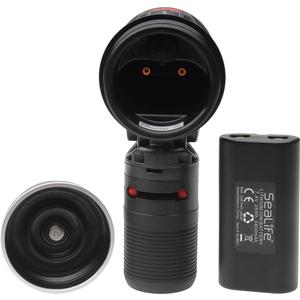 ITEM INCLUDES

SeaLife SL985 Sea Dragon 1200 Underwater Photo/Video Dive Light with Flex-Connect Handle with:

Flex-Connect Handle
SL9831 Lithium-ion Battery
AC Power Adapter
Charging Tray w/ International Plug Adapters
Spare O-rings
O-ring Lubricant
O-ring Removal Tool
Instruction Manual

SeaLife SL985 Sea Dragon 1200
Underwater Photo/Video Dive Light
with Flex-Connect Handle

Achieve evenly lit and colorful underwater pictures.

The powerful and compact Sea Dragon 1200 provides 1200 lumens of brightness across a wide, 100-degree beam that can be held comfortably in hand during your dive with the included Flex-Connect Handle. The light head connects instantly to the handle with just a click, putting the power and coverage of the light in the palm of your hand. The included wrist lanyard keeps the light and handle secure. It's the perfect setup for providing light and stability to ultra-compact and full-sized cameras.

Key Features:

Powerful 1200 Lumen LED Light
Latest LED technology featuring 6 x 3W Cree XPG LEDs.

Easy Operation
One button control for easy operation. Power the light on/off and select brightness - 3 levels of 100%, 50%, and 25%.

Quick-release Detachable Head
Detach the light from its arm for aiming into dark crevices and hard to reach areas.

Auto Flash Detect Mode
Light dims for 2 seconds when detecting external flash.

No Hot Spots
Soft, 100-degree light beam evenly illuminates the subject with no hot spots.

Go to New Depths
Depth tested to 200 ft (60m) – Guaranteed.

Expandable and Durable Accessories
Easy to expand with Flex-Connect trays, grips and Flex-Connect arms.

High Quality and Reliable Build
Corrosion-proof metal light head for heat dispersion and durability.

Removable Li-ion Battery
The Sea Dragon 1200 comes with a removable li-ion battery, charger, and international plugs. Its capacity allows for 75 minutes of run time at full power and constant brightness. The battery compartment is waterproof.
6 accessories found for SeaLife SL985 Sea Dragon 1200 Underwater Photo/Video Dive Light with Flex-Connect Handle

SEALIFE
Mfr#:
SLKIT03

SEALIFE
Mfr#:
SLKIT02

SEALIFE
Mfr#:
SL9901

SEALIFE
Mfr#:
SL9902

SEALIFE
Mfr#:
SL9904

SEALIFE
Mfr#:
SL991
SeaLife Sea Dragon 1200 Photo/Video/Dive Light
– TECHNICAL SPECIFICATIONS –
---
| | |
| --- | --- |
| Light Source / Bulb Type: | 6 x 3W LED Light (CREE XPG LEDs) |
| Brightness: | 1200 lumens (maintains 1200 lumens throughout burn time at full power) |
| Effective Range: | 3 ft. (1m) (depends on camera model visibility) |
| Brightness Control | 100%, 50% and 25% power |
| Color Temperature: | 5300K-5700K |
| Beam Angle | 100° |
| Battery | Lithium Ion 7.4V, 3100 mAh, 23 Wh (included) |
| Run Time: | 75 minutes at full power / 150 min at half power / 300 min at quarter power |
| Depth: | Tested to 200 ft. (60m) |
| Light Modes: | Full power (100%) / half power (50%) / Quarter Power (25%) |
| Bulb Life: | 35,000 hours |
| O-Ring: | Dual NBR (nitrile rubber) o-rings (lube included) |
| Buoyancy: | Negative |
| Body Material: | Anodized aluminum light head with fiber-reinforced polycarbonate body |
| Weight: | 16.4 oz. (465 grams) light head with battery and flex-connect handle |
| Dimensions: | 4.8 x 2.2 x 3.8 in. (12.2 x 5.6 x 9.7cm) head only |