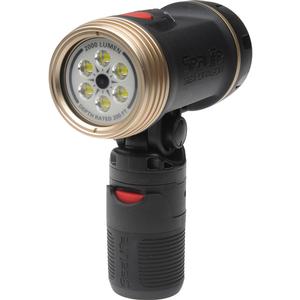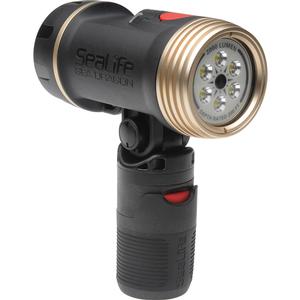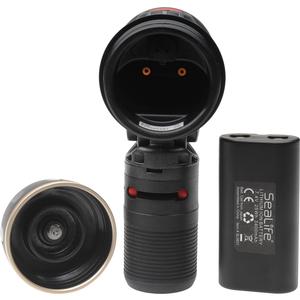 ITEM INCLUDES

SeaLife SL986 Sea Dragon 2000 Underwater Photo/Video Dive Light with Flex-Connect Handle with:

Flex-Connect Handle
SL9831 Lith-Ion Battery
AC Power Adapter
Charging Tray w/ International Plug Adapters
Spare O-rings
O-ring Lubricant
O-ring Removal Tool
Instruction Manual

SeaLife SL986 Sea Dragon 2000 Underwater Photo/Video Dive Light with Flex-Connect Handle

Achieve evenly lit and colorful underwater pictures.

The Sea Dragon 2000 Photo/Video/Dive LED Light packs 2000 Lumens of brightness. Featuring a wide, 100-degree beam angle that's perfect for cameras with a wide field of view, the light operates with only a single button and quickly adjusts between 3-power levels. Powered by a rechargeable lithium-ion battery, the Sea Dragon 2000 will run for a full hour at 100% power and constant brightness. With its included flex-connect handle, it's the perfect setup for providing light and stability to ultra-compact and full-sized cameras.

Key Features:

Powerful 2000 Lumen LED Light
Latest LED technology featuring 6 x 3W Cree XPL LEDs.

Easy Operation
One button control for easy operation. Power the light on/off and select brightness - 3 levels of 100%, 50%, and 25%.

Quick-release Detachable Head
Detach the light from its arm for aiming into dark crevices and hard to reach areas.

Auto Flash Detect Mode
Light dims for 2 seconds when detecting external flash.

No Hot Spots
Soft, 100-degree light beam evenly illuminates the subject with no hot spots.

Go to New Depths
Depth tested to 200 ft (60m) -- Guaranteed.

Expandable and Durable Accessories
Easy to expand with Flex-Connect trays, grips and Flex-Connect arms.

High Quality and Reliable Build
Corrosion-proof metal light head for heat dispersion and durability.

Removable Li-ion Battery
The Sea Dragon 2000 comes with a removable li-ion battery, charger, and international plugs. Its capacity allows for 60 minutes of run time at full power and constant brightness. The battery compartment is waterproof.
6 accessories found for SeaLife SL986 Sea Dragon 2000 Underwater Photo/Video Dive Light with Flex-Connect Handle

SEALIFE
Mfr#:
SLKIT03

SEALIFE
Mfr#:
SLKIT02

SEALIFE
Mfr#:
SL9901

SEALIFE
Mfr#:
SL9902

SEALIFE
Mfr#:
SL9904

SEALIFE
Mfr#:
SL991
SeaLife Sea Dragon 2000 Photo/Video/Dive Light
– TECHNICAL SPECIFICATIONS –
---
| | |
| --- | --- |
| Light Source / Bulb Type: | 6 x 3W LED Light (CREE XPL LEDs) |
| Brightness: | 2000 lumens (maintains 2000 lumens throughout burn time at full power) |
| Effective Range: | 4 ft/1.2m (depends on camera model visibility) |
| Brightness Control | 100%, 50% and 25% power |
| Color Temperature: | 5400K |
| Beam Angle | 100° |
| Battery | Lithium Ion 7.4V, 3100 mAh, 23 Wh (included) |
| Run Time: | 60 minutes at full power / 120 min at half power / 240 min at quarter power |
| Depth: | Tested to 200 ft (60m) |
| Light Modes: | Full power (100%) / half power (50%) / Quarter Power (25%) |
| Bulb Life: | 35,000 hours |
| O-Ring: | Dual NBR (nitrile rubber) o-rings (lube included) |
| Buoyancy: | Negative |
| Body Material: | Anodized aluminum light head with fiber-reinforced polycarbonate body |
| Weight: | 16.4 oz (465 grams) light head with battery and flex-connect handle |
| Dimensions: | 4.8" x 2.2" x 3.8" (12.2 x 5.6 x 9.7cm) head only |