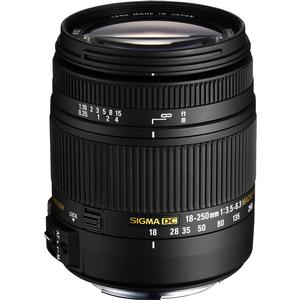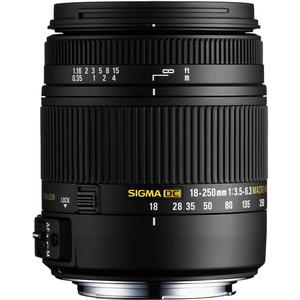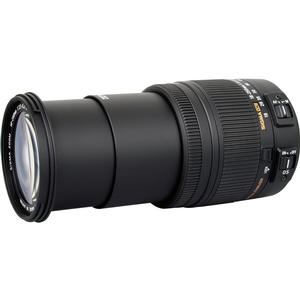 Sigma 18-250mm f/3.5-6.3 DC Macro OS HSM Zoom Lens (for Canon EOS Cameras)

Product Code:
883101 (883546)
ITEM INCLUDES

Sigma 18-250mm f/3.5-6.3 DC Macro OS HSM Zoom Lens (for Canon EOS Cameras) with:

Petal-Type Lens Hood
Front & Rear Lens Caps
Instruction Manual

Sigma 18-250mm f/3.5-6.3 DC Macro OS HSM Zoom Lens (Canon)

Emphasize image quality with this all-in-one lens.

The addition of the 18-250mm f/3.5-6.3 DC Macro OS HSM speaks to Sigma's versatile product lineup with this multipurpose zoom lens that offers Optical Stabilization (OS) and covers wide angle to telephoto to macro photography. It differs from Sigma's current 18-250mm f/3.5-6.3 DC OS HSM lens with its even more compact size, its macro capability with a maximum magnification ratio of 1:2.9 and the use of Thermally Stable Composite (TSC) material currently used only by Sigma.

Sigma optimized this lens' power arrangement by incorporating double-sided aspherical lenses and reexamining the design to achieve a more compact filter diameter. The lens has an approximate 13x high zoom ratio with a filter size of 62mm in diameter. Sigma's unique OS system, as well as one Special Low Dispersion (SLD) glass and three aspherical glass lenses, compensate for camera shake and enable correction of color aberration, respectively.

The 18-250mm f/3.5-6.3 DC Macro OS HSM lens is also equipped with Super Multi-Layer Coating to reduce flare and ghosting, a Hyper Sonic Motor (HSM) to ensure fast and quiet auto-focusing, and a rounded, seven-blade diaphragm to create an attractive round blur to the out of focus areas. The lens features a brass-made bayonet mount applied on the surface to reinforce strength for long-term use and enable high accuracy and solidity.

Key Features:

A wide range of photography is possible in one lens
Covering wide angle 18mm to telephoto 250mm, this versatile lens designed exclusively for digital SLR cameras, is suitable for all-purpose photography including landscape, sport, and macro photography. It is convenient when you wish to keep your equipment to a minimum and yet still be prepared for all opportunities and situations, such as travel.

Excellent for macro photography
Close-up capability is improved with the minimum focusing distance of 13.8" throughout the entire zoom range, and a maximum magnification ratio of 1:2.9. In APS-C size equivalent, macro photography with approximately 1:2 magnification ratio is possible. In addition, with this lens, the size and framing of subjects can be adjusted by rotating a zoom ring, making macro photography easier than using fixed focal macro lens. For further convenience, the maximum magnification ratio at each focusing distance appears on the side of the lens barrel.

Revolutionizing the design results in compact size
This compact size lens has an approximately 13x high zoom ratio with a filter diameter of 62mm, and dimensions of 2.9" (diameter) x 3.5" (length). It ensures portability and overall ease of use, making it perfect for travel and leisure photography.

New material TSC (Thermally Stable Composite)
The new material "TSC (Thermally Stable Composite)", which has little contractility especially in temperature changes, as well as maintaining firmness, is incorporated into the lens barrel. Compared to polycarbonate which is generally used, TSC has higher elasticity by approximately 25%. Since thermal shrinkage is low, it has high affinity to metal parts which contributes to high-quality product manufacturing. It also contributes to the parts such as the zoom ring and scaling to be slimmer

Lens Construction
In a conventional lens, focusing requires an extension of the entire lens or the front lens group. However, to better accommodate autofocusing mechanisms and closeup photography, a need has arisen for lenses that do not change their length during focusing or suffer from focus-dependent variation in aberration. Therefore, Sigma has developed focusing systems that only move elements within the lens barrel. These incorporate smaller and lighter moving lens elements which help improve auto-focus speed. With their unchanging barrel length and small variation in the center of gravity, these lenses also enhance balance and stability for the photographer. Furthermore, since the front of the lens does not rotate, polarizing filters can be used with extra convenience.
35 accessories found for Sigma 18-250mm f/3.5-6.3 DC Macro OS HSM Zoom Lens (for Canon EOS Cameras)
Sigma 18-250mm f/3.5-6.3 DC Macro OS HSM Zoom Lens
– TECHNICAL SPECIFICATIONS –
---
| | |
| --- | --- |
| Lens Mount: | Canon EOS |
| Focal Length: | 18-250mm |
| Maximum Aperture: | f/3.5-6.3 |
| Minimum Aperture: | f/22 |
| Maximum Magnification: | 1:3 |
| Minimum Focus Distance: | 13.8 in. (35cm) |
| Lens Construction: | 16 elements / 13 groups |
| Diaphragm Blades: | 7 |
| Focus Type: | Auto/ Manual |
| Image Stabilization: | OS (Optical Stabilizer) |
| Filter Size: | 62mm |
| Dimensions (Diam. x Length): | 2.9 x 3.5 in. (73.7 x 88.9mm) |
| Weight: | 16.6 oz. (472g) |
Designed specifically for use with Canon digital SLR cameras with an APS-C size image sensor, including:
EOS 50D
EOS 60D
EOS 70D
EOS 80D
EOS 7D
EOS 7D Mark II
EOS Rebel SL1
EOS Rebel T1i
EOS Rebel T2i
EOS Rebel T3
EOS Rebel T3i
EOS Rebel T4i
EOS Rebel T5
EOS Rebel T5i
EOS Rebel T6
EOS Rebel T6i
EOS Rebel T6s
EOS Rebel XS
EOS Rebel XSi
EOS Rebel XT
EOS Rebel XTi