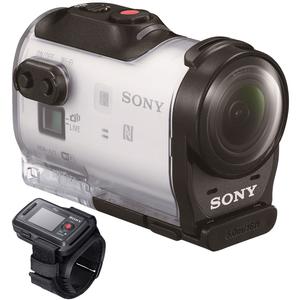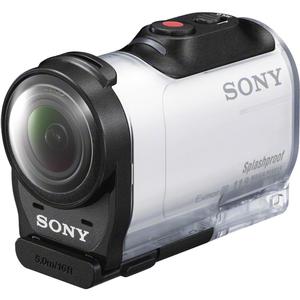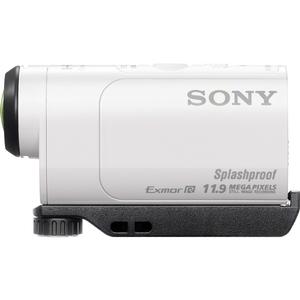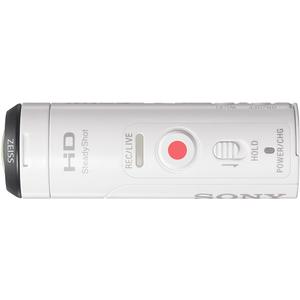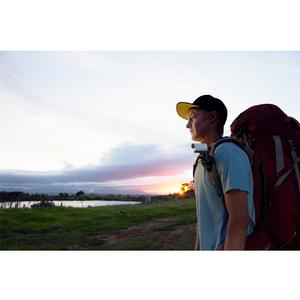 ITEM INCLUDES

Sony Action Cam HDR-AZ1 Mini HD Video Camera Camcorder & Live View Remote with:

Waterproof Housing (16 ft. / 5m)
Live View Remote (RM-LVR2V)
NP-BY1 Battery Pack
Curved Adhesive Mount
Flat Adhesive Mount
Quick-Connect Mount
Tripod Adapter
Micro USB Cable
Software CD-ROM
Instruction Manual

Sony HDR-AZ1 Action Cam Mini HD Camcorder with Waterproof Housing & Live View Remote

Massive Tricks. Mini Cam.

Grab every shot with the Sony HDR-AZ1, it's the only Action Cam that fits where the others can't. You'll get super smooth video even on bumpy terrain with SteadyShot image stabilization, and control it all from the included wrist-attached Live-View Remote. Want your friends to come along for the ride? Broadcast your video live via Ustream as you're barreling down the mountain.

In addition, manage up to five cameras using the included Live View Remote (RM-LVR2V). Check viewing angles on the wrist-mounted color monitor at a glance, and start/stop recording on five cameras at once.

Key Features:

Sony's smallest splash-proof Action Cam
At approximately 2/3 the size of the HDR-AS100V Action Cam, the HDR-AZ1 is Sony's smallest, lightest Action Cam to date. Despite its small footprint, the AZ1 is a beast of camera shooting HD video in 5 modes all in a splash-proof body outside of its housing.

SteadyShot image stabilization conquers bumps and blur
Want to mount Action Cam on bike handlebars, but concerned about camera shake? No problem! Electronic SteadyShot compensates for bike vibrations in motion, enabling smooth blur-free shooting. SteadyShot also counters strong blur when the cam is worn during biking, skiing, surfboarding, and more. Now capture fast-moving sports without disturbing camera shake, and share exciting, enjoyable action videos.

Pro XAVC S format
Sony's professional grade codec is now available in consumer cameras to show stunning footage in your living room.

Exmor R CMOS sensor
A cutting-edge sensor packs in more pixels for low-noise shooting in dark settings, using incident light alone.

BIONZ X Processor
Blazing 50Mbps recording, paired with SteadyShot image stabilization, means fast action with smooth motion -- for high-quality HD footage.

Wide-angle ZEISS Tessar lens
A panoramic 170° viewing angle provides the perfect way to capture expansive ski slopes and winding mountain trails.

| | | | |
| --- | --- | --- | --- |
| | | | |
| PRO XAVC S FORMAT | EXMOR R CMOS SENSOR | BIONZ X PROCESSOR | ZEISS TESSAR LENS |

Ruggedized, waterproof housing
The Sony HDR-AZ1 ships with a ruggedized, waterproof SPK-AAZ1 housing (included) with universal tripod mount that is built to handle extreme environments, allowing you to concentrate on safety and composition while capturing Full HD videos. Within the housing, the camera is waterproof down to 16 feet and has a shock resistance rating for up to 5 foot drops plus dirt and dust resistant seals that help make it nearly impervious to mud, snow, rain, and grime.

Splashproof
HDR-AZ1 supplies IPX4-class splashproof performance without a waterproof case. No further protection is needed. Use the cam by itself, regardless of wet weather or puddles.

Freezeproof
Action Cam can endure low temperatures to -5° C (23° F) without a Waterproof Case. Use it for winter sports like skiing and snowboarding.

Waterproof
Thanks to the SPK-AZ1 Waterproof Case you can use your action cam underwater up to 5 meters deep.

Dustproof
Take on harsh, dry, dusty environments with Waterproof Case SPK-AZ1, which seals out grit and dust for worry-free cam use.

Shockproof
Don't worry about accidental knocks or shocks. Just use Waterproof Case SPK-AZ1 to keep the cam safe from small spills.

Upside-down Flip Capture
Even when the Action Cam is shooting from an upside-down position -- for instance, when attached to a vehicle -- the user can choose a vertical image inversion (upside-down flip) setting prior to operation. Thus, the camera can capture a movie image in regular orientation.

Built-in stereo microphone
Even when the Action Cam is shooting from an upside-down position -- for instance, when attached to a vehicle -- the user can choose a vertical image inversion (upside-down flip) setting prior to operation. Thus, the camera can capture a movie image in regular orientation.

Ultra wide-angle ZEISS Lens (170° field of view)
Turn action sports into dazzling pictures. Still image mode captures memorable high-quality 11.9-megapixel photos, and 170° angle of view shows your experience as you see it.

Boost movie thrills with high-speed REC
Create exhilarating sports action videos with high-speed shooting at 120 fps. This sophisticated mode lets you produce smoother slow-motion footage with editing software, and, unlike SSLOW, also enables sound recording. After shooting, explore the fun of creative editing. Combine regular-speed and slow-speed sequences. Emphasize point-of-view and vary pacing. Use sound (or silence) to amp up excitement. Enjoy being the Action Cam director, editor, and lead actor in your personal adventure stories.

| | |
| --- | --- |
| | |
| 170° ULTRA-WIDE-ANGLE VIEW | HIGH SPEED REC 120 FPS |

Interval still recording
Interval shooting is convenient for capturing subject motion as a series of photos. Shooting intervals of 1 second, 2 seconds, 5 seconds, 10 seconds, 30 seconds, and 60 seconds can be selected, enabling the user to capture motion of various active subjects not only as movie footage but also as still images. This is especially useful for continuous recording over a prolonged period.

Movie Rotation
After a video is shot, Movie Rotation turns it three ways -- 90°, 180° and 270°. This is helpful if the video was taken from left-to-right in reverse or upside down, or when you want to enjoy it in portrait orientation.

Motion Shot LE for creating unique animated images
Express the breathtaking dynamism and energy of fast-moving subjects. Motion Shot LE captures traces of a moving subject in one image to make one truly expressive photo of action scenes like sports, speeding vehicles, and other similar subjects.

Burst Shooting for capturing action shots
A number of 11.9-megapixel, high-quality still images can be shot continuously. This function is convenient when you want to capture activity photos and check performance later.

Enjoy pro functions and editing ease
Produce attractive videos easily with the new editing software Action Cam Movie Creator, optimized for Action Cam users.

Action Cam Movie Creator
A new editing application optimized to Action Cam use, Action Cam Movie Creator lets you add to the fun of editing and sharing your movies.

GPS Data Overlay with Action Cam Movie Creator
GPS Data Overlay on video reads your speed data recorded by GPS (with included Live View Remote) and generates another video file that displays your route, speed information, etc.

Multi View with Action Cam Movie Creator
Multi View makes a split-screen composite by combining up to four movie footage segments (including slow-motion parts) captured simultaneously by different cameras. Anyone can easily enjoy creating attractive movies and share the fun with many viewers.

Live streaming
Share the adventure as it happens via UStream. Now your circle of friends and family can share the excitement in real time by simply logging in to UStream from anywhere.

Convenient connection thanks to Wi-Fi and NFC
By just installing PlayMemories Mobile to your smartphone or tablet, you only need to touch devices to connect, thanks to the NFC One-touch Remote feature. This eliminates complex setup when connecting with an NFC-equipped Android smartphone or tablet. In addition, data recorded with Action Cam can be easily transferred to an Android/iOS smartphone or tablet via Wi-Fi. Then, simply upload to SNS or websites and share exciting action with friends and family.

Tally lamps provide more convenience
HDR-AZ1 features a second tally light on top of the camera, in addition to the light on the back of the unit. Now you can easily check the recording status from various angles.

Remote control operation up to 5 cameras simultaneously with included Live View Remote
It's easy to capture scenes from multiple angles. Simply connect and control up to five cameras at the same time. You can monitor each cam at a glance, check shooting mode and cam status, start and stop all cams at once, and even change basic setup with one command.

GPS equipped new Live-View Remote RM-LVR2V
You can fully control the new Action Cam Mini HDR-AZ1 with the included Live View Remote RM-LVR2V. It enables remote playback and movie deletion in the camera unit, and also supports GPS logging and transfer to the camera.

Live-View Remote one-hand angle checking and cam operation
The wristband unit gives never-before remote start/stop and setting control. Use the included Live View Remote for out-of-reach camera access and head-mounted camera angle check, even when Action Cam is worn on your head/helmet or located out of reach.

Compatible with MemoryStick Micro and Micro SD / SDHC / SDXC
The memory card slot accepts Memory Stick Micro (M2) and Micro SD / SDHC / SDXC Memory Card (class 4 or higher) memory cards. Choose the card best suited to your shooting requirements and compatibility with your PC. (Memory cards not supplied.)

Secure on flat and curved surfaces w/ 2 adhesive mounts
Hands-free shooting is at your disposal. Mount your Sony HDR-AZ1 easily and securely to flat and curved surfaces with included adhesive mounts.

Universal tripod adapter
With a universal tripod screw mount on the body of the Action Cam itself, you can easily attach the camera directly to a tripod. SteadyShot image stabilizing function allows smooth image shooting while the user is in motion. With the new Action Cam, the image stabilizer powerfully compensates for minute rapid vibrations typically caused by bicycle/motorcycle motion.

Power up with USB Charging / USB Power Supply
Simply charge from a PC via USB port. You can also operate and shoot Action Cam without stopping while charging when using the handy optional AC Adaptor AC-UD10.
38 accessories found for Sony Action Cam HDR-AZ1 Mini HD Video Camera Camcorder & Live View Remote
Sony HDR-AZ1 Wi-Fi Action Cam HD Camcorder
– TECHNICAL SPECIFICATIONS –
---
Type:
POV HD Digital Action Cam
Imaging Sensor:
1/2.3" (7.77mm) back-illuminated Exmor R CMOS Sensor
Processor:
BIONZ Image processor
Media Type:
Micro Memory Stick PRO Duo
Micro SD/SDHC/SDXC (Class 4 or Higher)
Still Image:
11.9 megapixels
Video Format:
MP4/MPEG-4 AAC-LC 2ch
XAVC S/LPCM 2ch
Video Resolution:
MP4
PS: 1920x1080 60p/50p
HQ: 1920x1080 30p/25p
STD: 1280x720 30p/25p
SSLOW: 1280x720 120p/100p
HS120 (HS100):1280x720 120p/100p
VGA: 640x480 30p/25p
XAVC S
60p: 1920x1080 60p/50p
30p: 1920x1080 30p/25p
24p: 1920x1080 24p
Still Image Resolution:
1920 x 1080, 11.9MP (16:9)
Microphone/Speaker:
Built-in Microphone; Monaural Speaker
Lens Type:
Carl Zeiss Tessar Lens
Lens Stabilization:
SteadyShot image stabilization w/ Active mode
Aperture:
F/2.8
Minimum Focus Distance:
Approx.11 7/8inch (Approx.30cm)
Angle of View:
170° (without SteadyShot), 120° (with SteadyShot)
LCD Display :
Status Display Panel
Shutter Speeds:
Auto Control Range: 1/30 - 1/10,000
Interface:
Micro USB 2.0 Hi-speed
Battery Type:
NP-BY1 InfoLITHIUM Rechargeable Battery Pack
Dimensions:
0.98 x 1.43 x 3.0 inches (24.2 x 36 x 74mm)
Weight:
1.7 oz. (48g)
Optional Accessories:
• Headband Clip Mount (BLT-CHM1)
• Backpack Mount (VCT-BPM1)
• Adhesive Mount Pack (VCT-AM1)
• Handlebar Mount (VCT-HM1)
• Suction Cup Mount (PF-VCT-SC1)
• Roll Bar Mount (VCT-RBM1)
• Chest Mount Harness (AKA-CMH1)