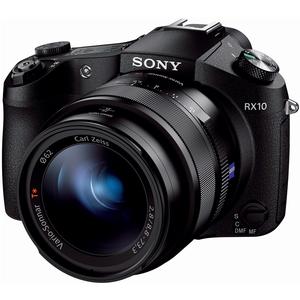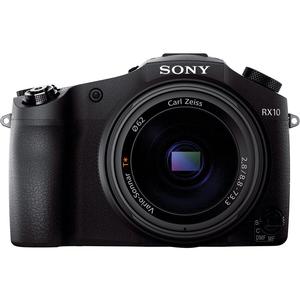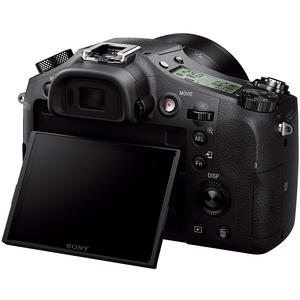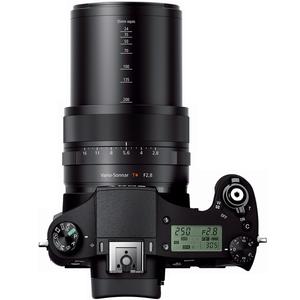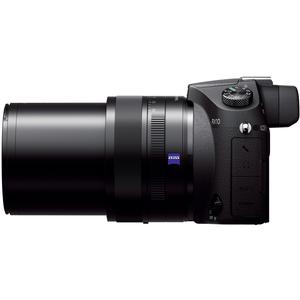 ITEM INCLUDES

Sony Cyber-Shot DSC-RX10 Digital Camera with 24-200mm f/2.8 Zoom Lens with:

NP-FW50 Li-ion Battery
AC Adapter
Micro USB Cable
Shoulder Strap
Shoulder Strap
Lens Cap
Shoe Cap
Lens Hood
Eyepiece Cup
PlayMemories Home Software
Image Data Converter Version 4 Software
Instruction Manual

Sony Cyber-Shot DSC-RX10 Digital Camera with 24-200mm f/2.8 Zoom Lens

See life in a new light.

The Sony Cyber-shot DSC-RX10 camera is a high-zoom, advanced point-and-shoot RX series models that features a 1.0-inch, 20.2 effective megapixel back-illuminated CMOS sensor combined with an impressive 24-200mm (35mm equivalent) F2.8 Carl Zeiss® Vario Sonnar T* zoom lens to deliver the ultimate combination of performance and versatility. It gives photographers the ability to shoot impressive high-resolution still images and crisp, clear full HD videos with ease. This unique pairing of a large, high-resolution sensor and premium zoom lens is complemented by an advanced BIONZ X processing engine and AF system, ensuring that all content shot with the RX10 camera -- still images and full HD videos alike -- is richly detailed, crisp, and continually in focus.

The camera also features a high-contrast OLED Tru-Finder™ that provides crisp edge-to-edge visibility and a wide viewing angle of about 33°, as well as a clear, bright 3.0-type White Magic™ LCD that tilts up or down for easy framing for even more compositional freedom. The RX10 features a variety of fully customizable controls and settings that offer DSLR-like flexibility for advanced users, magnesium alloy construction, and dust and moisture resistance. Plus, it had on-board Wi-Fi for easy connection with any iOS or Android smartphone, and features NFC (Near Field Communication) one-touch for simple connection to NFC-enabled Android devices. The RX10 is an unparalleled, all-around performer that will leave enthusiasts, hobbyists and even professionals reaching for their DSLRs less and less!

Key Features:

Superior Carl Zeiss Optics

Open your outlook across a vast new range
A large F2.8 maximum aperture throughout an expansive 24-200mm zoom range gives you ample opportunity to express your vision. Make a subject stand out -- manipulate depth of field to defocus backgrounds for creative effect, as great photographers do. The impeccable Carl Zeiss Vario-Sonnar T* lens' advanced, compact fixed-lens design optimizes image quality consistently from edge to edge.

More room to zoom at will
Close-up shooting is seamless. No switching to macro mode is needed. Zoom in all the way up to extreme telephoto on a subject as near as 30cm away. The built-in lens makes it more convenient for you to take impressive shots throughout a big range.

More capability now more compact
An advanced aspherical lens (AA lens) reduces diameter and length, and maintains high resolution even at image edges. A new Direct Drive SSM (Super Sonicwave Motor) stops lens movement with spot-on precision. Far-reaching optical flexibility minimizes mechanical dimensions. Precise alignment of the image sensor and lens also perfectly combines diminutive form and outsized performance.

Sophisticated Image Sensor

Superior sensitivity makes a clear difference
Containing back-illuminated technology and approximately 4x larger light-sensitive area that other compact DSC (digital still cameras) can't match, Sony's 20.2-megapixel 1.0-type Exmor R CMOS sensor harnesses light and reduces image noise very efficiently. This, along with high settings of a wide ISO range, allow even photos of dimly lit scenes to look incredibly clear.

New-generation image processing engine, BIONZ X, leads a new world
The groundbreaking new BIONZ X image processing engine not only maximizes picture quality in ways that only a seamlessly unified body and lens design can realize -- it also faithfully reproduces textures and details in real time, as seen by the naked eye, with peerless high-speed processing. The experience of shooting and viewing stills and movies expands your senses by depicting true realism with richer tonal gradations and lower image noise than was previously possible. With such a high magnitude of power ready for every situation, BIONZ X naturally leads toward better ways to witness the world in full glory.

Detail reproduction technology
By minimizing digital artifacts that tend to overemphasize hard outlines and rough edges when pictures are reproduced, detail reproduction technology makes images noticeably more lifelike, clean and natural-looking in every detail, texture and dimension.

Diffraction-reducing technology
This maintains outstanding clarity by applying aperture-appropriate filter processing to suppress and compensate for diffraction -- a phenomenon that can otherwise limit photographic resolution and cause points of light to appear blurred, especially in images that have been shot using a small aperture (large F-number) setting.

Improved area-specific noise reduction
Now, noise reduction is individually adjusted based on imaging pattern variations, for superior clarity and finer details throughout even images shot in low light.

Innovative Autofocusing

Quick focusing even at telephoto range
High-speed AF is remarkably smooth thanks to the Direct Drive SSM (Super Sonicwave Motor) with precision-engineered focusing stop positions designed to minimize focusing lens travel distance, which shortens focusing time.

Eye AF on the soul of the subject
Applying advanced detection technology, this new Eye AF function detects and focuses on a subject's eye, even if the subject is facing or looking slightly away from the camera. Then, a blinking green frame appears on that eye in the viewfinder image to indicate the point of focus for the upcoming shot.

More flexible focus area selection
Choose among three concentric Flexible Spot frames for greater focusing versatility and precision than other cameras' fixed-focus spot frame systems can provide.

Lock-on AF tracks with smart precision
Just press the shutter button halfway to activate Lock-on AF. It precisely focuses even on moving subjects by continuously adjusting target frame size based on its recognition of subject characteristics. You can easily stay focused on the main action because this object tracking innovation optimizes autofocus timing. Even when a subject goes out of frame temporarily, tracking resumes at the moment that it is recaptured after re-entering the frame.

| | | |
| --- | --- | --- |
| | | |
| Eye AF | Flexible Focus Area Selection | Lock-on AF |

Advanced Movie Functions

Shoot for more in Full HD
Sony brings out the full potential of Full High Definition (Full HD) movie recording -- to realize astonishingly smooth, finely detailed images -- by utilizing every pixel from the image sensor at accelerated speed and the latest high-speed BIONZ X processing technologies, including detail reproduction technology and area-specific noise reduction. Movies are recorded in the AVCHD Progressive format (1920 x 1080) at your choice of 60p, for supremely smooth-looking playback, or 24p for more cinematic expression. Optical image stabilization in Active mode also helps reduce camera shake blur.

More functions broaden creative boundaries
An abundance of powerful higher-performance functions and options are invaluable for capturing moving images of superior resolution and stunning clarity with minimal noise, even while zooming on the action. Plenty of connections make it easy to create an even more versatile production system by hooking up the latest digital recording, monitoring and processing devices to the camera.

Ensuring professional-caliber sound and more
The RX10 has plenty of features to realize more of the potential in your movies. To record sound with precision worthy of professional production, connect a high-performance microphone through an input terminal. Monitor pristine stereo sound through premium-quality Sony headphones plugged into the headphone jack. A built-in HDMI output terminal also accommodates connection of a TV, computer or DVD player/recorder. Audio metering and recording level control are instrumental to keeping soundtracks smooth and consistent. Use the camera's Multi Interface Shoe and an optional XLR Adaptor Kit to hook up external recording, flash and other accessories. It all adds up to a set of professional-class capabilities that is unprecedented among all other compact cameras.

For clean signal output
Clear, uncompressed digital movie signal output can be transferred to an external monitor/recorder (connected via the HDMI terminal) simultaneously in real time from the RX10. The shooting info display can be turned off for even cleaner views of such movies on an external monitor/recorder.

Supreme Operability and Reliability

For a truer view of every scene
See spectacular clarity, contrast and detail in every scene, regardless of conditions, on the built-in, bright, high-resolution OLED Tru-Finder. Four dual-sided aspherical lenses provide a big, approx. 33-degree view angle and maintain excellent edge-to-edge visibility of the electronic viewfinder.

Customizing convenient command
For faster, more intuitive camera operation, you can customize a total of seven buttons by assigning up to 40 types of functions among them. As a result, you will gain more convenient access to your selection of frequently used functions, right at your fingertips.

Advanced interface makes it all easy
A new, improved graphical user interface makes access to frequently used functions absolutely effortless. Just press the Fn button to display a list of them.

Thoughtfully designed for effortless operation
The manual ring gives you direct control of certain settings, zooming and focusing, according to the focus mode in use. In addition, before turning the aperture ring to set F-stop, you can turn Aperture Click Switch on for a stepwise feel of assurance, or off for a quiet, smooth feel when setting the aperture. A display panel on top lets you glance at key settings without moving the camera as you look through the viewfinder.

Ready for more attachments
Attach on- and off-camera flash units and other external accessories via the Multi Terminal on the RX10 to creatively expand the capabilities of your camera-based system.

Robust magnesium alloy body
The remarkably compact and lightweight body is solidly built to withstand the rigors of shooting in the field. It's the ideal blend of solid reliability, steady handling and extremely low weight, thanks to a top cover and internal structure constructed of rigid magnesium alloy.

Anti-dust system and coating
To keep your photos blemish free, an anti-dust mechanism vibrates ultrasonically whenever you switch off the camera to remove any particles adhering to the image sensor. An anti-static coating also helps prevent dust and other particles from adhering to the sensor when changing lenses.

Digital Level Gauge
You can check the slope of pitch and horizon along with scene composition, then display the data in any of five modes.

A flexible rear view covers many angles
An approximately 1,229K-dot tiltable 3.0-type White Magic LCD lets you shoot comfortably from various positions. The display has the flexibility to be tilted within a range of angles extending from about 84 degrees upward to about 43 degrees downward.

Creative Shooting Options

Auto HDR
Auto HDR creates images that depict high contrast to match natural visual experience more closely.

Multi Frame NR with ISO125 - 25600 sensitivity range
Generates a single image with reduced noise by setting shutter speed, aperture and ISO sensitivity to designate exposure value.

D-range Optimizer (DRO)
This adds details to bright highlights as well as dark shadows, and is good for shooting moving subjects.

Amplifying atmosphere and artistry
Picture Effect has 13 modes and Creative Style has 14 for adding touches of atmosphere and fun to images in-camera.

Built-in ND filter
The lens' ND filter reduces light intensity by the equivalent of three F-stops, for shooting with slow shutter, wide open aperture or bright light.

MF Assist and Peaking
MF Assist enlarges an image by about 8.6x or 17.1x. Peaking highlights an image's sharpest in-focus area.

Post-shooting Features

Easier contact with smartphones and tablets
Just download the free PlayMemories Mobile app, then instantly connect via Wi-Fi or NFC (near field communication) by touching a compatible Android smartphone or tablet to the camera. Then, you can remotely control the camera's shutter release from that other mobile device, instantly receive the image on the device and upload transferred images to an SNS site.

PlayMemories Home
This free, easy-to-use image management software can be installed onto Windows and Mac computers, for downloading photos and movies which can then be viewed, organized, edited, Retouched, printed, burned to disk, shared or uploaded to social networking websites.

PlayMemories Studio
Turn your PlayStation 3 into a creative playground. Use familiar controllers to edit, organize, view and share photos and movies. PlayMemories Studio also plays photo slideshows with sound.

PlayMemories Online
Share photos and movies across all your devices. Sony's photo and movie sharing website lets you view content on computers, tablets, smartphones, BRAVIA TVs and S-Frames.

TRILUMINOS Color
Virtually relive moments when you witnessed such nuances as the shades of a shimmering blue sky or a rosy complexion. The RX10 supports Sony TRILUMINOS Color for viewing photos in rich, natural colors on a TRILUMINOS Display. It can also be connected directly to a 4K monitor via HDMI cable or Wi-Fi, then play back the 4K stills for TV viewing. Extraordinary detail depicted at such high resolution gives 4K images their fresh vibrancy, powerful realism and subtle gradation.
38 accessories found for Sony Cyber-Shot DSC-RX10 Digital Camera with 24-200mm f/2.8 Zoom Lens
Sony Cyber-Shot DSC-RX10 Digital Camera
– TECHNICAL SPECIFICATIONS –
---
Effective Pixels:
20.2 megapixels
Total Pixels:
20.9 megapixels
Sensor Type:
Exmor R CMOS
Sensor Size:
1.0" (13.2 x 8.8mm)
Image Sizes:
[3:2] L: 20M (5472 x 3648) / M: 10M (3888 x 2592) / S: 5.0M (2736 x 1824)
[16:9] L: 17M (5472 x 3080) / M: 7.5M (3648 x 2056) / S: 4.2M (2720 x 1528)
[4:3] L: 18M (4864 x 3648) / M: 10M (3648 x 2736) / S: 5.0M (2592 x 1944) / VGA
[1:1] L: 13M (3648 x 3648) / M: 6.5M (2544 x 2544) / S: 3.7M (1920 x 1920)
Sweep Panorama: Wide (12416 x 1856 / 5536 x 2160),Standard (8192 x 1856 / 3872 x 2160)
Movie:
Video Format: AVCHD 60i / 60p / MP4 / MPEG-4 AVC (H.264)
Audio Format: Dolby Digital (AC-3) / MPEG-4 AAC-LC
Microphone/Speaker: Stereo / Mono
Movie Recording Mode (AVCHD):
28M PS (1920 x 1080, 60p/50p)
24M FX (1920 x 1080, 60i/50i)
17M FH (1920 x 1080, 60i/50i)
24M FX (1920 x 1080, 24p/25p)
17M FH (1920 x 1080,24p/25p)
Movie Recording Mode (AVC MP4):
12M (1440 x 1080, 30 fps/25 fps)
3M VGA (640 x 480, 30 fps/25 fps)
Lens Type:
Carl Zeiss Vario-Sonnar T* (24-200mm equiv.)
Optical Zoom:
8.3x
Clear Image Zoom:
16.6x

Image Stabilization:
Still Image: Optical
Movie: Active Mode, Optical type with electronic compensation (Anti-rolling)
Focus Range:
AF approx. 3cm to infinity (W), approx. 30cm to infinity (T)
ISO Sensitivity:
Auto / 125-12800
Aperture Range:
f/2.8
Monitor Type:
Tiltable Xtra Fine TruBlack TFT LCD
Monitor Size:
3.0 in. diagonal
Monitor Resolution:
1,228,800-dots
Flash:
Built-in
Storage:
Memory Stick Duo / Pro Duo
SD / SDHC / SDXC memory card
Power Source:
NP-FW50 Rechargeable Lithium-Ion Battery Pack
Interface:
Hi-speed USB 2.0
Micro HDMI (D) out
Multi Interface Shoe: Yes
NFC: Yes (NFC Forum Type 3 Tag compatible, One-touch remote, One-touch sharing)
Wi-Fi
Microphone Input: Via MI Shoe + Optional ECM-XYST1M
Accessory Shoe: Multi Interface Shoe

Dimensions (WxHxD):
5 1/8 x 3 1/2 x 4 1/8 in. (129.0 x 88.1 x 102.2)
Weight:
28.7 oz. (755g)
Carl Zeiss 24-200mm f/2.8 Zoom Lens
– TECHNICAL SPECIFICATIONS –
---
Lens Type:
Carl Zeiss Vario-Sonnar T*, 14 elements in 11 groups (7 aspheric elements including AA lens)
Focal Length:
24-200mm
Maximum Aperture:
f/2.8
Aperture Type:
Iris diaphragm (7 blades)
Focal Length:
f = 8.8-73.3mm
35mm Film Equivalent Focal Length:
[Still Image 3:2] f = 24-200mm [Still Image 16:9] f = 25-213mm
[Still Image 4:3] f = 26-220mm [Still Image 1:1] f = 31-259mm
[Movie 16:9] f = 26-212mm (SteadyShot Standard), f = 29-315mm (SteadyShot Active Mode)
[Movie 4:3] f = 31-259mm (SteadyShot Standard), f = 35-386mm (SteadyShot Active Mode)
Filter diameter:
62mm
Focus Range:
AF approx. 3cm to infinity (W), approx. 30cm to infinity (T)
Optical Zoom:
8.3x (Optical Zoom during movie recording)
Clear Image Zoom Still Image/Movie:
Approx. 16.6x (including Optical Zoom)
Digital Zoom:
[Still Image] 20M approx. 33x/10M approx. 46x/5M approx. 66x/VGA approx. 125x (including Optical Zoom)
[Movie] Approx. 66x (including Optical Zoom)