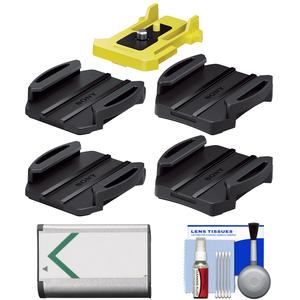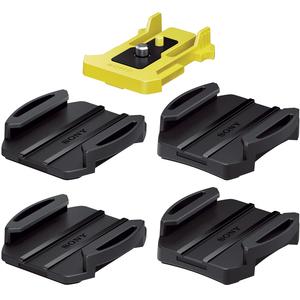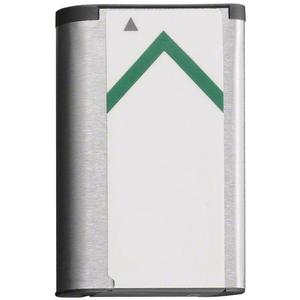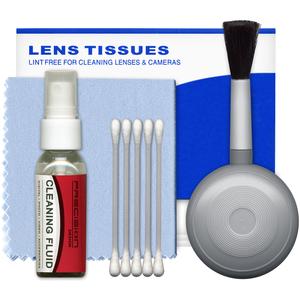 Sony VCT-AM1 Action Cam Adhesive Mount Pack with NP-BX1 Battery + Cleaning Kit

KIT INCLUDES 3 PRODUCTS:
| | |
| --- | --- |
| 1. | Sony VCT-AM1 Action Cam Adhesive Mount Pack |
| 2. | Spare NP-BX1 Battery for Sony |
| 3. | Precision Design 5-Piece Camera & Lens Cleaning Kit |
ITEM INCLUDES

Sony VCT-AM1 Action Cam Adhesive Mount Pack with:

Attachment Buckle
2x Flat Adhesive Mounts
2x Curved Adhesive Mounts

Sony Action Cam Adhesive Mounts

Mount your Action Cam to curved or flat smooth surfaces.

Get an additional set of Sony VCT-AM1 Adhesive Mounts for your Sony Action Cam (these are the same mounts initially included with your Action Cam). Designed to be used in conjunction with the Action Cam waterproof case, this set of mounts gives you the freedom and flexibility to capture a variety of sports -- even in wet, muddy or snowy conditions. The curved adhesive mount is perfect for attaching the camera to a curved surface, like a snowboarding, skydiving or skateboarding helmet. Use the flat mount to attach your Action Cam to nearly any smooth, flat surface.

Pack includes: 2 curved adhesive mounts, 2 flat adhesive mounts and 1 attachment buckle.

ITEM INCLUDES

Spare NP-BX1 Battery for Sony with:

1 Year Manufacturer USA Warranty

Spare NP-BX1 High Capacity
Lithium-Ion Battery Pack

A spare battery is an essential accessory. No power, no pictures!

Increase your shooting capacity with this powerful NP-BX1 Lithium-ion rechargeable battery for Sony digital cameras. More powerful than your standard battery, this spare high-capacity NP-BX1 will not put constraints on how you want to shoot. Plus, this rechargeable battery is Memory Free. It can be charged at any time without harm, even if it already has a partial charge, and can be typically charged over 1000 times.

ITEM INCLUDES

Precision Design 5-Piece Camera & Lens Cleaning Kit with:

Lens Cleaning Tissue
Lens Cloth
Lens Cleaning Liquid
Blower Brush
Cotton Swabs

1 Year Precision Design USA Warranty

Precision Design 5-Piece Lens Cleaning Kit

Essential items for the proper maintenance of your equipment.

It's obvious that the cleaner the lens, the sharper your pictures will be. Dirt, dust, and fingerprints will degrade the image quality of even the finest optics. However, it's equally important to avoid using incorrect cleaning materials which can permanently damage your photo equipment.

This 5-piece cleaning kit contains everything you'll ever need to properly clean your lenses, including a bottle of cleaning solution, lens tissues, cotton swabs, a blower brush, and a microfiber cloth.
0 accessories found for Sony VCT-AM1 Action Cam Adhesive Mount Pack
Reviews are for the first item in the kit:
Sony VCT-AM1 Action Cam Adhesive Mount Pack