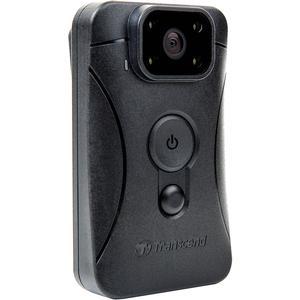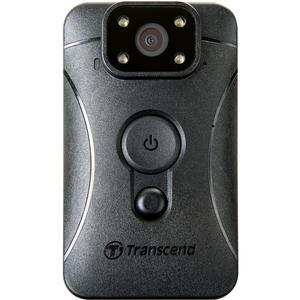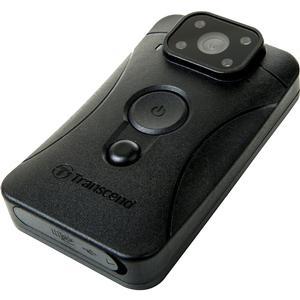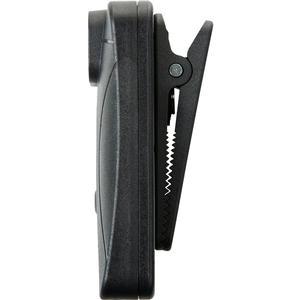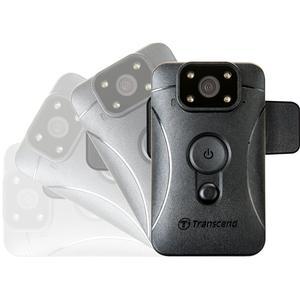 ITEM INCLUDES

Transcend DrivePro Body 10 1080p HD Video Camera Camcorder with:

32GB microSDHC Class 10 Memory Card
Built-in 360-degree Rotatable Clip
Power Adapter
microUSB Cable
Quick Start guide

Transcend DrivePro Body 10 1080p HD Video Camera Camcorder

Capture clear images anytime, anywhere.

Day or night, indoors or outdoors, Transcend's DrivePro Body 10 is a great companion for police officers, security guards and other professionals. The camera's wide 160-degree viewing angle, f/2.8 aperture lens and Full HD 1080p recordings ensure all the important details of actions are clearly recorded.

The infrared LEDs will be automatically turned on in low light conditions, allowing recording and snapshots at night. The DrivePro Body 10 also features a built-in battery and excellent water and shock resistance, ideal for indoor and outdoor use.

Key Features:

Collect Evidence Day and Night
With a large f/2.8 aperture, a wide 160° viewing angle and a high-quality camera lens, the DrivePro Body 10 can automatically adjust to different lighting conditions to capture all details of actions during either daytime or nighttime in clear and smooth 1080p (30fps). In addition, as the infrared LEDs will be automatically turned on in low light conditions, recording at night is now easier than ever before.

INFRARED LEDs FOR LOW LIGHT CONDITIONS AND NIGHT VISION
WITH INFRARED LED
WITHOUT INFRARED LED

Firmly attached with 360° Rotatable Clip
The DrivePro Body 10 features a 360° rotatable clip that allows you to always firmly attach it to your clothing or straps, making it easily to record all details anytime, anywhere.

Optimum Outdoor Protection
The rugged DrivePro Body 10 provides excellent protection for outdoor recording. The IPX4 water resistant feature offers protection against splashing water from any direction. The DrivePro Body 10 also offers great shock resistance, meeting the rigorous U.S. military drop-test standards.

| | |
| --- | --- |
| | |
| 360-DEGREE ROTATABLE CLIP | EXCELLENT WATER & SHOCK RESISTANCE |

Built-in Battery for Frontline Recording
With a built-in 1530mAh Li-Polymer battery, the DrivePro Body 10 can record up to 3.5 hours of footage on a fully charged battery, facilitating police officers to record what happens on the front line without a power adapter.

FREE 32GB microSDHC CARD

DrivePro Body Toolbox
The handy snapshot feature allows you to take photos while recording video. During an incident, just press the snapshot button to capture the irrefutable evidence on the spot.

Free 32GB microSDHC MLC Memory Card Included
As each DrivePro Body 10 includes a 32GB microSDHC memory card that can record up to 240 minutes of Full HD video, there is no need to worry about storage capacity. Built with top-tier MLC NAND flash chips, the Transcend's 32GB microSDHC memory card provides consistent long-life durability and endurance.
10 accessories found for Transcend DrivePro Body 10 1080p HD Video Camera Camcorder

LENSPEN
Mfr#:
NLP-1C

PRECISION DESIGN
Mfr#:
PD-SD8

PRECISION DESIGN
Mfr#:
PD-DCM

PRECISION DESIGN
Mfr#:
PD-SDC

PRECISION DESIGN
Mfr#:
PD-SDCR

TRANSCEND
Mfr#:
TS16GUSDU1

TRANSCEND
Mfr#:
TS32GUSDU1

TRANSCEND
Mfr#:
TS64GUSDU1

VIVITAR
Mfr#:
VIV-MW24

XIT
Mfr#:
XTMCASE
Transcend DrivePro Body 10 1080p HD Video Camera Camcorder
– TECHNICAL SPECIFICATIONS –
---
Image Sensor:
Low-light sensitivity CMOS
Lens:
f/2.8, 160° wide angle
Video Formats:
H.264 (MOV: up to 1920x1080 30fps)
Resolution / Frame rate:
Full HD (1920x1080) 30FPS
HD (1280x720) 30FPS
Microphone:
Built-in
Display:
None
Memory Card:
microSD card, up to 32GB (Class 6 or above)
Interface:
USB 2.0
Dimensions:
3.4 x 2.0 x 0.77 in. (88.4 x 52.2 x 19.6mm)
Weight:
3.81 oz. (108g)