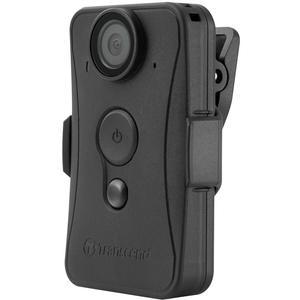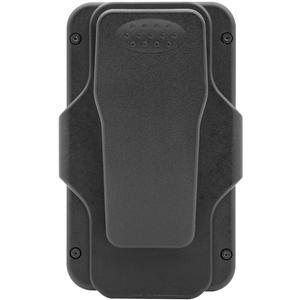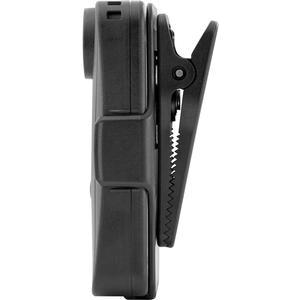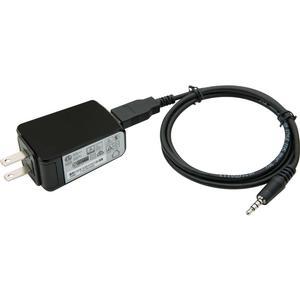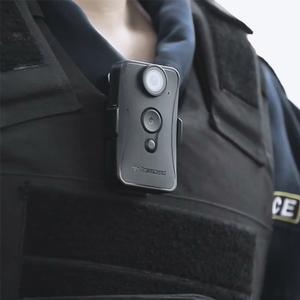 ITEM INCLUDES

Transcend DrivePro Body 20 1080p HD Wi-Fi Video Camera Camcorder with:

32GB Internal Memory
360° Rotatable Clip
Velcro Holder
Power Adapter
3.5mm to USB Cable
Quick Start guide

Transcend DrivePro Body 20 1080p HD Wi-Fi Video Camera Camcorder

Always with you at the frontline.

Designed for military, law enforcement, and private security applications, the Transcend DrivePro Body 20 features video recording in 1080p Full HD, for an exceptionally clear picture, along with live-streaming preview to iOS and Android mobile devices via its built-in Wi-Fi function. The DrivePro Body 20 features a 160-degree field of view and f/2.8 aperture lens to capture detailed video evidence during incidents. The water and shock resistant body make it perfect for both indoor and outdoor use.

The DrivePro Body 20 also features a built-in 1530mAh battery, which provides up to 3.5 hours of use, and 32GB internal memory, for hours and hours of full HD footage -- with no card required.

Key Features:

Quick snapshot button
The quick snapshot button allows users to take photos while recording video simultaneously. During an incident, just reach up and discreetly press the snapshot button to capture photographic evidence on the spot.

Rugged and durable design
The DrivePro Body 20 is built to withstand extreme weather and brutal conditions, providing excellent protection for outdoor recording. It is IPX4 rated to offer protection against splashing water from any direction, and meets rigorous U.S. military drop-test standards for shock resistance.

| | |
| --- | --- |
| | |
| SHOCK RESISTANCE | WATER RESISTANCE |

Two holders included
The DrivePro Body 20 includes both a 360° rotatable clip and a Velcro holder for multiple usage scenarios. The 360° rotatable clip is suitable for most uniforms and jackets, whereas the Velcro holder can be easily attached to police vests, allowing users to be ready the instant duty calls.

| | |
| --- | --- |
| | |
| 360° ROTATABLE CLIP | VELCRO HOLDER |

Exclusive DrivePro Body app
The DrivePro Body 20 features a built-in Wi-Fi function for live streaming preview and basic setup on both iOS and Android mobile devices. Users can also instantly access recorded footage and snapshots directly via the DrivePro Body app. To prevent evidence from being tampered with by unauthorized persons, the DrivePro Body app allows users to automatically embed every recording and snapshot with a clearly visible user ID and timestamp.

DrivePro Body Toolbox
Transcend's DrivePro Body Toolbox is exclusively designed for the DrivePro Body series, featuring a user-friendly interface that allows users to securely manage recorded videos and snapshots on Windows PCs. In addition, users can adjust settings for both the toolbox and the DrivePro Body device, format the internal storage, and upgrade the body camera's firmware via the toolbox.

Built-in battery
The DrivePro Body 20 has a built-in 1530mAh Li-Polymer battery for up to 3.5 hours of video recording on a fully charged battery, allowing users to record every detail on the front line without a power adapter.

32GB internal memory
Configured with 32GB of internal memory for thousands of still images or hours and hours of full HD footage -- with no card required.
6 accessories found for Transcend DrivePro Body 20 1080p HD Wi-Fi Video Camera Camcorder

LENSPEN
Mfr#:
NLP-1C

PRECISION DESIGN
Mfr#:
PD-DCM

PRECISION DESIGN
Mfr#:
PD-SDC

TOVATEC
Mfr#:
FUS1000

TOVATEC
Mfr#:
FUS260

TOVATEC
Mfr#:
FUS530
Transcend DrivePro Body 20 1080p HD Wi-Fi Video Camera Camcorder
– TECHNICAL SPECIFICATIONS –
---
Image Sensor:
Low-light sensitivity CMOS
Lens:
f/2.8, 160° wide angle
Video Formats:
H.264 (MOV: up to 1920x1080 30fps)
Resolution / Frame rate:
Full HD (1920x1080) 30FPS
HD (1280x720) 30FPS
Microphone:
Built-in
Display:
N/A (real-time streaming footage is available to view on your iOS or Android device with free DrivePro App)
Wi-Fi:
Yes
Memory Card:
Built-in 32GB (internal only)
Power:
Built-in 1530 mAh Lithium-ion Polymer Battery
Interface:
USB 2.0
Dimensions:
3.5 x 2.0 x 0.76 in. (88.4 x 52.2 x 19.4mm)
Weight:
3.1 oz. (88g)