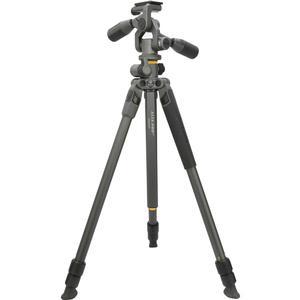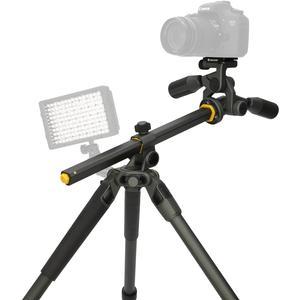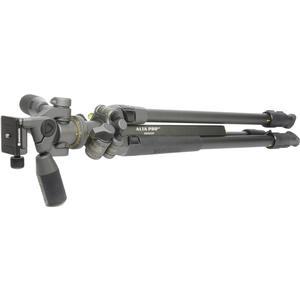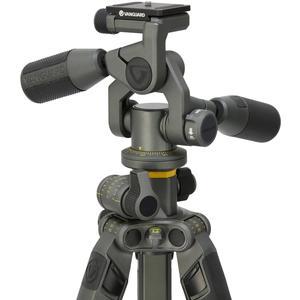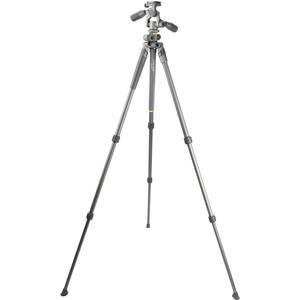 ITEM INCLUDES

Vanguard Alta Pro 2+ 263AP Aluminum Tripod with Alta PH-32 Fluid Pan Head & Case with:

QS-60 V2 Quick Release Plate
3/8"-16 to 1/4"-20 Reducer Bushing
Tripod Bag

Vanguard Alta Pro 2+ 263AP Aluminum Tripod with Alta PH-32 Fluid Pan Head & Case

Flawlessly support your camera and your creative workflow.

The Vanguard Alta Pro 2+ 263AP Aluminum Tripod with Alta PH-32 Fluid Pan Head & Case has a lightweight design and a max payload of up to 11 pounds (5kg). Featuring the unique MACC (Multi-Angle Center Column), it can be positioned at almost any angle from negative to positive thus offering ultimate freedom of creativity.

This tripod and pan head provides intuitive setup in a matter of seconds. Enjoy rock solid stability with the firm hexagonal center column, four-position legs (including 20°, 40°, 60° and 80° angles), and magnesium and aircraft aluminum construction for lightweight and long-lasting performance. The legs also feature non-slip, all-weather TPU grips, plus angled rubber feet for use on any terrain. In addition, the tripod features an Alta Link 3/8 thread bonus connection for any accessory including a reflector, articulated or flexible arms, and much more (sold separately).

The included Alta PH-32 fluid 3-way pan head is super lightweight at only 1.5 pounds (680g). It offers a front tilt range from +90° to -60° and a lateral tilt range from +90° to -30°. With handy and fast telescopic handles, and the "Arca-Swiss" compatible quick release system, you will have a blast while composing the perfect shot. Comes with a tripod carrying bag with shoulder strap.

| | | |
| --- | --- | --- |
| | | |
| SUPPORTS CAMERA AND LIGHT | MULTI-ANGLE CENTER COLUMN | LIGHTWEIGHT AND COMPACT |

Tripod Features:

MACC (Multi-Angle Center Column System):
With a unique quick action center column, you will enjoy quick, simple and intuitive "twist and lock" positioning at any angle in 15° steps. Range rotation of -90° to +90° supports unlimited creativity, while significantly improving results in any field of photography, from landscape to macro!

Central Column & Lock Mechanism:
This mechanism offers one-handed, effortless, smooth operation and rapid setup, while the unique hexagonal central column ensures enhanced rigidity and stability.

Leg Angle Selector:
Achieve perfect positioning and balance of the tripod to match any working terrain by using the strong and steady 4-angle leg options of 20°, 40°, 60° or 80°.

Advanced Twist-Lock:
Ultra-fast 35° turn to "lock" or "unlock" ensures instant leg extension / contraction. This exceptional new system is engineered to support an unmatched loading capacity in comparison to any other tripod in this segment.

ALTA Link:
The tripod canopy is fitted with a 3/8 threaded connector, which will allow easy connection of additional accessories, such as lighting equipment and articulated or flexible arms.

Superb Build Quality and Multi Featured:
Manufactured with first-rate material, this tripod is sturdy and lightweight. Its many features include: bubble level; dedicated suspension loop; non-slip, all-weather TPU grips on 2 legs; angled rubber feet to ensure perfect grip on any terrain; bonus tripod bag designed to fit any standard head combo.

Pan Head Features:

Multi-handle Precision:
The Alta PH-32 offers fantastic two-handle ergonomics and precision thanks to the independent control of directions. One handle offers 360° panning and -30° to +90° back-to-front tilt, while the other maintains a side-to-side tilt range of -60° to +90°, which is ideal for shooting portraits or vertical landscapes.

Panning Your Vision:
The fluid mechanism guarantees smooth panning which is key for video or observation use. The handle lengths can be extended or collapsed to match your changing needs and preferences.

Enhanced Performance Features:
A unique quick panorama function button is helpful for stitching panorama pictures together, and the 360° scale on the base ensure perfect matching. This head features a universal Arca-type quick release system, with a built-in safety pin to prevent accidentally releasing your camera. Includes a QS-60 V2 quick shoe fitted with 1/4" D-ring screw.
6 accessories found for Vanguard Alta Pro 2+ 263AP Aluminum Tripod with Alta PH-32 Fluid Pan Head & Case

DOT LINE
Mfr#:
DL-0906

PRECISION DESIGN
Mfr#:
PD-007

PRECISION DESIGN
Mfr#:
PD-BPR

PRECISION DESIGN
Mfr#:
PD-TAGP

VANGUARD
Mfr#:
SB-100

VIVITAR
Mfr#:
VIV-VPT-350
Vanguard Alta Pro 2+ 263AP Aluminum Tripod
– TECHNICAL SPECIFICATIONS –
---
Load Capacity:
11.0 lbs. (5.0kg)
Maximum Height:
69.0 in. (175.3cm)
Maximum Height w/o Column Extended:
56.8 in. (144.1cm)
Minimum Height:
with Center Column in Vertical Position: 28.0 in. (71.1cm)
with Center Column Perpendicular to Legs: 11.0 in. (27.9cm)
Folded Length:
29.8 in. (75.7cm)
Weight:
5.7 lbs. (2.6kg)
Legs

Material:
Aluminum alloy
Head Attachment Fitting:
1/4"-20
Leg Stages/Sections:
3
Leg Lock Type:
Twist
Independent Leg Spread:
Yes, lockable at 20°, 40°, 60, or 80° angles
Spiked/Retractable Feet:
No
Center Brace:
No
Center Column

Center Column Type:
Rapid
Tilt and Pan:
Yes; rotate 360°; tilt upwards, downwards, and lock at 0°, 15°, 30°, 45°, 60°, 75° or 90° angles
Center Column Sections:
1
Bubble Level:
Yes
Ballast Hook:
Yes, ballast loop
Accessory Mounting Thread:
Yes, 3/8"-16
ALTA PH-32 Fluid Pan Head
– TECHNICAL SPECIFICATIONS –
---
| | |
| --- | --- |
| Head Type: | 3-way, pan-and-tilt |
| Quick Release System: | Arca-type clamp |
| Quick Release: | Yes, 1/4"-20 mount |
| Bubble Level: | Yes |
| Dimensions (HxW): | 5.3 x 7.0 in. (13.3 x 17.8cm) |
| Weight: | 1.5 lbs. (0.7kg) |