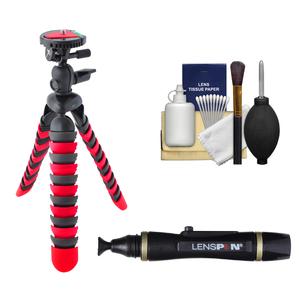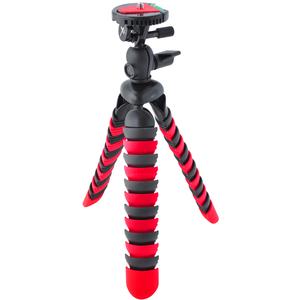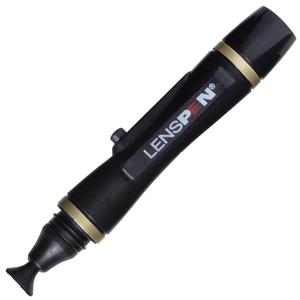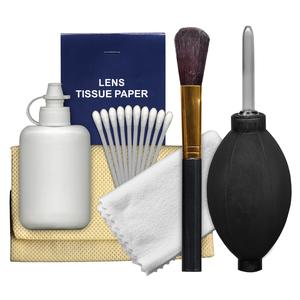 Xit 12" Flexible DSLR Camera Tripod (Red/Black) with Lenspen + Cleaning Kit

KIT INCLUDES 3 PRODUCTS:
| | |
| --- | --- |
| 1. | Xit 12" Flexible DSLR Camera Tripod (Red/Black) |
| 2. | Lenspen NLP-1C Lens Pen Cleaning System |
| 3. | Precision Design 6-Piece Camera & Lens Cleaning Kit |
ITEM INCLUDES

Xit 12" Flexible DSLR Camera Tripod (Red/Black) with:

Xit 12" Flexible Digital SLR Camera Tripod (Red/Black)

Get any angle and firm footing with this hands-free tripod.

When your digital camera needs support for unique photo shoots, an ordinary tripod might not be able to handle the job. The Xit 12" Flexible DSLR Tripod is one of the lightest and most versatile camera tripods available today, weighing just 11 ounces, and it is small enough to fit in almost any camera case, handbag or backpack. It features three strong, flexible legs with soft rubber padding and rubber feet that can be bent and twisted to adapt nearly any surface. Whether wrapped around a tree branch, hanging from a pole or perched on a jagged rock, this compact tripod will steady your camera for amazing shots in nearly any environment.

In addition, this flexible tripod features a locking ball head that can be rotated and tilted in any direction for easy positioning. It also comes with a quick-release plate for removing and attaching your camera in an instant.

ITEM INCLUDES

Lenspen NLP-1C Lens Pen Cleaning System with:

1 Year Lenspen USA Warranty

LensPen Lens Cleaning System

The superior cleaning system for all fine optics

The LensPen Cleaning System is perfect for cleaning camera lenses, binocular lenses, small aperture spotting scopes and telescopes, eyepieces, and other optical items. Comes with a handy retractable dust removal brush and new invisible carbon cleaning formula, designed to never dry out. Safe for all optics and very easy to use.

Key Features:

New invisible carbon cleaning formula gently removes fingerprints and spots
Makes cleaning your lens fast, simple and effective
Retractable soft brush sweeps dust and loose particles
Absolutely 100% safe for all lenses
Environmentally friendly and non-toxic
Performs hundreds of cleanings without losing any effectiveness

ITEM INCLUDES

Precision Design 6-Piece Camera & Lens Cleaning Kit with:

Hurricane Air Blower
Lens Cleaning Tissues
Microfiber Cleaning Cloth
Lens Cleaning Liquid
Soft Brush
Cotton Swabs

1 Year Precision Design USA Warranty

Precision Design 6-Piece Lens & Digital SLR Cleaning Kit

Essential items for the proper maintenance of your equipment.

It's obvious that the cleaner the lens and camera sensor, the sharper your pictures will be. Dirt, dust, and fingerprints will degrade the image quality of even the finest optics. However, it's equally important to avoid using incorrect cleaning materials which can permanently damage your photo equipment.

This 6-piece cleaning kit contains everything you'll ever need to properly clean your lenses and digital SLR camera, including an air blower, soft brush, cleaning solution, lens tissues, cotton swabs, and a microfiber cloth. Also includes a soft carrying pouch.
0 accessories found for Xit 12" Flexible DSLR Camera Tripod (Red/Black)
Reviews are for the first item in the kit:
Xit 12" Flexible DSLR Camera Tripod (Red/Black)