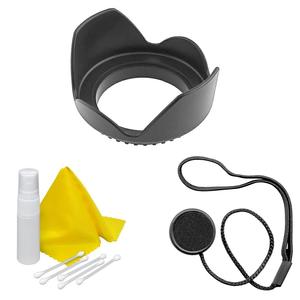 ITEM INCLUDES

Xit 58mm Hard Lens Hood, CapKeeper & Cloth Cleaning Kit with:

58mmm Lens Hood
CapKeeper
Cleaning Cloth
Cleaning Fluid
Cotton Swabs

Xit 58mm Hard Lens Hood,
Cap Keeper & Cloth Cleaning Kit

For a clean, scuff-free lens!

This Lens Accessory Starter Kit comes with everything you need to keep your lens safe and clean. The 58mm screw-on Lens Hood prevents image-degrading lens flare by blocking stray light from striking the surface of the lens, assists in keeping moisture or wind-blown debris off the lens, and protects the front barrel from the inevitable impacts against walls, doors, frames and other real-life obstacles.

The CapKeeper is an elastic loop that wraps around barrel of your lens with an elastic lens cap leash. It prevents lens cap loss with an adhesive-backed disc that securely attaches to the lens cap. This kit also comes with a Soft Texture Cleaning Cloth, Cleaning Fluid and 5 Cotton Swabs for keeping your glass squeaky clean.
0 accessories found for Xit 58mm Hard Lens Hood, CapKeeper & Cloth Cleaning Kit