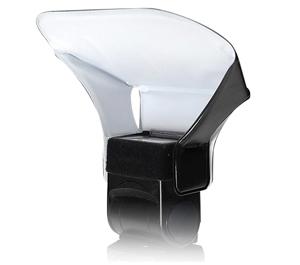 ITEM INCLUDES

Zeikos Professional Pocket Flash Bouncer with:

Zeikos Pro Pocket Flash Bouncer

Get beautiful, soft lighting that fits right on your flash!

The Zeikos Professional Pocket Flash Bouncer enlarges and redirects the light at a 90-degree angle from the flash to soften the quality of light and distribute it over a wider area.

Key Features:

Soften the flash light output with minimal light loss
To be used with slave flashes or alone where low ceilings are not available, or where more direct but soft fill light is desired.
Light loss: approximately 1 1/3 stops
Dimensions: folds flat to 4 1/2" x 7 1/4"
0 accessories found for Zeikos Professional Pocket Flash Bouncer