Sony Alpha E-Mount FE 50mm f/1.8 Lens with 3 UV/CPL/ND8 Filters + Flash + Diffuser + Kit
List Price:
$329.99
Total Savings:
$70.00 (21%)
Sony Alpha E-Mount FE 50mm f/1.8 Lens with:

Lens Hood
Front & Rear Lens Caps
Instruction Manual

Sony Alpha E-Mount FE 50mm f/1.8 Lens

Small, light, bright

Weighing in at less than 7 ounces (192g), the lightweight, full-frame FE 50mm f/1.8 prime lens delivers an outstanding blend of performance, compactness and value, making it a perfect choice for hobbyist photographers and videographers looking to experience the benefits of a wide-aperture prime lens at an attainable cost.

The SEL50F18F features a new optical design with an aspherical element that effectively compensates for all forms of aberration, resulting in beautiful, crisp imagery. For fast and accurate autofocusing, a newly-developed DC motor focus actuator system drives all lens groups for optimum focus precision and speed as well as quiet operation. Additionally, it has a 7-blade circular aperture with a bright f/1.8 maximum aperture, producing beautiful "bokeh" in images that allows the subject to stand out against a smoothly defocused background. For extended durability, this prime lens is built with a solid metal mount.

Vivitar 3-Piece Multi-Coated HD Filter Set (49mm UV/CPL/ND8) with:

1 Year Vivitar USA Warranty

Vivitar Series 1 3-Piece
Multi-Coated HD Pro Filter Set
(49mm UV/CPL/ND8)

High-quality, all-glass filters at an affordable price.

This Vivitar Series 1 3-Piece Filter Set contains a variety of multi-coated glass filters that will optimize your photography experience, and protect your lenses from scratches and dust. Vivitar multi-coated lens filters are translucent glass placed in front of a camera lens to alter or adjust the light entering the camera and to protect the camera lens. Lens filters improve photographs by giving photographers control over light and allowing them to emphasize the features of a scene that they consider most important. This particular filter kit is a combination of the three filters no photographer should be without.

Filters are one of the least expensive accessories you can use to make big changes in the way your pictures look. Includes filter storage wallet.

Vivitar SF-4000 Auto Bounce Zoom Slave Flash with Bracket with:

Camera Bracket
Instruction Manual

1 Year Vivitar USA Warranty

Vivitar SF-4000 Auto Bounce Zoom Slave Flash with Bracket

Universal Compatibility. No Camera Connection Required.

This Vivitar Digital Bounce/Zoom Flash is the ideal companion to your existing digital camera outfit, and can be used as a standard on-camera flash unit, or as a remote slave flash to provide additional fill light (or for use with cameras without a hot shoe).

This device features four slave modes that allow the user to work with cameras that fire the built-in flash instantaneously, as well as cameras that have single or multiple flash red-eye reduction systems. In addition, this flash features a 90-degree range of motion for bounce flexibility, and a zoom head that functions in wide-angle, normal and telephoto ranges.

Precision Design 6-Piece Camera & Lens Cleaning Kit with:

Hurricane Air Blower
Lens Cleaning Tissues
Microfiber Cleaning Cloth
Lens Cleaning Liquid
Soft Brush
Cotton Swabs

1 Year Precision Design USA Warranty

Precision Design 6-Piece Lens & Digital SLR Cleaning Kit

Essential items for the proper maintenance of your equipment.

It's obvious that the cleaner the lens and camera sensor, the sharper your pictures will be. Dirt, dust, and fingerprints will degrade the image quality of even the finest optics. However, it's equally important to avoid using incorrect cleaning materials which can permanently damage your photo equipment.

This 6-piece cleaning kit contains everything you'll ever need to properly clean your lenses and digital SLR camera, including an air blower, soft brush, cleaning solution, lens tissues, cotton swabs, and a microfiber cloth. Also includes a soft carrying pouch.
21 accessories found for Sony Alpha E-Mount FE 50mm f/1.8 Lens
Sony Alpha E-Mount FE 50mm f/1.8 Lens
– TECHNICAL SPECIFICATIONS –
---
Lens Mount:
Sony E-mount Full Frame
Focal Length:
50mm (full frame sensor)
75mm (35mm equivalent with APS-C sensor)
Maximum Aperture:
f/1.8
Minimum Aperture:
f/22
Maximum Magnification:
0.14x
Minimum Focus Distance:
1.48 ft. (0.45m)
Lens Construction:
6 elements / 5 groups
Diaphragm Blades:
7-blade circular aperture
Focus Type:
Auto / Manual
Image Stabilization:
None
Filter Size:
49mm
Dimensions (Diam. x Length):
2.7 x 2.3 in. (68.6 x 59.5mm)
Weight:
6.56 oz. (186g)
MTF CHART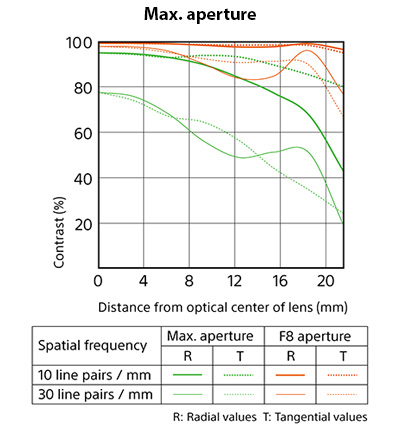 LENS CONFIGURATION

Compatible with the following Sony Alpha Full Frame E-Mount digital cameras, including:
A7
A7 II
A7 III
A7R
A7R II
A7R III
A7R IV
A7S
A7S II
A9
A9 II

Reviews are for the first item in the kit:
Sony Alpha E-Mount FE 50mm f/1.8 Lens