Sony Alpha E-Mount FE 85mm f/1.4 GM Lens with Battery & Charger + Backpack + Flex Tripod + 3 UV/CPL/ND8 Filters + Kit
Sony Alpha E-Mount FE 85mm f/1.4 GM Lens with:

Lens Hood
Lens Case
Front & Rear Lens Caps
Instruction Manual

Sony Alpha E-Mount FE 85mm f/1.4 GM Lens

The ultimate portrait prime.

The Sony FE 85mm f/1.4 GM Telephoto Prime Lens is designed as the ultimate portrait lens, striking a perfect balance between resolution and bokeh in a compact package. The SEL85F14GM features a new XA (extreme aspherical) element as well as 3 ED glass elements that work together to ensure that the in-focus areas are captured in extremely high resolution while the surrounding out-of-focus areas dissolve smoothly into a beautiful soft backdrop.

It has an 11-blade circular aperture -- the most ever used in an a lens -- that ensures bokeh is smooth and visually appealing. Externally, the new model has Sony's original Nano AR Coating, which is of particular importance in a portrait lens as it reduces flare and ghosting, even with backlit subjects or similarly challenging lighting conditions. For accurate autofocusing, a ring drive SSM motor system provides ample power and speed to drive the lens' large, heavy focus group. It's also equipped with two position sensors to support flawless focus control of the large, heavy lens elements.

To maximize usability, the lens is dust and moisture resistant and features a compact, streamlined design that includes an aperture ring with on/off switchable click stops that can be adjusted based on whether a user is shooting still images or movies. It also has an AF / MF switch and a focus hold button.

Sony LensPen Camera Lens Cleaner with:

1 Year Sony USA Warranty

Sony LensPen Cleaning System

The superior cleaning system for all fine optics

The Sony LensPen Cleaning System is perfect for cleaning camera lenses, binocular lenses, small aperture spotting scopes and telescopes, eyepieces, and other optical items. Comes with a handy retractable dust removal brush and a special non-liquid cleaning element, designed to never dry out. Safe for all optics and very easy to use.

Key Features:

Makes cleaning your lens fast, simple and effective
Retractable soft brush sweeps dust and loose particles
Dry cleaning compound gently removes fingerprints and spots
Absolutely 100% safe for all lenses
Environmentally friendly and non-toxic
Performs hundreds of cleanings without losing any effectiveness

Spare NP-FW50 Battery for Sony with:

1 Year Manufacturer USA Warranty

Spare NP-FW50 High Capacity Lithium-Ion Battery Pack

A spare battery is an essential accessory. No power, no pictures!

Increase your shooting capacity with this powerful NP-FW50 Lithium-ion rechargeable battery for Sony digital cameras. More powerful than your standard battery, this spare high-capacity NP-FW50 will not put constraints on how you want to shoot. Plus, this rechargeable battery is Memory Free. It can be charged at any time without harm, even if it already has a partial charge, and can be typically charged over 1000 times.

Battery Charger for Sony NP-FW50 with:

Car Adapter
European Plug

1 Year Manufacturer USA Warranty

Battery Charger for Sony NP-FW50

Power up your battery with this convenient travel charger

This Multi-Voltage Rapid Battery Charger plugs directly in to a standard wall outlet or your car's 12V DC outlet, and charges your NP-FW50 battery in approximately 60 to 90 minutes. Its flat-pin, foldable design allows easy storage and makes it the most compact battery charger on the market! In addition, this charger includes a European adapter plug for use in 250V outlets.

Key Features:

Foldable pins for easy storage
Slim, lightweight design
Smart charging LED indicator
Automatically switches to trickle charge when battery is full
Auto switching power voltage from 110V-240V AC
Output short circuit and electronic shock protection
Includes universal 110-240V AC power source, European plug and car adapter

Vivitar 3-Piece Multi-Coated HD Filter Set (77mm UV/CPL/ND8) with:

1 Year Vivitar USA Warranty

Vivitar Series 1 3-Piece
Multi-Coated HD Pro Filter Set
(77mm UV/CPL/ND8)

High-quality, all-glass filters at an affordable price.

This Vivitar Series 1 3-Piece Filter Set contains a variety of multi-coated glass filters that will optimize your photography experience, and protect your lenses from scratches and dust. Vivitar multi-coated lens filters are translucent glass placed in front of a camera lens to alter or adjust the light entering the camera and to protect the camera lens. Lens filters improve photographs by giving photographers control over light and allowing them to emphasize the features of a scene that they consider most important. This particular filter kit is a combination of the three filters no photographer should be without.

Filters are one of the least expensive accessories you can use to make big changes in the way your pictures look. Includes filter storage wallet.

Xit 12" Flexible DSLR Camera Tripod (Red/Black) with:

1 Year Xit USA Warranty

Xit 12" Flexible Digital SLR Camera Tripod (Red/Black)

Get any angle and firm footing with this hands-free tripod.

When your digital camera needs support for unique photo shoots, an ordinary tripod might not be able to handle the job. The Xit 12" Flexible DSLR Tripod is one of the lightest and most versatile camera tripods available today, weighing just 11 ounces, and it is small enough to fit in almost any camera case, handbag or backpack. It features three strong, flexible legs with soft rubber padding and rubber feet that can be bent and twisted to adapt nearly any surface. Whether wrapped around a tree branch, hanging from a pole or perched on a jagged rock, this compact tripod will steady your camera for amazing shots in nearly any environment.

In addition, this flexible tripod features a locking ball head that can be rotated and tilted in any direction for easy positioning. It also comes with a quick-release plate for removing and attaching your camera in an instant.

Precision Design PD-BP2 Deluxe Sling Digital SLR Camera Backpack Case (Black/Silver) with:

Lifetime Precision Design USA Warranty

Precision Design PD-BP2 Deluxe Sling DSLR Camera Backpack Case

Protect your equipment with this quality carrying case.

If you require serious protection for your equipment, convenient access to your gear, and exceptional comfort all in a compact package, then the Precision Design Deluxe Backpack is the perfect case for you! Made from high-quality, water-resistant materials, this case is designed to provide the wearer with a truly versatile storage solution when taking photography gear on the road.

The list of impressive features begins with the innovative sling design. This case features a single padded shoulder strap that crosses the body, providing stability and comfort, as well as the ability to swing the entire bag to the front of the body for quick access to a camera and lenses. The fully-padded camera storage compartment features several adjustable velcro dividers, and can accommodate nearly any digital SLR camera with a medium-sized zoom lens attached, plus 2-4 lenses or flash units.

Precision Design 6-Piece Camera & Lens Cleaning Kit with:

Hurricane Air Blower
Lens Cleaning Tissues
Microfiber Cleaning Cloth
Lens Cleaning Liquid
Soft Brush
Cotton Swabs

1 Year Precision Design USA Warranty

Precision Design 6-Piece Lens & Digital SLR Cleaning Kit

Essential items for the proper maintenance of your equipment.

It's obvious that the cleaner the lens and camera sensor, the sharper your pictures will be. Dirt, dust, and fingerprints will degrade the image quality of even the finest optics. However, it's equally important to avoid using incorrect cleaning materials which can permanently damage your photo equipment.

This 6-piece cleaning kit contains everything you'll ever need to properly clean your lenses and digital SLR camera, including an air blower, soft brush, cleaning solution, lens tissues, cotton swabs, and a microfiber cloth. Also includes a soft carrying pouch.
30 accessories found for Sony Alpha E-Mount FE 85mm f/1.4 GM Lens
Sony Alpha E-Mount FE 85mm f/1.4 GM Lens
– TECHNICAL SPECIFICATIONS –
---
| | |
| --- | --- |
| Lens Mount: | Sony E-mount Full Frame |
| Focal Length: | 85mm |
| Maximum Aperture: | f/1.4 |
| Minimum Aperture: | f/16 |
| Maximum Magnification: | 0.12x |
| Minimum Focus Distance: | 2.62 ft. (0.8m) |
| Lens Construction: | 11 elements / 8 groups |
| Diaphragm Blades: | 11 |
| Focus Type: | Auto / Manual |
| Image Stabilization: | N/A |
| Filter Size: | 77mm |
| Dimensions (Diam. x Length): | 3.52 x 4.23 in. (89.5 x 107.5mm) |
| Weight: | 28.92 oz. (820g) |
LENS CONFIGURATION

MTF CHART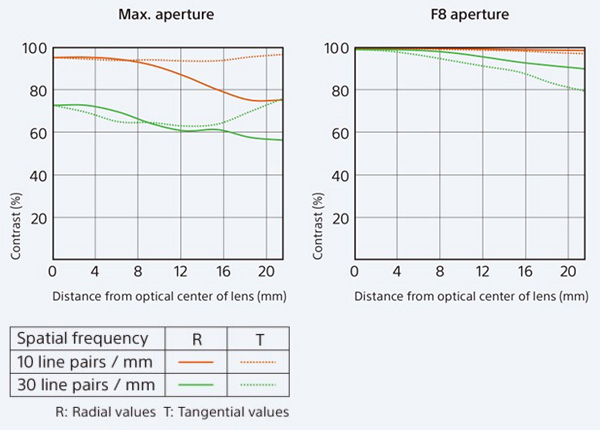 Compatible with the following Sony Alpha Full Frame E-Mount digital cameras, including:
A7
A7 II
A7R
A7R II
A7S
A7S II
Reviews are for the first item in the kit:
Sony Alpha E-Mount FE 85mm f/1.4 GM Lens